Study Abroad to See the Big Picture
Wonder took Aria to Guatemala, where she strengthened her Spanish language skills and deepened her passion for human rights, justice, and migration.
Aria Levin is a senior in Global Studies and Theatre Arts, in the College of Fine Arts at the University of Arizona. Within her Global Studies major, Aria is focusing on Human Rights, Migrations, and Social Movements with a regional emphasis on Latin America, and she has been learning Spanish to support this interest and the work she plans to do.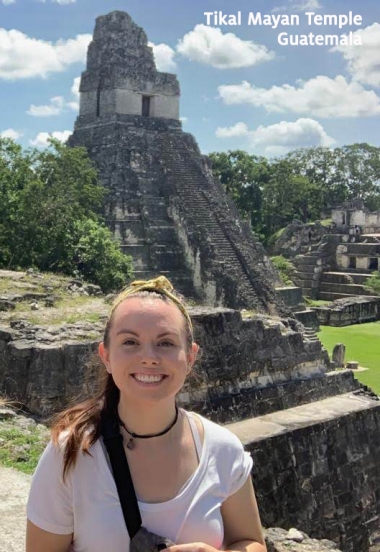 When studying issues at the global level, as Aria is doing, the best way to get a broader perspective and see the bigger picture is to go to the places you are studying, meet the people, and have the conversations and experiences that will give context and make your learning come alive.
"There is so much more to the world than the campus we inhabit here in Tucson. It's not always easy to grasp that until you see the bigger picture from outside your comfort zone."
Aria, who comes from Flagstaff, AZ, studied abroad in Guatemala through the IDEAS program during the fall semester of her senior year.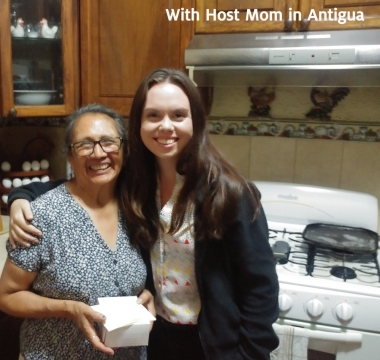 The IDEAS study abroad program in Guatemala is a unique experience that combines rigorous academics with for-credit internships around themes such as development and public health, ethnic relations and human rights, and indigenous and environmental politics. It also includes reflection of current events and top-notch language training for University of Arizona credit. Students in the IDEAS program are exposed to wide networks of grassroots social organizations in Guatemala, and participants will encounter Guatemalan activists, artists, students and scholars. Students can go for a summer, semester, or year.
Aria chose Guatemala, in part "because the IDEAS program focuses on issues of human rights, migration, and development which fit in perfectly with my major," she says, "and in part because I was required to study abroad in a Spanish speaking country as part of my Global Studies major." She had previously traveled to Peru and Bolivia, and fell in love with Latin American culture. Adding Guatemala to her experience made sense, both from cultural interest and sociopolitical perspectives.
"Guatemala is at the heart of so many political and social discussions right now, and it was important to me to be able to experience the country firsthand."
One of Aria's favorite adventures in Guatemala was the Festival de Barriletes - the giant kite festival - in the town of Sumpango on All Saints' Day. Held since ancient times, the festival features paper kites that are several meters tall, with messages of unity, peace, love, faith, and respect for customs and Mother Earth. "The kites are a mixture of art, tradition, stories and color," Aria explained, " and the colors and creativity were incredible."
During her semester in Guatemala, Aria was a Study Abroad Social Media Ambassador, which entailed taking photos and videos and posting to Instagram, as well as writing about and documenting her study abroad experience. She made a 1-Second-Everyday video diary while there in the 2019 Fall semester, from September 1st through November 23rd, giving a glimpse of her daily life and the many adventures she had in Guatemala:
Back home on the University of Arizona campus, Aria has been active with InterVarsity since freshman year. She has been involved in stage management, lighting, costuming, and design in the theatre program and was a member of the Theatre Studies Student Committee.
In her Junior year, Aria became involved in the greater Tucson community through the UA Refugee Project, a year-long experience that connects Arizona students with volunteer opportunities at Tucson's refugee resettlement agencies and community organizations serving refugees.
The UA Refugee Project provides UArizona undergraduate students the opportunity to gain or build on their existing intercultural competence and skills by volunteering with Tucson-based agencies supporting the resettlement process for the approximately 800 refugees who settle in Tucson each year. This experience serves the community need for more globally aware and engaged citizens who are able to affect change across cultures, both within and outside of our community.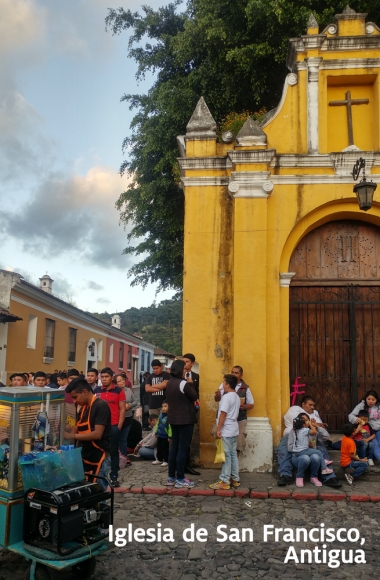 The UA Refugee Project connected Aria to a volunteer position with the International Rescue Committee (IRC), working in their housing department and at the front desk. Through her work at the IRC in Tucson, she learned first hand about the struggles that refugee families and individuals face, and she recognized the impact that she could have on their experience.
When Aria went to Guatemala for the semester she took that knowledge with her. To be able to understand refugee and migration issues from two different perspectives—those wanting to leave a country, and those arriving in a new country—helped to round out her study abroad experience. It has propelled her interest further in her chosen field.
"I have always had a passion for issues of immigration, but I didn't truly understand the extent of those issues until studying abroad in Guatemala, where so many migrants come from. It was a very humbling experience—coming from Tucson, which is the destination for so many people—to be in a place where those journeys begin."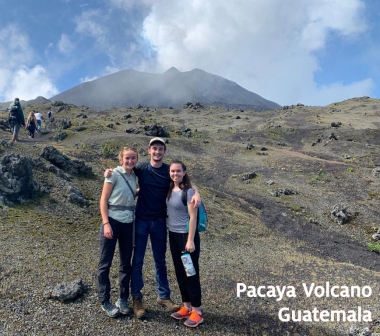 The interactions that Aria had in Guatemala shed light on the issues that she is passionate about. She hopes to work internationally for at least a few years after graduation, in an international humanitarian aide role, working with migrants or refugees in other countries. "Anything," she adds, "that will expose me to other countries and cultures while interacting with people!"
"Study abroad provided a perspective on the world that you just can't get until you see it from a different place and through someone else's eyes."
Ready to see where your passion meets new perspective? Start mapping out your study abroad!
Are you ready to MEET WITH A STUDY ABROAD COORDINATOR?
Wondering HOW TO PAY FOR YOUR STUDY ABROAD?
Looking for STUDY ABROAD PROGRAMS?
Decided and just need to APPLY?
---
There are many Study Abroad events throughout the semester to advise students on how to choose and apply to a study abroad program, to learn about different program options, and for scholarship information and strategies for financing a study abroad experience.
Check the STUDY ABROAD CALENDAR for details and to see what's coming up!
Study Abroad sessions happening soon:
Feb. 10 - Study Abroad Application Workshop
Feb. 18 - Financial Aid and Study Abroad Info Session
Feb. 19 - Gilman Scholarship Info Session
Feb. 27 - How to Make the Most of Your Time Abroad
---
Aria was highlighted in the University of Arizona WONDER campaign on social media, sharing her story under the theme "Wonder makes me see the bigger picture."  Follow @UAStudyAbroad on Instagram for updates and inspiration!