The University of Arizona has an extensive worldwide network with partners and alumni. The Arizona International team retains databases of international researchers, scholars and industry leaders. Read about some of our distinguished alumni:
---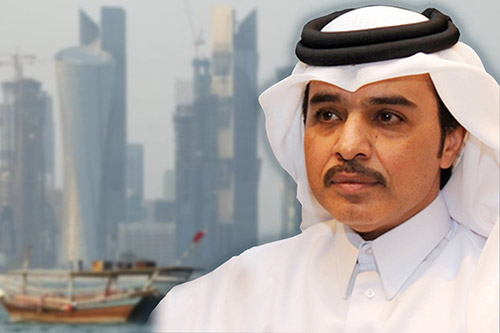 Ibrahim Hassan Al Asmakh
One of the most prominent entrepreneurs in the Gulf Region, Ibrahim Hassan Al Asmakh received a bachelor's degree in Business Administration from the University of Arizona in 1986. Al Asmakh currently serves as the president of Regency Group Holding, a group of diverse companies in industries ranging from real estate to travel and tourism with more than 3,000 employees from 34 nations.
He founded Regency Group Holding after working in several high-level positions at Qatar Petroleum and reviving his late father's real estate business under the name Al Asmakh Real Estate and Development Company. Al Asmakh also established Regency Travel & Tours, which played a pivotal role in boosting inbound tourism to Qatar. Al Asmakh was one of the first entrepreneurs to spot his country's tourism potential, and was assigned Vice Chairman for the Qatar Tourism Agency from 2001 to 2003, overseeing all strategic planning in order to attract international investors to Qatar.
A lover of travel and networking, Al Asmakh was one of a select group of moguls from the Gulf Region to attend the 2017 Inaugural Ball in Washington, D.C. He was also instrumental in organizing the third annual UA GCC alumni reunion in Doha, Qatar in January of 2013. He hosted an elegant luncheon for UA GCC alums, UA administrators, and staff at his personal ranch.
---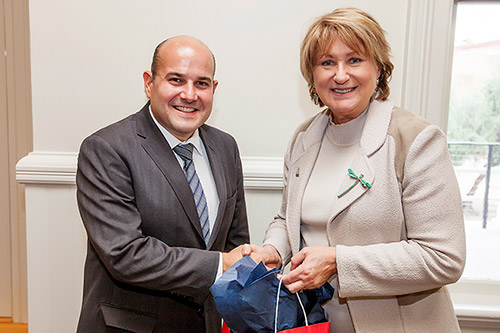 Roberto Cláudio Rodrigues Bezerra
Roberto Cláudio Rodrigues Bezerra is only 39 years old, barely completing his postgraduate studies at the University of Arizona, but he is the mayor of the city of Fortaleza, the state capital of Ceará, located in northeastern Brazil. He also just recently visited us here on campus in June 2015. He holds a master's degree in public health (2002) and a doctorate in epidemiology (2006) from UA's Mel and Enid Zuckerman College of Public Health.
Roberto Cláudio is concerned lately with health care resources of his city, which currently have been lacking due to things like high crime rate, drug addiction and traffic safety problems. His solution: to start with the poorest areas and work his way up.
"A major priority is to improve the quality of life in the poorest neighborhoods of the city, and that takes a multidimensional approach.... We must destroy the Berlin Wall of shame that separates the rich city from the poor city."
Help with this project is coming in the form of I3For, an initiative involving the University of Fortaleza, the city of Fortaleza, and the UA. The initiative will involve research, community development, an innovation ecosystem that connects to industry, and a partnership of the universities. Describing his city's challenges as "very profound," Roberto Cláudio said the initiative with the UA is unusual. "It will be one of few international collaborations to address a city's problems," he said. "We are very hopeful about the outcomes." UA News
---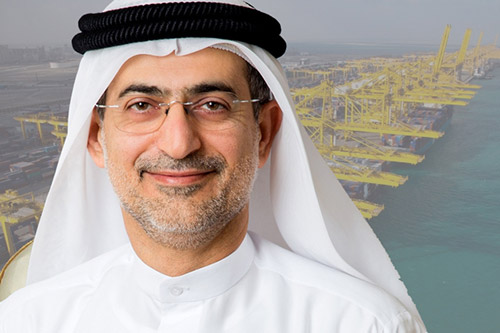 Mohammed Sharaf
Since 2005, Mohammed Sharaf has served as the Chief Executive Officer of DP World, the third largest port operator in the world.
His advice for students: "Whatever you do: Ask yourself, why are you doing it? When you answer that question, then you decide how you are going to do that. Be inspired. This world is full of opportunities; if you're looking for pessimism, you will get there. But if you are looking for optimism, you will get there."
Mohammed Sharaf received his degree in Business Administration from the University of Arizona and is the first CEO of DP World, the global port operator formed in 2005 with the integration of the domestic and international arms of the Dubai Ports organization. Mr. Sharaf has also been the Chief Executive Officer of DP World Limited of Dubai World Corporation since May 30, 2007. He serves as Chief Executive Officer of DP World Antwerp N.V. He served as Co-Chief Executive of DP World - UAE. He is also Chairman of Tejari World FZ LLC.
He began his shipping career working at Holland Hook terminal in the Port of New York/New Jersey. He joined Dubai Ports Authority (DPA) in 1992 and rose rapidly through the organization holding a number of senior positions at the Port of Dubai including Commercial Director and Managing Director, playing a central role in the extraordinary development of Dubai's container terminals at Jebel Ali and Port Rashid, which combined have become a top ten global terminal facility.
In 2001, he became the first Managing Director of the newly established Dubai Ports International (DPI), the international ports management arm of Dubai Ports, DP operates over 50 ports in 24 countries and employees over 34,000 people. In this position he oversaw the successful application of Dubai's port management model to its first international operations at the terminals of Jeddah (Saudi Arabia), Constanta (Romania) and Vizag (India).
Mr. Sharaf managed a major international growth strategy that included the successful acquisition of CSX WT in 2004 and of the P&O Group in 2006, making DP World one of the top terminal operators in the world with a multinational team of around 30,000 people and a network spanning five continents.
Mr. Sharaf was awarded the UA Alumni Association Global Achievement Award. To see an interview with the UA College of Management dean, click here.
---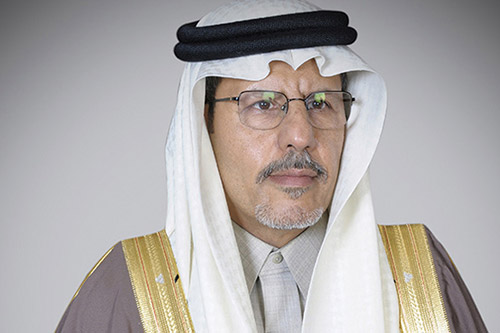 Turki Faisal Al Rasheed
Dr. Turki Faisal Al Rasheed is founder and chairman of Golden Grass, an agriculture and contracting company that ranks among the top 100 companies in Saudi Arabia exporting agricultural products. Dr. Al Rasheed founded the company in 1982. The business has diversified into farming, agrochemicals, animal health, environmental health, recruitment, construction and maintenance. He earned his doctorate in business administration in 2011 from the Liverpool John Moores University. He was named a Visiting Research Fellow at the school in 2012. He also received his Executive MBA from King Fahd University of Petroleum and Minerals in Saudi Arabia.
Dr. Al Rasheed is also an author and lectures around the world on subjects such as economic development and agricultural sustainability. He is the author of a book titled Agricultural Development Strategies: the Saudi Experience.
Dr. Al Rasheed currently is an adjunct professor at the UA in the Department of Agriculture and Biosystems Engineering. He plays a critical role in the UA's activities in the Gulf region, advising on grant proposals, making introductions, and promoting academic and scientific collaboration. He was one of the founding members of the UA alumni network in the Gulf region and in 2013 hosted a reunion for Saudi alumni at his home.
---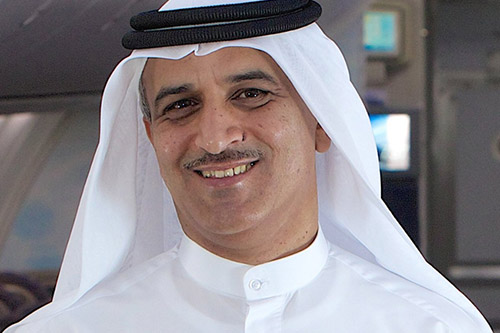 Ghaith Al Ghaith
Ghaith Al Ghaith holds a Bachelor of Science degree in Business Administration from the University of Arizona.
Following his graduation from the UA in 1986, Ghaith Al Ghaith was hired by Emirates Airline as a sales trainee and, by 1995, had his way up to executive vice president of commercial operations worldwide. In 2008, he was named CEO of FlyDubai, Dubai's first low cost airline, which is part of the Emirates Group. The airline began operations in 2009 and now the airline has a fleet of 16 Boeing 737-800 NG aircraft and a network of 33 destinations, including Bahrain, Colombo, Doha, Karachi and Muscat. FlyDubai Cargo, launched in January 2012, transports goods to points in Europe, the US, Australasia and the Far East along with destinations in the MENA.
Mr. Al Ghaith is responsible for the strategic direction of the airline and works closely with its Chairman, His Highness Sheikh Ahmed bin Saeed Al Maktoum.
He was named Aviation CEO of the Year at the 2009 CEO Middle East Awards. He was named #184 on a list of the 500 Most Powerful Emeratis by Arabian Business Magazine in 2012.
---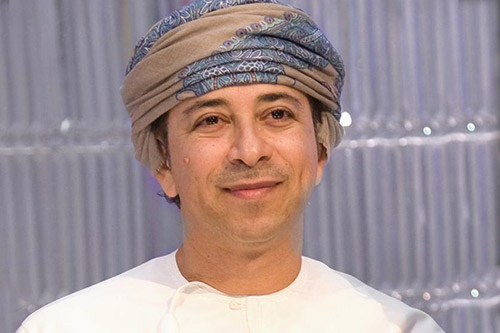 Sultan Bin Hamdoon Al Harthi
His Excellency Sultan bin Hamdoon Al Harthi is former mayor of Muscat, the Sultanate of Oman's capital and its largest city. (The equivalent title in Oman is Head of Muscat Municipality and the Municipal Council.) In addition, he chairs the Sohar Development Office, which directly supervises urban planning for Oman's Sohar district. He has held numerous other governmental positions, including Undersecretary for Heritage Affairs in the Ministry of Heritage and Culture.
Aside from these government roles, His Excellency is chairman of the board on some of Sultanate's largest companies, including Oman Telecommunications Company, Oman Mobile, The Wave, Haya Water Company, Oman Environmental Services Company, and Waterfront Investments. His Excellency is ranked 255th in "Power 500--the World's Most Influential Arabs" listed by Arabian Business Magazine. He received his BA and MA in Architecture from the University of Arizona.
In 2012, Mr. Al Harthi made it possible for University of Arizona to travel to the Middle East for research and field work in Muscat, the capital city of Oman. While there, students and faculty from Sultan Qaboos University worked together to examine urban revitalization projects for the city. The students evaluated a variety of projects from public transportation to urban farming to wastewater management. They developed planning recommendations for public officials in the Muscat municipality. Read about it in UANews.
---
Jorge Galo Medina
Born in Mexico, Jorge Galo Medina graduated as Agricultural Engineer from Universidad Autónoma Agraria Antonio Narro (www.uaaan.mx) where he has taught since 1974. At the university, he started the student international team for range plan identification, which has since renowned at the Society for Range Management.
He worked for his M.Sc and Ph.D. degrees at The University of Arizona (1974) and Colorado State University (1980). In 1999 he earned a degree as a Doctor of Strategic Management at Torreón, Coahuila, México. His past career has seen him serve as México's House of Representatives, as Secretary of Rural Development at the State of Coahuila Government, Deputy Academic Director at the national office of Technological Agriculture Education of México's Ministry of Public Education, and eventually as President of his own Alma Mater.
Agricultural and higher education issues have always been dominant in his life. In January 2013, he was appointed as General Director of Capacity Development and Rural Extension at México Ministry of Agriculture (Sagarpa).
"In the confines of your life, the way you talk, you think, act and dress is built by you. Each experience creates new realities in the mind. Hence, your inner dialogue is what empowers your vision and informs your appreciation of how the world is woven." From Paradigmas: La Veta del Cambio y la Sustentabilidad (Paradigms: The Vein of Change and Sustainability)
---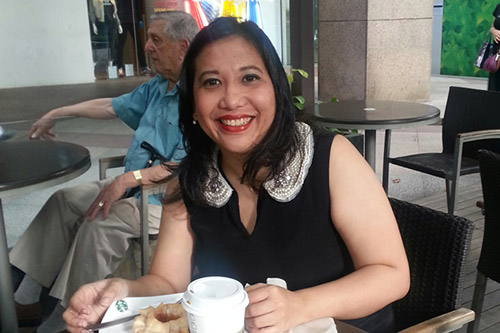 Esterlyta "Lyta" Pandjaitan
A member of the Indonesian Student Association while a student at the UA, Esterlyta "Lyta" Pandjaitan graduated from the College of Engineering in 2001 and is now a telecommunication consultant in Jakarta.
She is connected with several Wildcat alumni in Jakarta, and she would like to reach out to the rest of the country to help Wildcats stay connected and support the UA in Indonesia.
"As a professional, I offer project management solution for a living. My background in telecommunication industry shaped me to be systematical, dynamic and running along with the speed of technology. I'm a blend of North American formal education with professional experience in accelerated Asia."
---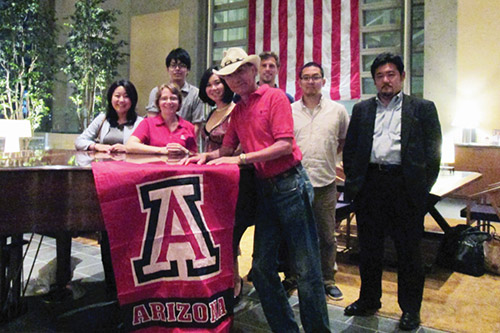 Masahiro Miki
Masahiro Miki earned an MA in Economics. As a student he founded and was the first president of the Japanese student club. Masahiro has experience in a wide range of industries including director of market communications at Merrill Lynch, senior director at Microsoft, and head of communications at Banyi Pharmaceuticals, as well as serving in advisory positions to several other businesses.
Most recently, Masahiro Miki has joined the Japan Weather Association (JWA) as consulting advisor with a mission of setting up the vision 2020 for their course of business directions and branding effort. Global warming, nature hazards, and all the nature environment we find around us today, the Japan Weather association (JWA) is at critical moment to compete, advance and expand portfolio of business operations further by providing innovative solutions to our clients in the various industries, including national and local governments. Mr. Miki is excited to join the team in re-engineering the company team to pursue the growth of the organization on a global level.
---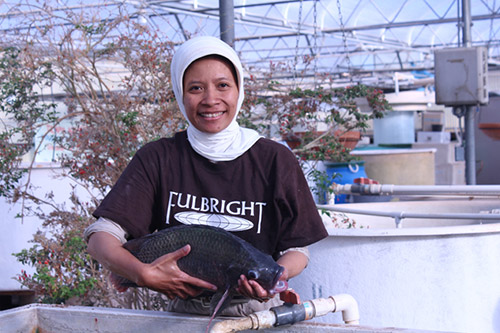 Sidrotun Naim
In 2007, Sidrotun Naim learned from her University of Arizona professor that the UA housed the world reference lab for shrimp diseases. After receiving a Fulbright scholarship, earning a Schlumberger Foundation Faculty for the Future award via Women in Science and Engineering, and spending summers doing extensive fieldwork back home in Indonesia, Naim completed her UA career in 2012. With two masters degrees and a doctorate (Environmental Science and Pathobiology), Sidrotun Naim earned yet more recognition with the UNESCO L'Orèal Fellowship for Women in Science for her postdoctorate research. Today, she continues to excel as a scientist.
Aquaculture contributes to Indonesian food security, income and employment and it generates foreign exchange earnings. An important livelihood for coastal fishery communities (more than 6 million people in Indonesia, most of them women) it also contributes to reducing the pressure on marine natural resources. Sidrotun is researching the potential of a polyculture between shrimp and tilapia to reduce viral and bacterial disease in shrimp farming. Sidrotun Naim now serves as Director of the Center for Sustainable Aquaculture and Pathology Studies.
---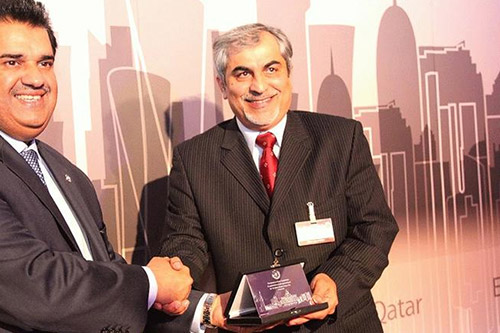 Abdulla Al Mulla
Abdulla Al Mulla visited UA in June 2013 from his home country of Qatar. Mr. Abdulla Yousuf Al Mulla is Executive Director of Operations for the Qatar Foundation's Research and Development division. He is responsible for developing the infrastructure for R&D—building labs and research facilities that will support the ability to do world-class research. While visiting Tucson, he toured labs and research facilities on campus and met with several professors and deans about his passion: to foster a knowledge-based economy in Qatar, not based on oil and gas revenues.
He supports the message of the foundation: "While many large economies are downsizing their investments in research, Qatar remains committed to a greater vision. It is one of the most progressive nations when it comes to research investment. In fact, on the global scale, Qatar is one of the five biggest investors in research and development. The country's increased focus on scientific research has propelled a new generation of Qataris that is now at the forefront of change and innovation."
The Qatar Foundation (QF), which was founded in 1995 by the former Emir and his wife, focuses on the strategic importance to the needs of the State of Qatar and the wider Middle East and North African region, including technology, biomedicine, information technology, and social and human sciences. QF receives both private and government support. In 2006, QF launched the Qatar National Research Fund (QNRF), which has since awarded $649 million in research grants to local researchers and international collaborations.
---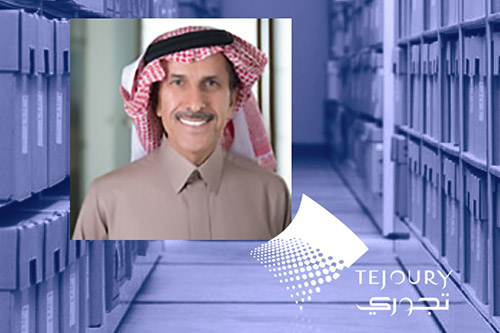 Dr. Salman Abdulrahman Al Sudairy
Dr. Salman Abdulrahman Al Sudairy is an entrepreneur in Saudi Arabia with many different business interests.
Dr. Al Sudairy is the managing director and majority owner of the EYAT Company. EYAT operates retail boutiques in Saudi Arabia that sell luxury clothing and accessories. Since establishing EYAT, he has focused on developing local and regional investments. He is chairman of the board of Tejoury, a records management company in Riyadh. He is also a board member of the publicly-held Saudi Re, Saudi Reinsurance Company. He is a co-owner and board member of Bateel International, the gourmet food company led by his brother, Dr. Ziad Al Sudairy.
Previously he served as Deputy-Governor of the Al-Jouf Region from 1991 to 1999. He also previously served as the General Manager of Al-Jouf Mineral Water (Hilwa).
Dr. Salman Al Sudairy has a PhD in Accounting from the University of Texas at Austin, an MBA in Finance from Northwestern University, and a bachelor's degree from The University of Arizona.
Salman and Ziad Al Sudairy are members of the powerful Al Sudairi family in Saudi Arabia. Their father was governor of the province of Al-Jouf, and they are first cousins of King Fahd, who was King of Saudi Arabia from 1982 to 2005.
---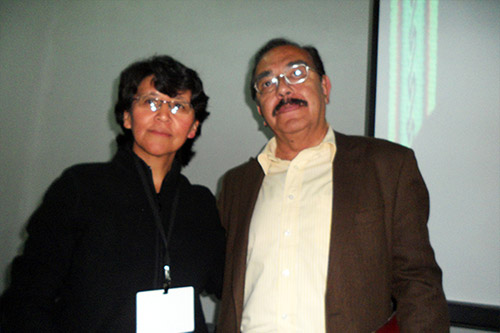 Luz Jimenez Quispe
Luz Jimenez Quispe (shown above with the Consul of Bolivia in Cusco; Luz is on the left) received her PhD in Education in 2012 from the University of Arizona. While here at the UA, she mentioned: "Since I was young, I have had two main goals in my life: to study and work to help educate indigenous people, focusing on women, children, and youth. These goals induced me to learn Mathematics and Anthropology. I obtained an MA in intercultural and bilingual education with a specialty in educational planning and management. Currently, I am working on my PhD to be more qualified to help improve education in my country."
Her UA education has served her well. Luz Jimenez Quispe is now Rector at Universidad Pedagogica in Sucre, Bolivia. Her goals and challenges are to improve higher education in indigenous universities and to change public policies in education. She is working with the Bolivian Ministry of Education to prepare new national curricula that will improve education for indigenous and poor children.
"Graduates, specialties and master's degrees in mathematics, physics, chemistry, special education and other areas under the Community partner production model will be delivered in 2015.We will try to cover all the specialties of the education system; we want the quality of programs to be offered by the Pedagogical University to be at the same level as other universities in the world."
---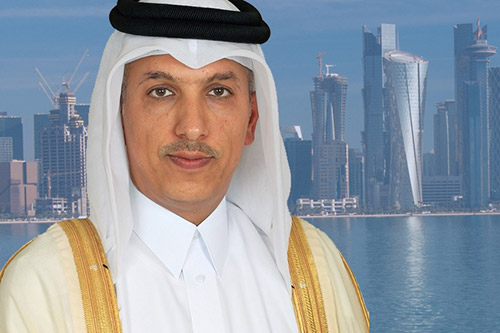 Ali Shareef Al Emadi
In June 2013, His Excellency Ali Shareef Al Emadi was appointed Minister of Finance for Qatar. At that time he stepped down as CEO of Qatar National Bank (QNB), and subsequently became chairman of the board of directors for QNB.
From 2005 to June of 2013, Ali Shareef Al Emadi was Group CEO of Qatar National Bank (QNB) and during that time he spearheaded QNB's extraordinary growth and international expansion. While Mr. Al Emadi was CEO, QNB became the largest and most profitable bank in the Middle East. Under his leadership, QNB achieved assets of over $100 billion. Based on its performance in 2012, this year QNB was ranked as #1 in Bloomberg Market's annual ranking of the world's strongest banks.
Mr. Al Emadi is now a board member of the Qatar Investment Authority (QIA), the government's sovereign wealth fund, which has assets over $100 billion and makes both foreign and domestic investments. He is chairman of Qatar Airways, which is also 50% owned, and he is chairman of Qatari Diar, a property investment company that is wholly owned by QIA.
Ali Shareef Al Emadi received his BS in Finance from the University of Arizona in 1992.
---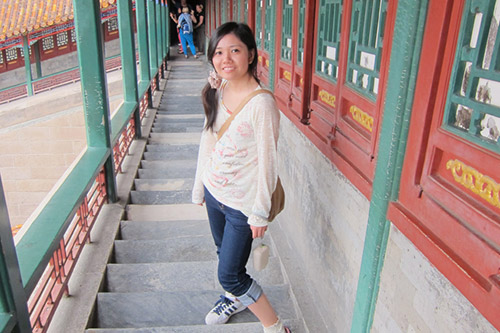 Eriko Moriyama
Eriko Moriyama is currently working as a payload operation flight controller for ISS JEM (International Space Station, Japanese Experiment Module). She graduated from University of Arizona with her B.S. degrees in Physics and Astronomy, and studied at International Space University in Strasbourg, France for Masters in Space Sciences. She is engaged in Environment Control and Life Support System (ECLSS) and a member of SICLE, an ECLSS simulator development team.
---
For more information on the Arizona Global Alumni Network, or to become a global ambassador, please contact:
David Richards
Executive Director, International Marketing and Communications
The University of Arizona
Arizona International
Phone: 1-520-621-8651
davidrichards@arizona.edu
Marc Acuña
Vice President of Student and Alumni Engagement
The University of Arizona
Alumni Association
Phone: 1-520-626-0705 or 1-800-232-8278
Marc.Acuna@al.arizona.edu
Please visit the following link for more information:
https://alumni.arizona.edu/celebrate-arizona/awards
Visit the following link for Notable University of Arizona Alumni: