Meet our Newest Study Abroad Coordinator and Explore Programs in Latin America and Spain!
Please join us in welcoming the newest Coordinator on the Study Abroad team: David Wray!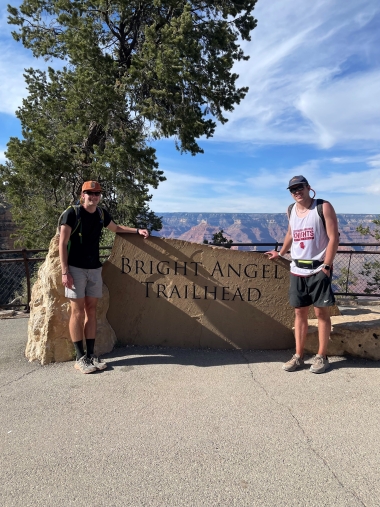 David comes to us with both experience working with undergraduate students and participating in a study abroad program himself. Before joining our team, he earned his Master of Arts in Teaching from Northern Arizona University where he also taught Spanish 101 and 102 courses. Prior to his experience at NAU, he studied abroad in Oviedo, Spain, for a summer while earning his bachelor's degree in Spanish at the University of Utah.
 As a Study Abroad Coordinator, David works to make study abroad approachable, accessible, and a seamless fit into a student's degree plan. Whether students need help deciding on a program, want advice on scholarships or packing, or need help getting an international visa, David and his fellow Coordinators are here to help. David's regions of expertise include Latin America and Spain (excluding UA Barcelona). Students interested in learning more about programs in either of these regions are welcome to reach out to David here.
"Think outside the box with study abroad. There are classes and programs available in a variety of subjects that can help you progress in your academic and professional goals. It's not just to learn a language."
David's Experience Abroad
David spent one of his summers in college at Universidad de Oviedo in the Asturias region of Spain. Oviedo is a charming town in the northern part of the country, known for its sidra apple cider, beautiful cathedral, longstanding walls from the Roman Empire, and quick 45-minute bus ride to the Atlantic coast. Plus, the city served as the inspiration for the iconic Spanish novel, La Regenta by Leopoldo Alas and remains a stopping point on the Camino de Santiago pilgrimage.
"One of the best things about my study abroad experience was being able to walk around the city and see examples of what I was learning about the history, art, and architecture in the classroom. While abroad, take advantage of being on site and see how the classroom applies to the local community!"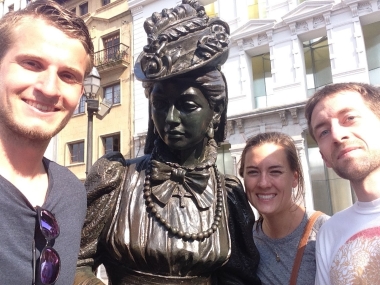 UArizona's Programs in Spain
Spain is home to a variety of regional languages, cuisines, and climates. From the beaches of Tarragona to the bustle of Madrid, there is so much to see and experience. Students in Spain can also take advantage of affordable buses, trains, and planes around the country and European continent. It's easy to travel everywhere from Basque Country to Andalucía on weekends while getting a great education and immersive experience in your host city during the week.
"I highly recommend staying with a host family, if it's available. It's a great way to learn about the culture, eat a local diet, and get recommendations about things to do in town, places to go, restaurants to try, etc."
University of Arizona students can make their own discoveries and wonderful memories in Spain through the following programs:
Arizona in Alcalá de Henares
CAPLA Abroad – Barcelona
Arizona in Valladolid
UArizona's Programs in Latin America
Ranging from the Caribbean to South America (and everything in between!), Latin America is a diverse and exciting region in the world. Whether a student wants to delve into the history of Cuba, the ecology of Ecuador, the geopolitics of Colombia, or something else, there is something for everyone in this area.
"Studying abroad is a great opportunity to expand your comfort zone. Trying new things can be scary but push yourself to study abroad! While you are away, take the opportunity to try new foods, talk to people in the local language, and live like a local. As you do this, write down things that are different or new in your host country. After a while, it will become normal. It's fun to look back at your adjustment and see the differences between Tucson and your host country."
Students can experience the beauty and history of Latin America through the programs below:
Brazil
Chile
Colombia
Costa Rica
Cuba
Ecuador
Mexico
Verano en México
International Student Teaching Program – Mexico
Universidad Nacional Autónoma de México
Peru
For the rest of UArizona's Study Abroad programs, please visit https://international.arizona.edu/study-abroad/