International Education Week: Celebrating Our Diversity
Nov. 28, 2022
Parade of Cultures Marks IEW 2022 on the University of Arizona Campus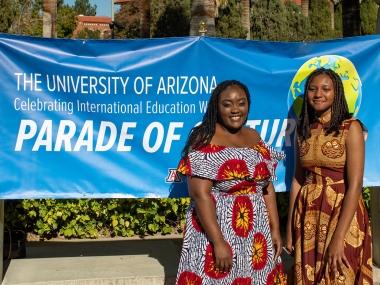 On Thursday, November 17, Arizona International, International Student Services and International Education recognized International Education Week 2022, with a Parade of Cultures showcasing some of the diversity of nationalities present on our campus from all around the globe. Some of the participants chose to attend in traditional clothing or carried a flag representing their home country. 
The 2022-23 academic year has been record-breaking for UArizona international student enrollments. According to the combined main campus and global fall 2022 census, Arizona set a new institutional record by enrolling a total of 5,808 international students across all modalities and locations, a 14% increase over fall 2021. The enrollment period also set the record for the most diverse cohort, made up of more than 126 nationalities.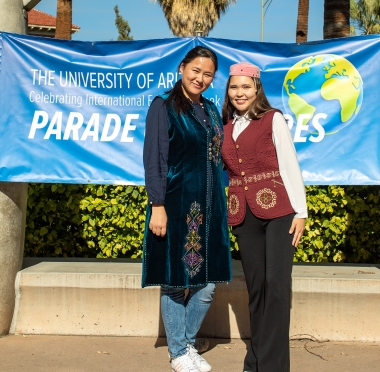 The international student cohort is part of a bigger picture that includes a university record for diversity.
This academic year, the University of Arizona welcomed its largest, most diverse, and academically prepared incoming class in university history, with approximately 8,900 first-year students, a 5% increase over last year's incoming class of 8,483.
International Education Week is a joint initiative of the U.S. Department of State and the U.S. Department of Education to promote programs that prepare Americans for a global environment and attract future leaders from abroad to study, learn, and exchange experiences. At the same time that Arizona's international student enrollments have grown, so too has the number of domestic students who studying abroad.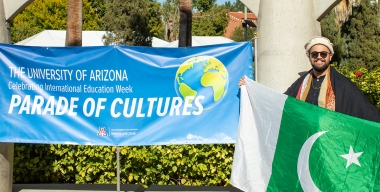 On October 6, 2022, the University of Arizona was recognized by the U.S. Department of State's Bureau of Educational and Cultural Affairs as a the nation's second-highest top producer of Gilman scholarship recipients. To date, 445 Arizona students have been awarded over $1.7 million in Gilman Scholarship funds to support study abroad experiences. 
In Spring 2021, Arizona was ranked #4 on the Fund for Education Abroad national scholarship, a program that helps students from diverse backgrounds study abroad.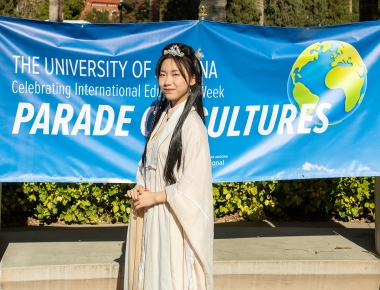 Many of the most pressing challenges we face are inherently global in scope and impact and can only be addressed by nations and individuals working together.
The international exchange of students, researchers, scholars, and educators across countries and disciplines strengthens partnerships and creates opportunities for collaboration across borders. 
Arizona International is committed to creating new opportunities for multi-directional mobility, advancing cutting-edge learning modalities, and leading the field in international collaboration, research, and innovation in higher education around the world. Arizona International develops and delivers unparalleled holistic student support programs and is a top destination for talented international students attending the Tucson campus in person or enrolling in programs offered through a growing network of microcampus partners.