Record-breaking Year for UArizona International Student Enrollments
Oct. 28, 2022
The University of Arizona achieves record international student enrollments by expanding the Global Microcampus Network and establishing more resources worldwide to better engage future main campus students.
For the combined main campus and global fall 2022 census dates, the University of Arizona set a new institutional record by enrolling a total of 5,808 international students across all modalities and locations, a 14% increase over fall 2021. The enrollment period also set the record for most diverse cohort, made up of more than 126 nationalities.
"Our record growth is the result of focus and dedication by the Arizona International team and our strategy to provide access to education whether students are on the Tucson campus, studying online or at a microcampus in their home country," said Daniel Palm, associate vice president of international affairs. "We continue to accelerate and intensify UA's international engagement, investing in our future student outreach network, and developing new educational partnerships around the world."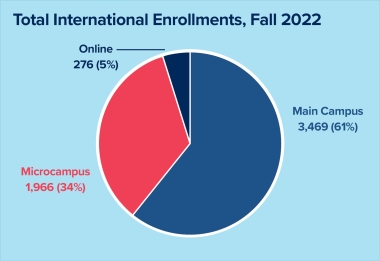 Renewed demand for UArizona main campus programs was demonstrated by growth in applications of 28% for fall 2022 over the prior period. Total new to main campus international enrollments reached 923 for fall 2022, a 25% increase over fall 2021. This included a surge of 48% in new undergraduate enrollments and an increase of 9% in new graduate enrollments.
Microcampus enrollments for fall 2022 also set a record of 1,966 total students studying at fourteen partner institutions in nine countries, an increase of 14% on the prior year. While international students learning across all online modalities increased 35% from 276 students in fall 2021 to 373 in fall 2022.
"We are pleased to see the growth of student numbers in our international Microcampus Network this year. In addition, we added new degree programs to our academic portfolio and we have welcomed new partners around the globe." said J.P. Jones, dean of international education.
The Global Microcampus Network hit another milestone this year, celebrating the first cohort of dual degree graduates with microcampus partner Universidad Peruana de Ciencias Aplicadas (UPC), Lima, Peru. Sixty-six students from the class of '21 were finally able to join graduation ceremonies in May at both at UPC and UArizona to celebrate their achievements with their family and friends.
The international student cohort is part of a bigger picture that includes a university record for diversity. This academic year, the University of Arizona welcomed its largest, most diverse, and academically prepared incoming class in university history, with approximately 8,900 first-year students, a 5% increase over last year's incoming class of 8,483.
To learn more about University of Arizona International Admissions, including study options, student life and international student support, visit www.everywhere.edu.au.    
ABOUT ARIZONA INTERNATIONAL 
As the driving force for University of Arizona international academic engagement, Arizona International creates new opportunities for multi-directional mobility, advancing cutting-edge learning modalities, and leading the field in international collaboration, research, and innovation in higher education around the world. Arizona International develops and delivers unparalleled holistic student support programs and is a top destination for talented international students attending the Tucson campus in person or enrolling in programs offered through a growing network of microcampus partners. 
Arizona International is:  
The University of Arizona Microcampus Network • International Education • International Recruiting • International Student Services • Study Abroad • International Faculty & Scholars • The Global Center • International Travel • U.S. Passports Office • Office of Mexico Initiatives • International Affairs • International Alumni  
Media Contact:
David Richards, Executive Director, International Marketing and Communications: davidrichards@arizona.edu.