University of Arizona Named Top Producer of Gilman Scholars for 2020-21
UA Study Abroad announces new $500 Gilman Application Award for Gilman applicants who commit to a UArizona study abroad program.
On October 6, 2022, the University of Arizona was recognized by the U.S. Department of State's Bureau of Educational and Cultural Affairs as a Top Producer of Gilman scholarship recipients.
From fall 2020 through summer 2021, the University of Arizona produced 17 Gilman recipients, second only to University of California - Berkley, in the category Large Institutions (>15,000 undergrads).
"The University of Arizona continues to be at the front of the pack nationally, creating opportunities for students to gain cultural competence through international education and exchange," said Daniel Palm, associate vice president for international affairs. "We are proud of this recognition by Gilman and the unique leadership position the University of Arizona enjoys nationally as we set the standard for providing access to international opportunities."

To date, the average Gilman award rate for the University of Arizona is 42% compared to a national rate of 15%, with the average UArizona student award amounting to $3,857. To date, 445 UArizona students have been awarded over $1.7 million in Gilman Scholarship funds to support study abroad experiences.
"In recognizing the top institutions with students studying abroad as Gilman Scholars, the United States continues to prioritize its commitment to provide access and equity to international experiences for all Americans," said Lee Satterfield, assistant secretary of state for educational and cultural affairs .
In October 2021, to mark its 20th anniversary, the U.S. Department of State Benjamin A. Gilman International Scholarship Program recognized U.S. colleges and universities that have sent the most Gilman Scholars abroad over the past two decades. At that time, University of Arizona was #5 in the category of Large Institutions.
The University of Arizona has a long history of making study abroad accessible through scholarship support, and UA Study Abroad programs are consistently high in national scholarship rankings. In Spring 2021, UArizona was ranked #4 on the Fund for Education Abroad national scholarship, a program that helps students from diverse backgrounds study abroad.
"The Gilman Program prioritizes students from diverse backgrounds," said Harmony DeFazio, executive director of study abroad at the University of Arizona. "It is both a point of pride for us to see how many awards our students get compared with other universities, and a testament to the team we have here supporting those students in the application process."
"As the first four-year public university in the state of Arizona to be federally recognized as a Hispanic Serving Institution (HSI), serving our diverse student population is a priority and aligns perfectly with the goals of the Gilman Scholarship," said DeFazio.
As a research intensive land-grant HSI, the University of Arizona is committed to responsively meeting the educational needs of our vibrant and increasingly diverse communities in the state of Arizona. During the 21-22 academic year, 25% of UArizona students studying abroad self-identified as Hispanic or LatinX, aligning closely with the main campus student population (28%). The new Gilman Application Award exemplifies our commitment to sending a diverse representation of students abroad that represents our campus and state diversity.
Gilman Application Award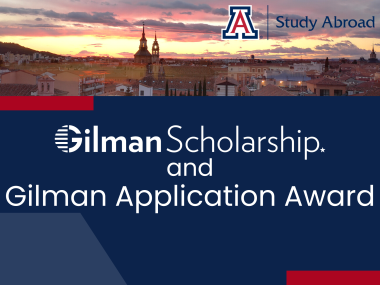 Beginning this fall, UArizona Study Abroad are committing a $500 study abroad scholarship to all UArizona students who submit a Gilman application, regardless of whether they eventually get Gilman funding. The Gilman Application Award will be triggered when a student commits to a study abroad program and will be in the form of a stipend.
The new scholarship is a reflection of our commitment as a university to making study abroad more accessible and inclusive for students who, due to financial constraints, might not otherwise participate.
"I am thrilled to be able to offer the Gilman Application Award to UArizona students who apply to the Gilman Scholarship and commit to a study abroad program," said Dafne Romero Johnson, UA study abroad program manager. "It's important to know that studying abroad is an achievable goal, and that this is an attainable scholarship."
Offering the scholarship at the time of application will address the financial anxiety and uncertainty that some students face when planning and preparing to study abroad by encouraging proactive financial preparedness. The scholarship will increase access to the study abroad experience and diversify the student profile on University of Arizona Study Abroad programs, in line with Gilman's mission and values, and will embolden students to take the crucial first step of applying to study abroad programs.
Gilman Scholarship Students
The Gilman Program applicant pool is highly competitive, and the application takes time and commitment, but it is an empowering process that invites students to think hard about their motivation and goals.
Our status as a top producer of Gilman scholarship awards is woven into the culture of the UArizona Study Abroad office.
Students must be Pell Grant eligible to apply for the scholarship. Students participate in a follow-up service project when they return, and those students work with the UA Study Abroad department to promote the program and recruit eligible students from diverse cultures and backgrounds, and non-traditional students, to apply for the scholarship.
"My Study Abroad advisor encouraged me to apply for a Gilman scholarship, and I utilized some online and campus resources to support me in the application process," said Jennifer Gaxiola, a senior majoring in political science, global studies, and Spanish and Portuguese.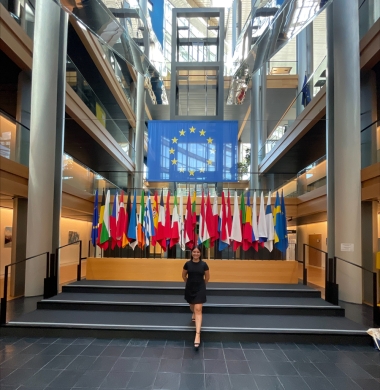 Gaxiola applied for and received a Gilman scholarship to study abroad in summer 2022. The Tucson native participated in the International Organizations in Europe program in Fribourg, Switzerland, that focused on studying and visiting various international organizations such as the United Nations, the European Parliament, the World Trade Organization, etc.
For a college student who is interested in the international field, an international immersion program like this helps build intercultural competence skills and adaptive skills. "Learning from various international organizations such as the United Nations, learning about Swiss culture and the languages spoken in my host country, has also helped me form my future expectations," Gaxiola added. "My favorite part from my study abroad experience was visiting the United Nations, where we got the chance to visit the Human Rights Council and see various senior representatives from different countries. I learned so much about what I want to do in the future."
"I went to the Writing Center to work on my essays two months in advanced," Gaxiola said. "I also visited the Gilman Scholarship website and read the submission tips and applicant FAQ they provided. There were also some very helpful videos on YouTube on how to prepare for the application."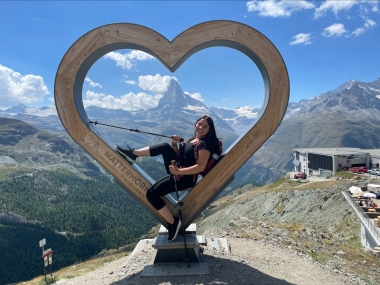 "My advice for students thinking about applying is definitely to prepare in advance, and don't be scared to ask questions. The Study Abroad advisors are always there to help. And past applicants and recipients from your current university will be a great resource!"
"I will always be grateful for receiving the Gilman Scholarship," Gaxiola said. "The financial aspect of studying abroad is an obstacle for many students, and personally, it was one for me. The excitement of getting to travel abroad and immersing myself in another country's culture were my motivation to not give up and apply to this scholarship. Now as a Gilman alumni I would love to encourage students to apply. This is an opportunity to not only fund your international experience but also become part of a community that may have the same interests as you."
Many Gilman recipients remark that they would not have been able to study abroad if not for the life-changing scholarship award.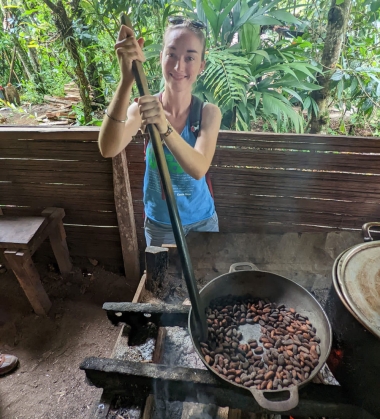 Current senior Amrita Khalsa is a food studies major, minoring in Spanish, in the College of Social and Behavioral Sciences. With the support and guidance of her UA Study Abroad Gilman advisor, Khalsa applied and received a scholarship for her Arizona in Costa Rica 5-week Spanish immersion experience in Summer 2022.
While the program focus was Spanish language immersion, Khalsa was able to participate in unique learning experiences that were not only inspiring, but also connected to her food science studies.
"On one of the excursions we got to meet an indigenous community, the BriBris. We toured their medicinal garden and learned how to make chocolate from the cocoa bean," Khalsa said. "That particular experience will be memorable because this is a group of people with a very deep connection to that land, who are working to keep their culture and practices alive and well. This day inspired me toward one of my goals of writing about cultures and their connections to their foods. Driving thorugh the country I also saw monoculture crops of pineapples and bananas. Because I have studied food systems and the impacts on farm workers and the environment, to see these large-scale farms was very interesting."
If you meet the requirements to apply, Khalsa has some advice.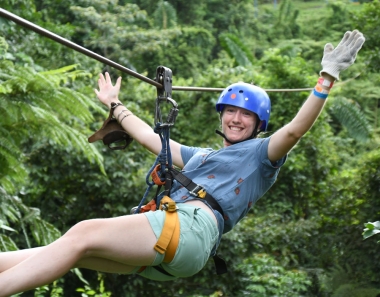 "It may seem like a daunting task, with a long application and three essays, but it is good practice, and well worth all the work with the possibility of receiving funds to go abroad. For the essays: think about what you're passionate about, why you're excited for your program, and how it can impact your studies and career goals," Khalsa said. "Include personal details and stories and think about why the study abroad program you're applying to is the right one for you."
"I never win anything or get selected for awards, so I was really surprised and excited to get the scholarship," Khalsa said. "All the hard work writing the essays paid off, which made it all worth it!"
---
Throughout its over 20-year history, the Department of State's Gilman Program has reshaped study abroad to make it more accessible and inclusive for American students by providing scholarships to outstanding U.S. undergraduate students who, due to financial constraints, might not otherwise participate.
The Gilman Scholarship is a public diplomacy program of the U.S. Department of State's Bureau of Educational and Cultural Affairs, and is implemented by the Institute of International Education. (IIE).  To learn more about the Gilman Scholarship and how its diverse alumni pursue meaningful careers in the public, non-profit, and private sectors, contact eca-press@state.gov and visit www.gilmanscholarship.org.