The University of Arizona is a Twenty-Year Top Producer of Gilman Scholars
Twenty years of making the study abroad experience accessible to students
On October 27, 2021, the University of Arizona was recognized by the U.S. Department of State's Bureau of Educational and Cultural Affairs as a Top Producer of Gilman scholarship recipients over the past twenty years, coming in at #5 in the category of Large Institutions (>15,000 undergrads).
This year marks the 20th anniversary of the Benjamin A. Gilman International Scholarship Program, and in that time 386 University of Arizona students have been awarded over 1.1 million dollars.
"The University of Arizona is proud to be recognized as a top producer of Gilman scholars," says Vice President for Global Affairs and Dean of Global Education Brent White. "As an institution, we are committed to creating opportunities for international education and exchange and empowering students to become global citizens, and this recognition represents both the work we do, and the quality of our students."
Throughout its twenty-year history, the Department of State's Gilman Program has reshaped study abroad to make it more accessible and inclusive for American students by providing scholarships to outstanding U.S. undergraduate students who, due to financial constraints, might not otherwise participate.
Applying to the Gilman Program is an empowering process that invites students to think hard about their motivation. The applicant pool is highly competitive, and the UA Study Abroad team helps make it accessible and achievable by supporting students who are interested through writing sessions and workshops, providing guidance and essay feedback. It can take time, but when a scholarship is awarded, it is celebrated as a great achievement.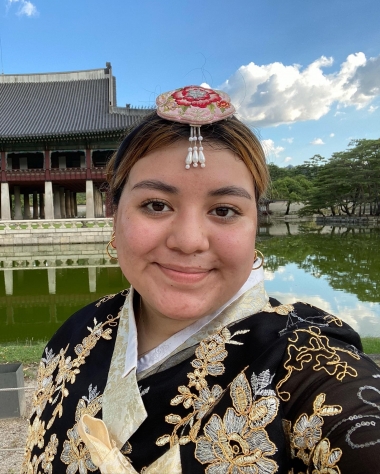 When student Danielle Angelica Ochoa applied for the Gilman award as a junior, she had plans to study abroad in South Korea. "Receiving the notification was a big surprise!" Ochoa said. "Seeing 'Congratulations' in the email subject line was so exciting. I couldn't believe that my entry was chosen out of a highly competitive applicant pool! I am grateful to have received such a prestigious award."
Ochoa, who is from Glendale, Arizona, is currently studying at UA Seoul (Hanyang University) in Seoul, South Korea, where she is taking classes that will enhance her major in Political Science, and her minors in Korean and Japanese Language.
"The award amount covered a significant portion of my expenses," she continued, "and helped make the experience possible. I highly encourage students to apply for the Gilman Scholarship if they plan to study abroad!"
Many students remark that they would not have been able to study abroad if not for the life-changing scholarship award. In 2020, the average award rate for UA was 33%, compared to a national rate of 25%, with the average award amounting to $3,600.
"The Gilman Program prioritizes students from diverse backgrounds," said Harmony DeFazio, executive director of study abroad at the University of Arizona. "It is both a point of pride for us to see how many awards our students get, compared with other universities, and a testament to the team we have here, supporting those students in the application process."
Students must be Pell Grant eligible to apply for the scholarship. Students participate in a follow-up service project when they return, and those students work with the UA Study Abroad department to promote the program and recruit eligible students from diverse cultures and backgrounds, and non-traditional students, to apply for the scholarship.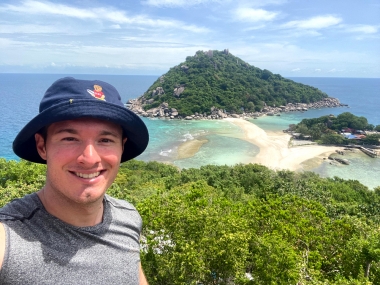 For UA student Patrick DeToro, the Gilman Scholarship made possible the opportunity to live his dream of studying Globalization and Development in the Isaan region of Thailand.
"Through a hands-on interactive immersion into local communities and organizations at the forefront of grassroot social justice initiatives," DeToro shared, "I gained invaluable experience interacting with NGOs, activists, journalists, and peoples' movements in a country rife with coups and constitutions."
"I have found it easier to believe in my greatest dreams," DeToro reflected, "now that I have lived this one. A big thank you to the Gilman Scholarship Program. And to my fellow Wildcats: live your dreams, #gogilman and as always #beardown."
DeToro likened the experience to "exiting the allegorical cave, as I went from studying history to walking through it. Through my journeys abroad," he said, "I became aware of not only the world, but of a part of myself that I may have otherwise never known existed."
In this anniversary year, the U.S. Department of State's Benjamin A. Gilman International Scholarship Program is recognizing the U.S. colleges and universities that have sent the most Gilman Scholars abroad over the past two decades. These institutions were recognized for their support of equity, diversity, and accessibility in study abroad for American students through the Gilman Program.
Based on 20 years of data, the top 20 institutions are being honored across four categories: small, medium, and large institutions and associate degree granting institutions. Colleges and universities in 27 states, plus D.C. and Puerto Rico, are represented, as are 33 Minority Serving Institutions.
"Our status as a top producer of Gilman scholarship awards is woven into the culture of our study abroad office," said Coordinator of Study Abroad Programs Dafne Romero Johnson. "It is something that we are extremely proud of, both as an office and as a university."
In Spring 2021, the University of Arizona was also ranked #4 on the Fund for Education Abroad national scholarship, a program that helps students from diverse background study abroad.
Students can explore Study Abroad programs and learn about ways to finance their experience here.