An Enriched Student Experience Grows Global Locations
March 18, 2022
Students around the world drive increasing popularity of Dual Degrees and Global Direct Online degree pathways
Dual Degree and Global Direct Online pathways offer options for students around the world to access a UArizona degree through a microcampus partner location. The popularity of these programs has seen a recent increase, and growth is expected.
At the end of the Fall 2021 semester, approximately 115 (96 undergraduate; 19 graduate) Dual Degree students graduated from a University of Arizona Global microcampus location.
The Spring 2022 enrollment numbers* reflect the growing popularity of the Dual Degree option, with over 1500 undergraduate and over 100 graduate microcampus dual degree students currently enrolled.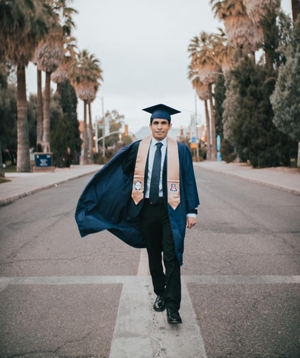 The University of Arizona offers nineteen Dual Degrees that can be pursued through one or more of twelve microcampus university partner locations around the world. With both undergraduate and graduate programs to choose from, students can earn two top degrees in the same amount of time as one degree, giving them not only a head start in their careers, but also access to a huge community of teachers, resources, and alumni networks through both universities. Students can earn, for example, a Bachelor of Arts Dual Degree in Law through American University of Phnom Penh, Cambodia; or a Bachelor of Science Dual Degree in Mechanical Engineering from Sampoerna University in Jakarta, Indonesia; or even a Master of Public Health Dual Degree through Gulf Medical University in Ajman, UAE. For a complete list of Dual Degree programs and locations, visit everywhere.arizona.edu.
The Global Direct Online pathway offers several options to pursue a University of Arizona degree fully online, with options to transition to the main campus in Tucson or take courses that will transfer to another U.S. college or university.
Students in Dual Degree and Global Direct Online programs are supported by the Global Student Engagement Team, whose mission is to provide UArizona's students outside the U.S with a wide range of engagement activities to create an interactive, culturally immersive community, as well as create opportunities to improve their written and verbal English communication skills.
In addition, undergraduate students pursuing Dual Degrees or enrolled in Global Direct Online, and who have earned at least 60 credits, have the option to spend one or more semesters on the University of Arizona campus in Tucson through Study Arizona. This popular option gives students the chance to attend excellent courses taught in-person by top faculty, live in a residence hall or off-campus apartment, attend exciting PAC-12 sporting events, and participate in some of the 600+ student clubs on campus where they will make friends for life. From orientation and welcome parties to graduation ceremonies, these students get the full all-American college experience.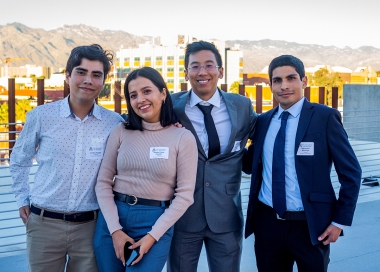 There were 49 Study Arizona students studying at Main Campus in Fall 2021 from our partner, Universidad Peruana de Ciencias Aplicadas (UPC) in Lima, Peru. These students graduated with majors including Sustainable Built Environments, Industrial Engineering, Business Administration, Communication, and Philosophy, Politics, Economics, and Law (PPEL).
Lisa Turker, Assistant Dean of Global Education, oversees the management and student support services for UA microcampus dual degree programs, Global Direct online pathway programs, and non-credit programs offered abroad. Turker projects that the number of students participating in these programs will triple over the next five years.
*Numbers for both Fall 2021 graduates and Spring 2022 enrollment are approximated because some degree conferrals have not been finalized and some microcampus programs begin in March 2022, so not all students have been enrolled into their courses, respectively.
---
Learn more about University of Arizona Dual Degree programs
Learn more about Global Direct Online
Learn more about Study Arizona