Global Wildcat Welcome Party
On Thursday, February 10, 2022, Arizona Global hosted a Global Wildcat Welcome Party to introduce two unique groups of international students to our main campus.
One of these groups of students included 16 students from Universidad Peruana de Ciencias Aplicada (UPC), our microcampus partner in Peru. These students will be completing a semester on our main campus in Tucson through our Study Arizona program.  
The second group included nine new students from our Global Direct program who started their degree online and now have transitioned to main campus.
In all, the global representation was diverse, with students from Peru, Brazil, Vietnam, Hongkong, Sudan, Nigeria, Zimbabwe, and several other countries in attendance.
The welcome party was held on the rooftop patio at Gentle Ben's Brewing on University Boulevard. The restaurant has been a popular hangout and student favorite for decades. 
In her warm welcome to the students, Assistant Dean of Global Education Lisa Turker said,
"We are so happy that you have joined us here on our lovely campus in Tucson. Thank you for choosing the University of Arizona, whether for this semester or for the rest of your academic career. I encourage you to participate in your college and the vibrant campus life and hope you will all feel welcome here!" 
We asked UPC student Carlos Verano what he is looking forward to the most this semester, to which he said,
"I'm excited to meet new people from different cultures and develop new friendships here."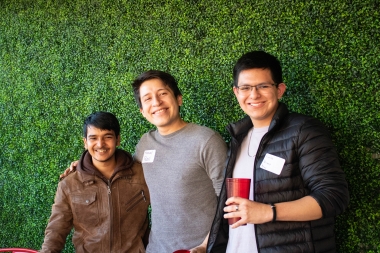 Prarthanaa Singhal, a student from India, expressed her excitement about meeting people from all over the world in-person. 
The students were treated to Mexican food, catered by Gentle Ben's including Quesadillas and Mini Chimichangas. Over a dessert selection of brownies and cookies, the students played Bingo to learn more about each other. 
At the end of the event, Becca Naylor-Sánchez, assistant director of global education, announced the winners of a raffle drawing and presented them with a variety of wildcat merchandise.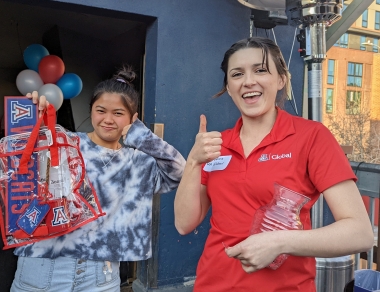 Naylor-Sánchez was thrilled to finally see these students in person, knowing the struggle many have gone through to get here.
"The majority of these students have dealt with a tremendous amount of uncertainly due to COVID-19 related immigration issues, travel restrictions, and personal challenges on their journey to be here today," said Naylor-Sánchez. "Many of them had only interacted through their online classes, so it was fun to see their reactions as they connected with each other and finally put faces to the names they know so well."
In addition to the newly arrived students were 21 previous Global Direct students who transitioned to main campus in recent semesters, and who came to the event to welcome these new students to the campus community. 
"Seeing all the different cohorts together, sharing their unique experiences with each other, was definitely a highlight of this event," said Naylor-Sánchez.