Contact Us
UA Passports
615 N Park Avenue, Room 103
Tucson, AZ 85721
Phone: (520) 626-7161
International Student Identity Card (ISIC)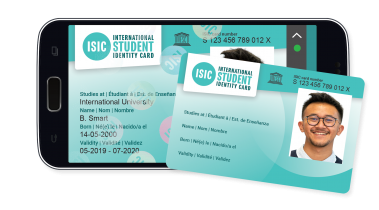 UA Passports accepts applications for the International Student Identity Card (ISIC). For more information about ISIC, please visit the ISIC website.
ISIC is the only internationally accepted student ID card and proof of current student status in existence. It is endorsed by such organizations as the United Nations Educational, Scientific and Cultural Organization, the Community of Andean Nations and the International Air Rail Organization.
ISIC is more than a simple identity card. It offers a mobile phone and calling card communications package with ISIConnect, discounts to more than 33,000 locations in 103 countries, a comprehensive insurance plan, and an Emergency helpline.
Fees:
$25 ISIC card
$10 photo for ISIC card