University of Arizona Microcampus Partner in Peru Graduates First Cohort of Dual Degree Students
June 24, 2022
Class of '21 is celebrated in commencement ceremony at Universidad Peruana de Ciencias Aplicadas
On Thursday, May 26, 2022, University of Arizona microcampus partner Universidad Peruana de Ciencias Aplicadas (UPC), Lima, Peru, held a commencement ceremony for students in the first cohort – the Class of '21 – to graduate with Arizona degrees from this program.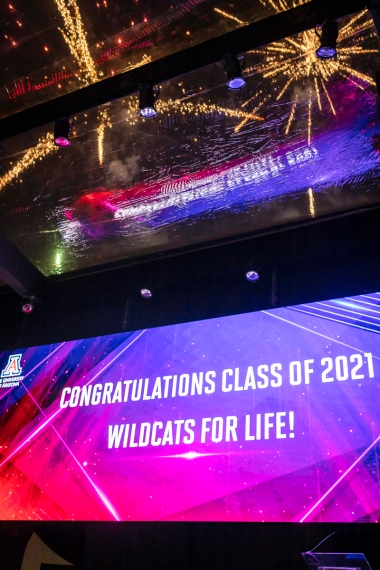 The dual degree partnership between UArizona on UPC makes it possible for students to obtain up to three academic degrees: a bachelor's degree from UArizona, a bachelor's degree from UPC, and a master's degree from UArizona.
The Class of '21 cohort includes 66 students altogether, fifty of whom were able to attend the ceremony on the UPC Villa Campus this May. They graduated with degrees in sustainable built environments, business administration, communication, industrial engineering, and PPEL (philosophy, politics, economics and law), from the College of Social & Behavioral Sciences, the College of Engineering, the College of Architecture, Planning and Landscape Architecture, and the Eller College of Management.
Because of varying academic calendars, and due to Covid-related restrictions that affected travel and scheduling, some of the students finished their degree programs in the fall 2021 semester, and some are just finishing in spring 2022. Not all students were able to attend spring Commencement at the University of Arizona on May 13, 2022, so the celebration at UPC was the first gathering of the cohort in person, in one place, to celebrate this milestone together.
In his welcome address to attendees the Rector and CEO of UPC, Dr. Edward Roekaert Embrechts, said that this partnership between UArizona and UPC began over four years ago "with the shared belief that together the two universities could provide Peruvian students access to a world-class education."
"I feel proud that tonight 66 UPC students have become our first UArizona graduates," said Roekaert Embrechts. "They have all worked hard and have taken advantage of the unique opportunity that this partnership has brought, and I am sure will bring in the future. These graduates have become University of Arizona ambassadors in Peru, and I am confident that they will lead the path of future generations of UA and UPC professionals in Peru and in the world."
You can watch a recording of the entire ceremony on YouTube.
Following Roekart's remarks, Justin Dutram, assistant vice president for Mexico and Latin America delivered welcome remarks on behalf of the University of Arizona.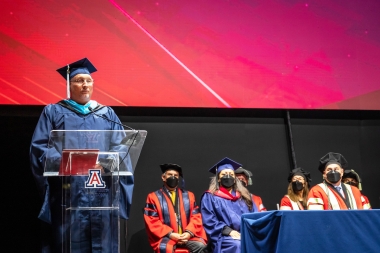 "Your determination and perseverance warrants our admiration," said Dutram. "We are sure that whatever you do, you will add great impact and will generate positive change wherever you go. The world and our society need the solutions and changes that you will bring."
Dutram reminded students to enjoy this accomplishment and to be in the moment.

"And don't forget to thank your parents, your professors, and your colleagues for the support they have given you to bring you to this point," added Dutram. "You are now in our Wildcat family for life!"
Dr. Ricardo Valerdi, interim department head of Systems and Industrial Engineering spoke to the audience about the University of Arizona mascots, the "Gatos Salvajes," or Wildcats. He demonstrated the signature hand gesture that students and fans use to show their school pride, leading the audience to raise their right hand and form a "W" with three fingers and a "C" with the index and thumb, forming the "WC" sign for Wildcats.
"On behalf of the faculty, we are all proud of the students for their ability to adapt – not only to a bilingual format but also a bicultural one," said Valerdi. "Many professors at the University of Arizona are not American but come from many other countries. You all learned to adjust to these changes, and it will serve you well in your professional lives."
Claudia Patricia Huerta Villar, graduating from UArizona College of Social & Behavioral Sciences with a degree in Communication, made the farewell remarks on behalf of the graduates. Huerta congratulated fellow students and spoke about the challenges this cohort has faced in the last two years, but also the rewards of being able to continue and successfully complete their dual degrees at the University of Arizona despite the difficulties that the pandemic created.
"For that, we must celebrate!" said Huerta. "Our college experience has been different from most people. Our bedrooms became our classrooms, and we could only see our professors and classmates on our screens. At the beginning it was not easy, with a new routine, new classmates, and a different learning style. But we pulled through, and now we are here together, graduating."
Scroll through some photos from the graduation: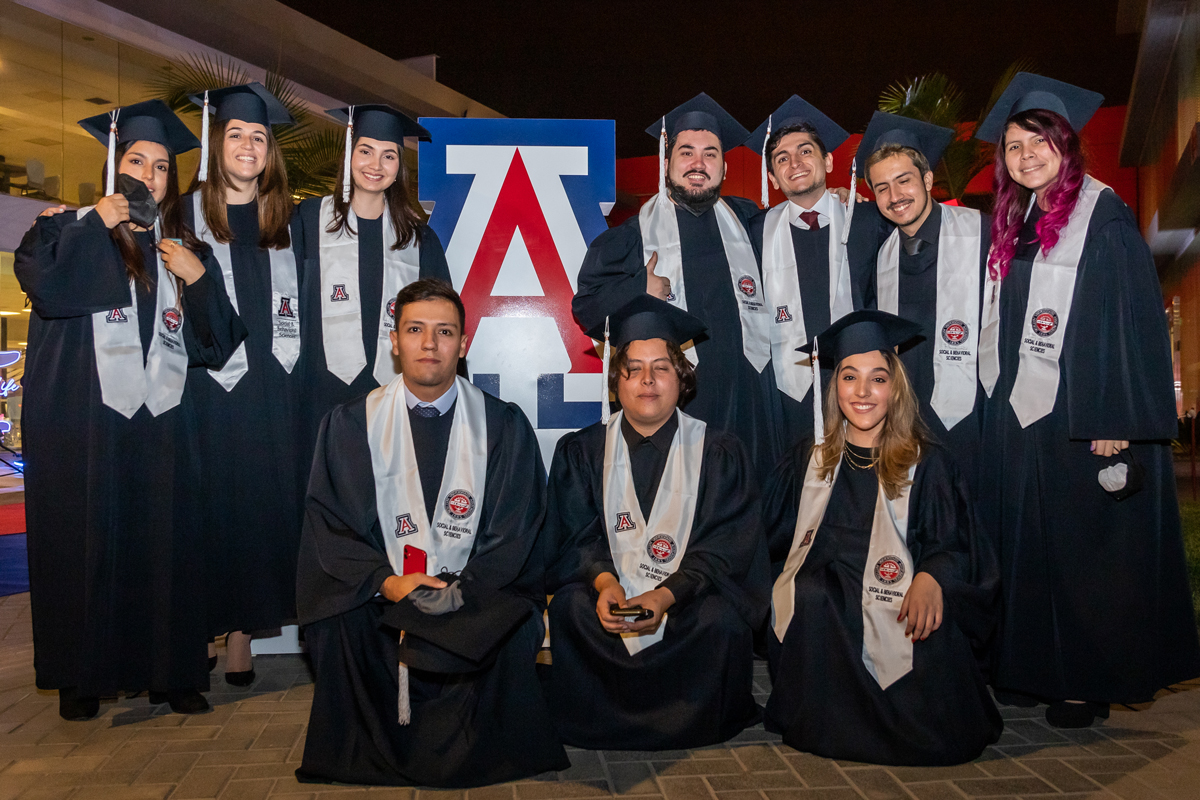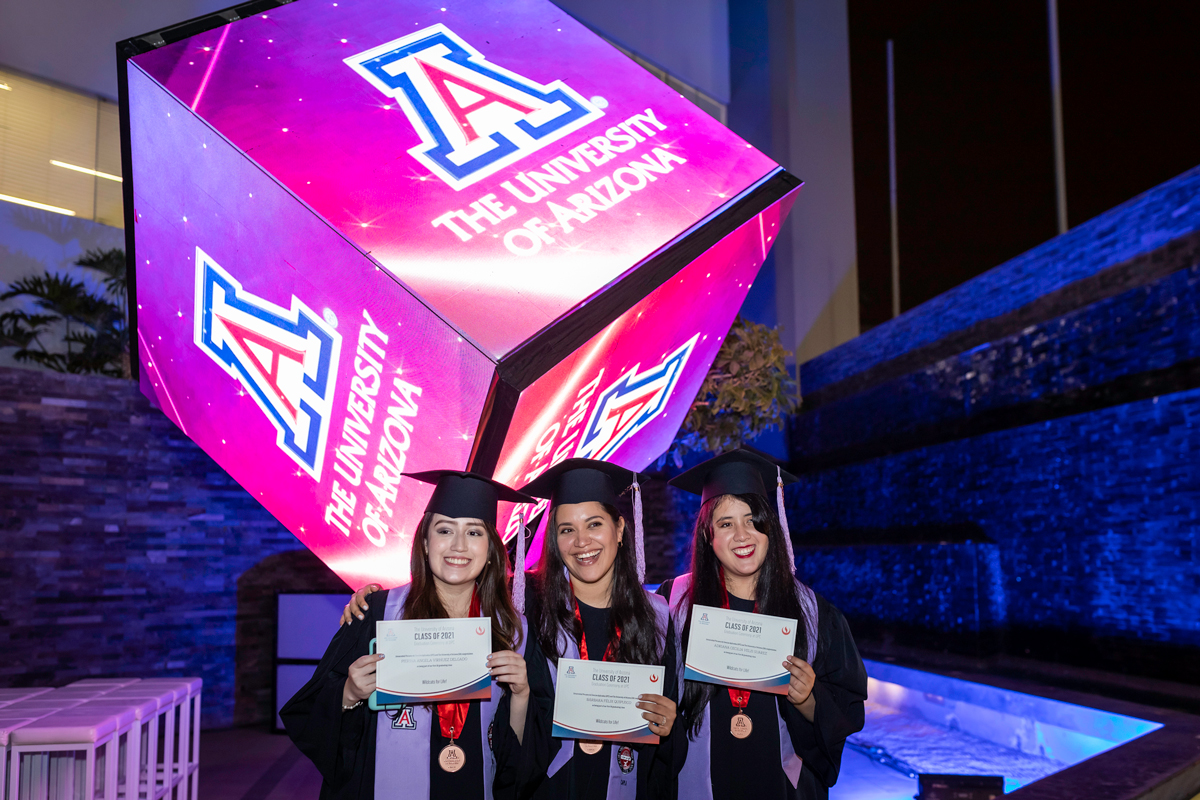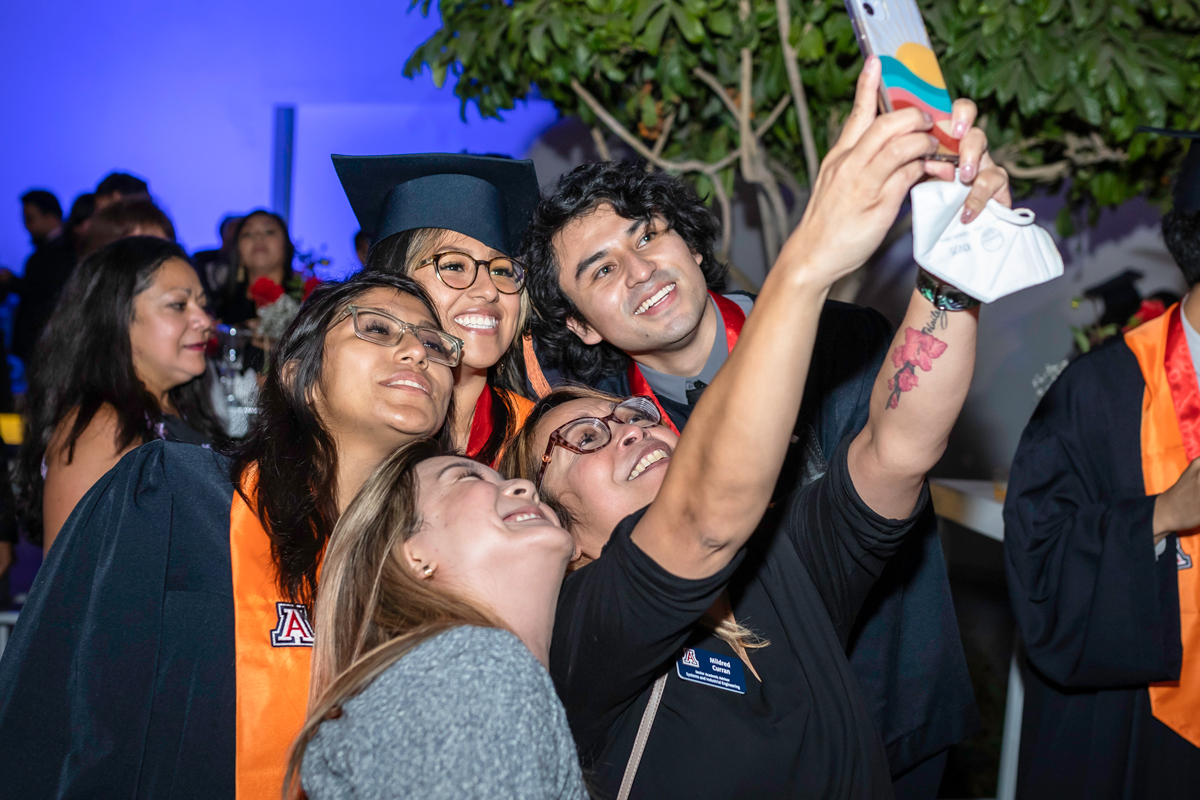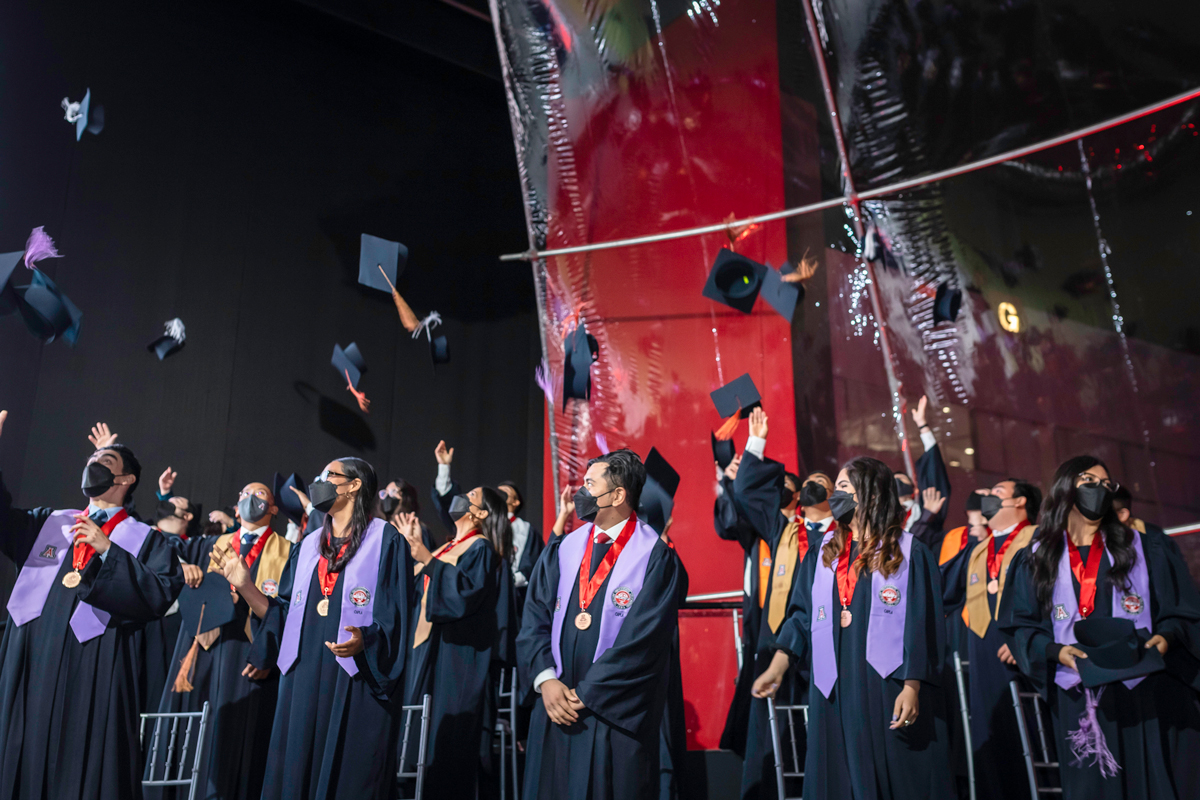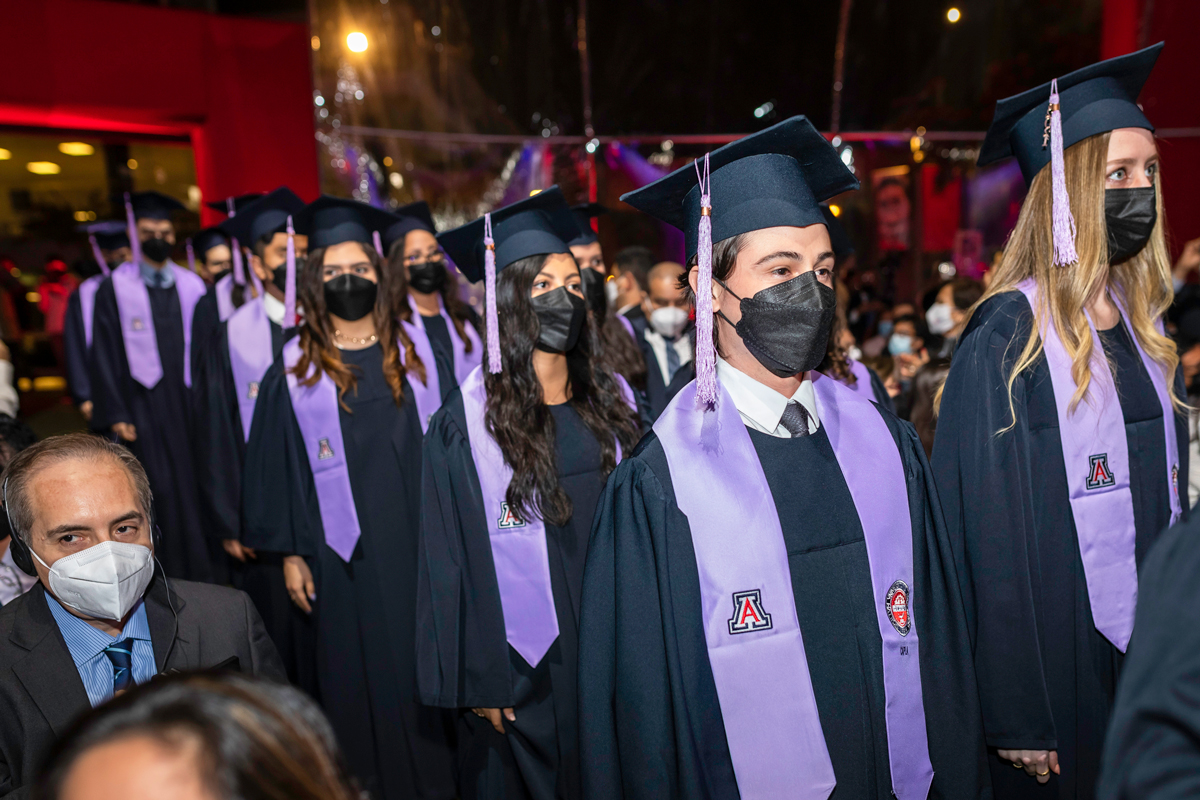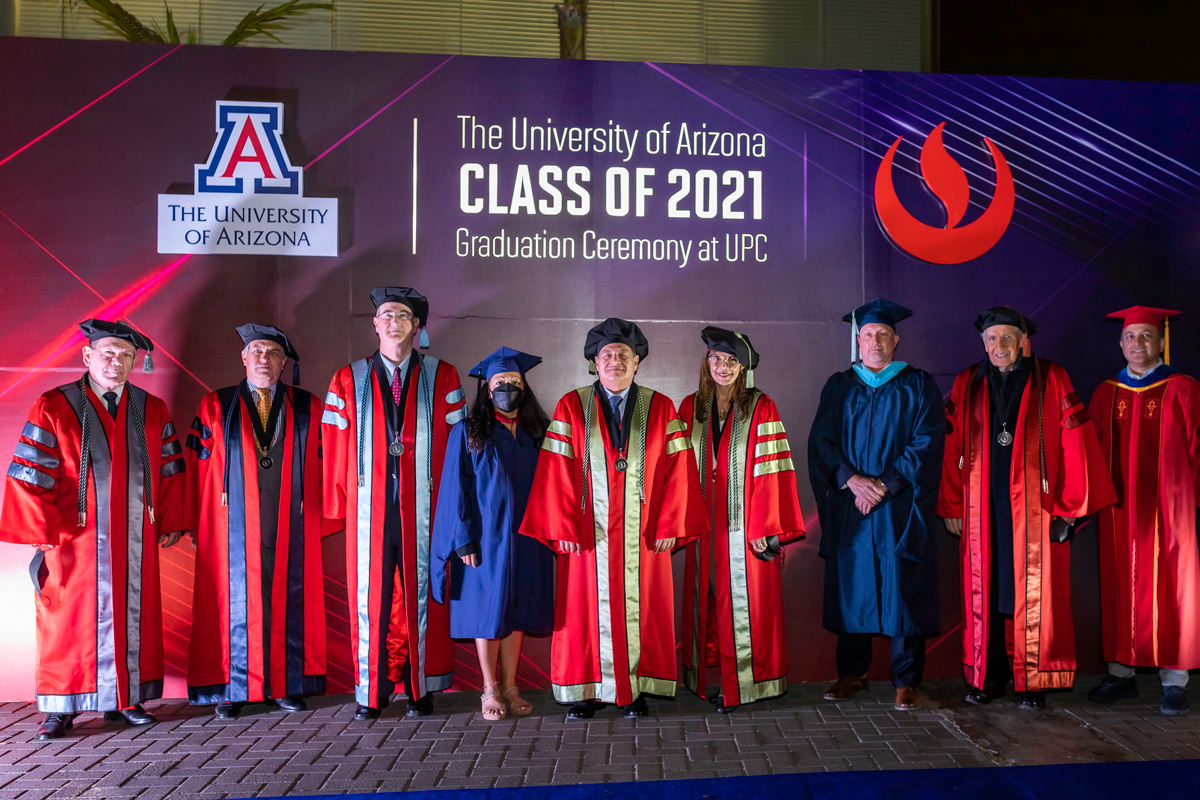 Some of the UPC students were able to study abroad for a semester on the Arizona main campus in Tucson as part of their degree program and Study Arizona, an option that is available to undergraduates in the program.
Students who were in Tucson for the fall 2021 semester said it was a great opportunity to finally meet their professors and one another in person, and to learn alongside peers from different places and with different perspectives. Some of those students were able to attend their respective college graduation ceremonies held in Tucson last December, and a special celebration hosted by Arizona Global.
"Spending a semester abroad in Tucson was a gratifying experience and I want to thank everyone at the University of Arizona for welcoming us and making sure we had a great time," said Huerta. "Being on campus, and experiencing a very different way of life, stepping out of our comfort zone, and being able to grow and mature are some of the things we will never forget."
"Today, we take a step forward and face the world from a perspective that we have yet to see and experience," Huerta added. "No matter what we do or which path we take I am sure we will accomplish great things, and we will face the future with courage and strength."
Addressing the crowd, Jorge Cabrera Berríos, general director of Faculties at UPC, began by expressing gratitude for the achievement that the graduation ceremony represents.
"I want to thank the University of Arizona leadership for believing in our academic quality and high standards," said Cabrera. "To the deans of both universities, I want to thank you for facilitating the coordination of the programs since the beginning of the agreement, to ensure its implementation.

And to the department heads and professors at both universities, thank you for coordinating the course content and reviewing the details necessary in the teaching and learning process of our students and graduates. And finally, congratulations to all the students and their families on reaching this milestone in their educational life."

 
Lissette Calderón, director of Latin American Programs at the University of Arizona, made the closing remarks at the graduation ceremony.
"To the Class of 2021, we stand here in awe and sincere admiration of each of you, for your intelligence, your dedication, and your fearlessness," said Calderón. "I know these last few years have not been easy for you. You were beginning your brand new dual degree program with the University of Arizona in March 2020, as the whole world was shutting down. But what did you do? You persevered!"
"They say that challenges make us stronger, and you are all a prime example of that," said Calderón. "Our hope as your advisors, as your directors, as your teachers, is that you continue to learn and grow as individuals, and that you have success in everything that you put your mind to. Congratulations, and Bear Down Arizona!"
"As their graduate advisor, to have worked with and supported this cohort through to graduation has been a fulfilling experience," said Cindy Nguyen, senior program coordinator, graduate studies, Systems and Industrial Engineering.
"To finally see everyone together at graduation, with their families and friends, I had a sense of coming full circle, said Nguyen. "The dual degree program offers such a unique opportunity, and I'm so glad to see so many talented UPC students choosing to pursue a master's degree as part of their educational journey. This global partnership is something we can all be proud of."
The dual degree programs offered in partnership with UPC are growing in popularity. The second cohort, the Class of '22, includes 98 students. Cohort 3, set to graduate in 2023, currently has 123 students enrolled.
Mildred Curran, senior academic advisor for Systems and Industrial Engineering, worked closely with the undergraduate dual degree students who spent a Study Arizona semester on the UArizona main campus in Tucson. Curran played an integral role in helping the students acclimate to life in another country, hosting them for Thanksgiving and making them feel welcome. "I had the pleasure of connecting with these students and with their families," said Curran, "so being able to celebrate their graduation together, along with the faculty and staff at UPC, was an amazing experience. I am so glad for these students and for this program, and I can't wait to meet the new cohort that will be joining us here this coming fall."
The delegation from the University of Arizona attending the graduation event at UPC included ten individuals representing the departments of Psychology, Systems and Industrial Engineering, Global Media Studies, and Arizona Global.
While in Lima to celebrate the graduates, the delegation also met with current and future students, and made connections with the dedicated faculty and staff at UPC.
"This experience brought us all closer together," said Calderón, "with some of us meeting in Lima for the first time."
The team hosted a workshop for UPC faculty on the topic of Student Success, that featured a session on "Succeeding as a Wildcat," presented by Laurie Loli, UA Lima location manager, and Katelyn Maragi, program manager, Global Education, University of Arizona.  Dr. Ashley Jordan, director of Online Programs, Psychology at the University of Arizona gave a lecture on "Pedagogical Practices and Technologies to Enhance Student Engagement," that was well received by those in attendance.
Learn more about dual degree programs offered through our microcampus partner, Universidad Peruana de Ciencias Aplicadas in Lima, Peru.