Study Locally, Live Globally - Solisa May's inspiration behind choosing the UA Phnom Penh Dual Degree Program
June 15, 2022
Solisa May is a business administration graduate from the University of Arizona's Eller College of Management (Eller) and the American University of Phnom Penh (AUPP).
During high school in her home country of Cambodia, Solisa participated in a business case competition where she was challenged to develop a business plan from scratch, and that's when she found her interest in business administration. Right after graduation, she set out to compare the business curricula of different universities and finally decided that AUPP was the best fit for her.
As a student at AUPP, May chose to enroll in the AUPP/University of Arizona dual degree program and pursue two degrees simultaneously, taking classes and learning from top professors at both universities.
With Eller, May particularly enjoyed the Introduction to Finance class where she learned about business valuation, which prepared her for the CFA (Chartered Financial Analyst) Research Challenge.
The CFA Research Challenge is an annual competition in equity research hosted by the CFA Institute that tests students on their analytical, valuation, report writing, and presentation skills. May represented AUPP in the 2021-2022 competition, where her team scored the first runner-up position and was awarded the best report prize.

"In the competition, we did something very similar to what we were taught in Eller's finance class, where we were assigned a company in the stock market for analysis, forecast, and recommendations," May explained. "Basically, it was very helpful for me to take that class before participating in the competition."
At the Eller 2022 Graduation Ceremony, May was presented with the 'Outstanding Senior in Business Administration' award.
This honor goes to top graduating students in each business major, who are not only academically strong but also involved in extracurricular activities such as student leadership and engagement.
Professor Yamuna V. Sithambalam, AUPP's Chair of the Business Program is incredibly proud of May. "In the three years I taught Solisa May, I have had the opportunity to see her grow as a student, as a peer, and as a student government leader, handling multiple roles with such poise and confidence. I have always admired the humbleness she maintained despite being one of the best performing students in her cohort. Her intellectual acuity, perseverance, keen interest in learning, leadership skills, and respect for her professors and peers are highly commendable. I wish her all the best in her future endeavors," said Sithambalam.
May came to the UArizona campus in Tucson last month with her family, to participate in the May 13th Commencement 2022 graduation ceremony, and considers that day to be one of the most memorable moments of her undergraduate journey.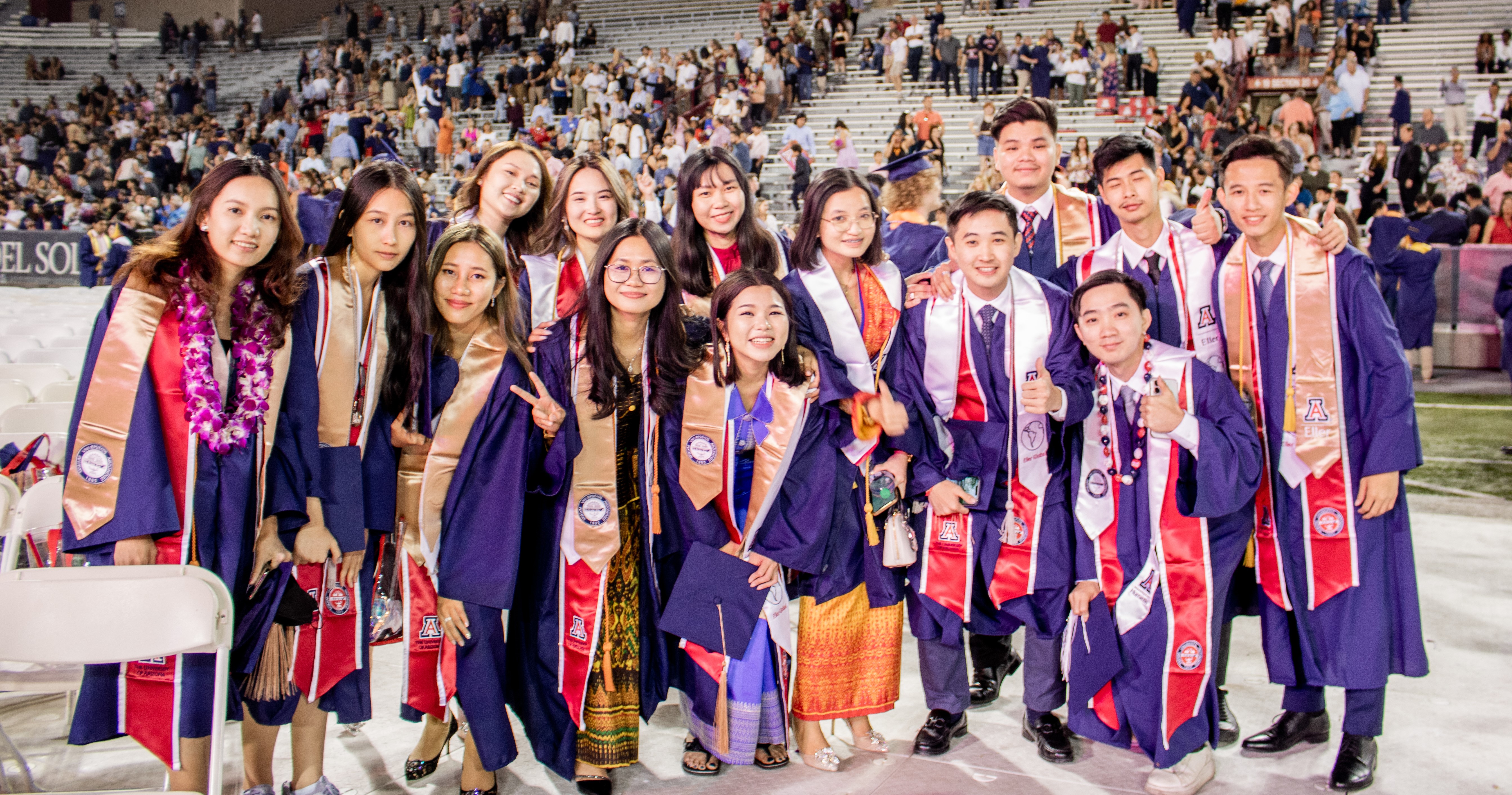 "I have to say that I'm glad that I brought my mom and my grandma here. It was tough to get into the U.S. with all the procedures, but it was all worth it because they were able to see me receiving the award! My grandma even had tears in her eyes."
"Holding two degrees from two different universities while staying at the same place is like a passport to a new world," said May of the dual degree program. "It has truly been a transformative journey."
May is now back in Cambodia and has resumed her Research and Valuation Services internship with CBRE Cambodia.
Watch the full interview with Solisa May here.