My Study Abroad in Paris as a Political Science Major
Oct. 7, 2020
From favorite memories and the best views, to tips for finding an apartment and planning travel, UArizona student Stephanie shares her experience.
As a Political Science major with a Foreign Affairs emphasis, Stephanie Kim chose to study abroad in Paris at Science Po, a University of Arizona exchange partner with a reputation as one of the top political science universities in the world. For Stephanie, studying abroad was an opportunity to gain new perspectives in her field of study and discover her place in the world, while at the same time learning to be more independent. Stephanie's overall experience was typical for what you might expect on an exchange program, so we asked her to tell us more about her experience, and why she would recommend studying abroad to other UArizona students.
Attend the Virtual Study Abroad Fair now!
Q: If you had to summarize your study abroad experience in one sentence, what would that sentence be? 
A: I would have to say it was, as cliché as it sounds, a rollercoaster. While I was studying abroad, I experienced so many events and emotions that were really challenging, and overcoming these challenges really helped me grow as a person.  
Q: What did a typical day look like for you while you were abroad in Paris?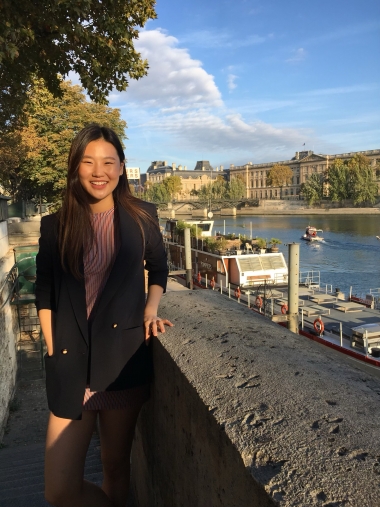 A: I had classes from 9-noon, and then 2-5 in the afternoon, every other day. I was lucky enough to live near to our university, just across the river, so on a typical day I would walk to class, taking as long as time allowed. On my way, I would stop by the bakery right under my apartment and grab an espresso or a coffee and a pastry of choice for the day—like a pain au chocolat or a croissant—and I would listen to music on my way to class. For lunch, we would go to a bistro or a brasserie close to the university, or pick up something from the local grocery and go sit in the park. After that, we'd attend afternoon classes, and once everyone was done, which was like 6-7, we'd either try to get dinner together, go to someone's apartment, or in the summer, we'd stop by a bakery or a local restaurant and pick up food to go and sit by the Seine with glasses of wine and hang out to watch the sunset. We could see the Eiffel Tower lit up at night and could watch the Bateaux Mouches go by. It was very a midnight-in-Paris moment. 
Q: What is a favorite memory from studying abroad? 
A: One of my favorite memories was right around the end of December, when Paris was getting kind of cold. I had the opportunity for two weeks to travel around Europe. I got to see one of my best friends who lives in London and goes to university there. I visited London for the weekend, and later got to travel from Paris to Barcelona to Rome to Berlin, country-hopping around Europe. We got to relax in Rome, which was pretty different from our other trips. We ate a lot of good food. We went to a pasta making class, which is still one of the highlights of my entire study abroad experience, and that was a fun conclusion to the semester.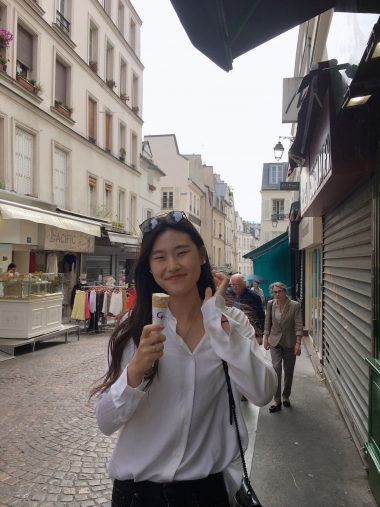 Q: What was the most rewarding academic experience while studying abroad? 
A: Going to Sciences Po is already an exciting opportunity. It's one of the top international, political science universities in the world. Because it is a high-ranking institution, with great connections, I was able to study under some amazing professors, most of them at the tops of their fields. There were many opportunities to go to seminars led by top politicians, diplomats, or alumni that were returning. I remember one day our school almost shut down because we had politicians coming in, so there was high security. So being in that exciting atmosphere was a great learning experience.
Q: What would you say is one of the most rewarding personal experiences you had while studying abroad? 
A: I've always considered myself an independent person, being an only child and having moved around a lot as a kid. But I think studying abroad forced me to be independent on a level that I hadn't experienced before. Not just being by myself and figuring out the housing, phone line, and internet, but also a new culture and a language which I don't speak. A big part of it was getting accustomed to that, not just on a practical level, but also an emotional and mental level. That was challenging. But I think, having overcome that, I've learned a lot and grown as a person. 
Q: What kind of opportunities did you take advantage of while abroad that wouldn't have been available to you otherwise? 
A: I think the most obvious while studying abroad is being able to visit other countries. Even on a budget, travel around the EU is much more affordable, especially if you're willing to take the time to take buses, and flights are really cheap if you plan them out well. So I got to travel a lot. Which is not only exciting on a personal level, but also from an academic standpoint, because I got to visit some of the historical sites I had learned so much about over the years.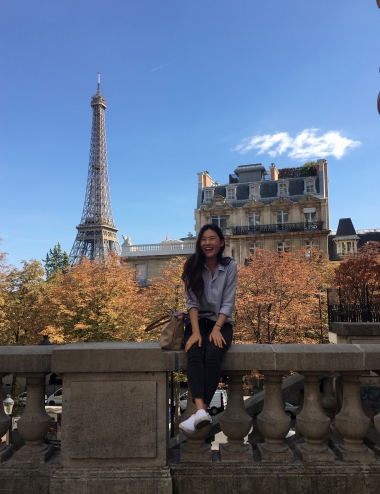 Q: Do you feel like you were able to interact with the host culture? What are some examples? 
A: I mentioned earlier that I had to figure out my housing, as well as internet and phone service, all on my own. I didn't want to live too far out of the city center, and therefore, I had to contact French real estate agencies to see if I could find a place to rent. And living alone, especially, forced me to figure out how to live by myself in France, which required learning the language and putting myself out there. 
Q: What advice to you have for someone studying abroad in France? 
A: The biggest thing is that once you're there for a few weeks, and you have a group of friends, it becomes comfortable. You're no longer scared in a foreign country, you get comfortable and fall into a pattern and a system of how things work and how things are going to be. It's great, because then you're not a tourist any more, lost in a foreign city. But you're only there for a short amount of time, and just because you like your routine, it's really important to push those boundaries, discover new things, and put yourself out there. When you come back, you realize there's so much you didn't do, but wish you had done, because in that moment, or on that day, you think, "oh, I'll do it next weekend." And it just gets pushed off until it's too late. Don't push things off! Take advantage of every moment and every opportunity. 
Start planning your study abroad experience today!
--> Attend the 2020 Study Abroad Virtual Fair.