Study Abroad Introduces Global Tracks Webpage!
Global Tracks programs now have their own page on the UArizona Study Abroad website! As the Study Abroad team continues to grow its Global Tracks opportunities with colleges and departments across campus, new Global Tracks will appear on this webpage.
A primary goal of the Global Tracks initiative is to provide students with departmentally specific, tailored guides to earning major or minor credit while studying abroad. For background information on the Global Tracks program and its rollout, please explore this previous article. UArizona Study Abroad offers over 60 different options abroad, taking the form of exchanges, faculty led programs, and Arizona Abroad partner sites. With all of these options, it can be challenging for students to pinpoint which program will provide the best academic fit. Fortunately for students, Global Tracks documents remove the guesswork of course approval and offerings at specific Arizona Abroad locations and carry the endorsement and support of their relevant departments. The Study Abroad team's Curriculum Integration Manager, Mariah Nunes, works directly with faculty and advising staff to ensure that the courses listed truly reflect the preferences and standards of each department.
"When students know they have an affordable program with curriculum pre-approved by their major department as an option, it makes the decision to study abroad that much easier,"

- Mariah Nunes, Curriculum Integration Manager for Study Abroad.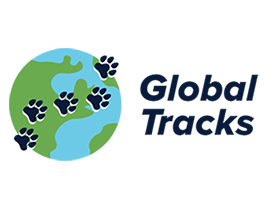 Faculty and staff have shown their support for Study Abroad and for specific Global Tracks throughout the development of this resource. 
"I encourage all students to consider studying abroad to strengthen and enrich the Communication skills you're practicing and theories you're learning in a new, culturally diverse and unfamiliar environment. This experience will not only help you achieve your academic goals but may also give you a competitive edge toward your professional goals."

- Sarah Simpson, Communication Academic Advisor
"Studying abroad as a STEM major can seem like a daunting process, but your advising team is here to help you navigate all of the options available to you while staying on track with your PSIOM degree! As a former academic advisor for Physiology & Medical Sciences, I recommend meeting with your advisor as soon as you're interested in studying abroad. The earlier you meet with your academic advisor to discuss study abroad, the easier it will be to plan a summer, semester, or academic year abroad!"

- Sabrina Sterbis, UA London Study Abroad Coordinator
"FSHD students pursue careers working with individuals and families from so many different backgrounds. Participating in study abroad will provide you with unique opportunities to build skills in empathy and inclusivity while learning about people from varied backgrounds in order to prepare you for the real, applied work in communities you will do as a professional."

- Dr. Darin Knapp, FSHD Associate Professor of Practice & Director of Undergraduate Programs
With tiles representing 22 published Global Tracks—with more in development—this webpage is full of opportunities for students of various academic disciplines and will continue to grow and include more areas of study. These Global Tracks span the globe and highlight some of the most popular Study Abroad locations such as Barcelona, Rome, London and Seoul. As of today, the following programs can be found on the webpage: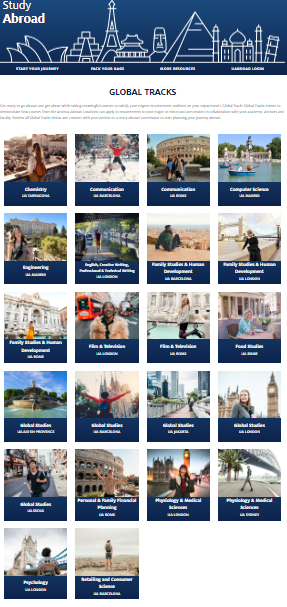 Chemistry at UA Tarragona
Communication at UA Barcelona
Communication at UA Rome
Computer Science at UA Madrid
Engineering at UA Madrid
English, Creative Writing, Professional & Technical Writing at UA London
Family Studies and Human Development at UA Barcelona
Family Studies and Human Development at UA London
Family Studies and Human Development at UA Rome
Film and Television at UA London
Film and Television at UA Rome
Food Studies at UA Rome
Global Studies at UA Aix-en-Provence
Global Studies at UA Barcelona
Global Studies at UA Jakarta
Global Studies at UA London
Global Studies at UA Seoul
Personal and Family Financial Planning at UA Rome
Physiology and Medical Sciences at UA London
Physiology and Medical Sciences at UA Sydney
Psychology at UA London
Retailing and Consumer Science at UA Barcelona
Students interested in participating in one of the Global Tracks programs should contact their Academic Advisor and meet with a Study Abroad Coordinator to discuss their credit needs and the application process.
Faculty and staff looking to create new Global Tracks can contact Mariah Nunes, Curriculum Integration Manager, at mariahnunes@arizona.edu.