Undergraduate Researcher and Astronomy Major Has His Eye on the Stars at the University of Arizona
Oct. 25, 2022
Meet Nikhil Garuda. This Class of '26 astronomy major was drawn to UArizona by the internationally respected program, Tucson's dark night skies, and the many opportunities for internships and undergraduate research.
Nikhil Garuda is a freshman in the Department of Astronomy, pursuing a degree in astronomy. A member of the Class of '26, Nikhil came to Tucson from Chennai, India. He is also an Undergraduate Research Assistant working with a team of researchers in the department.
"I knew that I wanted to be at a university where I could pursue meaningful and relevant work and research that would enhance my education. There are many opportunities for me to join major-related clubs, attend colloquiums, and connect with other astronomy majors. It's great for making friends, and I get good insight on research and the work of postdocs that informs my own progress and career path."  
One of the main factors in choosing the University of Arizona was the amount of research opportunities that are provided to all the undergraduates in the astronomy department. The rigorous academic curriculum and esteemed faculty were also very important in the decision. Another factor was the Global Wildcat Award for international students, a scholarship for which every academically qualified applicant is automatically considered.
Nikhil participates fully in the undergraduate experience at UArizona, both from an academic standpoint and as someone who enjoys being outdoors, exploring nature, and having a balanced student life. In this interview, he shares more about the University, his chosen major, and what it is like to be an international student in Tucson.
UA: What was your high school experience like in your home country, and how did you hear about UArizona?
Nikhil: I really enjoyed the first two years of my high school, I was fortunate enough to take part in a lot of competitions that added to my resume to do astronomy. My high school experience was pretty typical, hanging out with a close pack of friends a lot and also managing my studies and the competitions.
My dad and one of my mutual friend's fathers recommended the University of Arizona to me, and I am glad I chose it.
UA: How has International Student Services (ISS) helped you adjust to your life as a student?
Nikhil: The ISS team has been very helpful. They serve all the international students and are especially helpful for students who have come to the USA for the first time. They made my process for arriving and adjusting super smooth and helped me with every question I had then. They are also very responsive via mail, so if we need anything, an email to them usually is the best bet.
UA: Do you get involved in clubs and activities on campus?
Nikhil: Yes, I am part of several clubs, including Astronomy Club and Music Club, and I interact with a lot of other students, too. I play badminton often with some of my friends, and I play the piano with the music club. A few friend and I also host board game nights during the weekends to take a break from our schedules and just chill with people.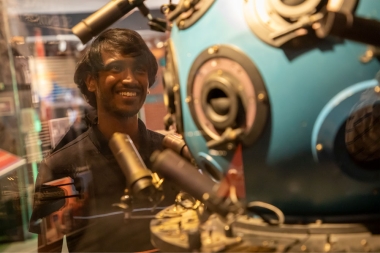 UA: How did you choose your major, and what do you love about your field of study?
Nikhil: Astronomy has been an interest that has been constant throughout my life. I was always fascinated by those picture books about it when I was in middle school. During the start of my high school years, I took part in a space club that drew me more into astronomy. The mentors at my school  gave me more insight about astronomy and how it can be a career.
One thing I love most about my major is that we learn a bunch of subjects that would be super useful jut by themselves, giving you a lot of scope for your career.
UA: What are your future plans and aspirations - what dreams do you hope your education will make possible for you to accomplish in this career?
Nikhil: Right now, I want to focus mainly on my undergraduate studies and the go to graduate school. But my ultimate goal is to become a researcher or a professor in an esteemed university, or work as an independent researcher. If I want to have an academic career, that will involve publishing good research papers and doing really interesting and fun projects on astronomy. I feel like all this exposure will lead me achieve my dreams. I would like to aim for a Nobel Prize at some time in my life. 
UA: Has UA helped prepare you for your career goals?
Nikhil: Yes! Very much! UA's Astronomy Department has been extremely helpful from the moment I enrolled. All the professors are open for mentoring, provided they have the time and space in their respective groups. Also, your enthusiasm matters the most here. Hands-on astronomy projects and research are key for getting a good grade in astronomy, and I feel like all these opportunities will help me a lot in the future for graduate school and my career.
UA: Do you use campus services to support your career preparation and job search?
Nikhil: Yes! Handshake is one of them. They provide the available jobs and internships, on and off-campus, and are useful to see the variety of jobs available. I also always email the employers or meet with them directly to discuss my employment. 
UA: Are you involved in activities in your major/college? If so, which ones and why - and how has it enhanced you experience as a student?
Nikhil: I do several independent study projects and research with a few faculty members and postdocs in the astronomy department. I also attend the colloquiums and astronomy club meetings. The former provides me with insight on what other people are researching. The latter connects me with other astronomy majors and people who like astronomy. It's good for making new friends and connections. I also am part of a cosmology group where we have weekly group meetings with other members of the team and discuss papers. This group gives me the best insight on the astronomy research that is going here at the University of Arizona and is pretty useful if you want to do research in that field.
UA: Have you held any student worker positions or internships? If so, where?
Nikhil: I have done two internships this past summer (2022) before coming to the university. I did an internship at Eller Tech Core, where I was the Technical and Product Lead for the AR Campus Map that shows all the essential things in and around the university. I was also a part of the ASTEROIDS Laboratory where I learned about various aspects of propulsion systems, comets and aerospace engineering. It was a fun experience as we did a lot of hands-on projects that have the potential to become research papers in the future. 
Now, I work as an Undergraduate Researcher where I am creating a machine learning model that can detect real or fake science using transfer learning models and other custom algorithms. I am also a grader for a GenEd course in the astronomy department: ASTR 170B1.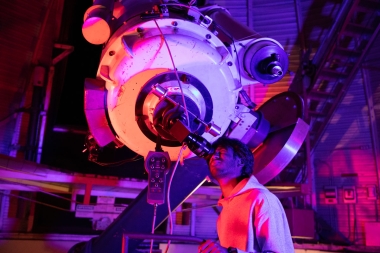 UA: How did you find and get chosen for an undergraduate research assistant position?
Nikhil: When I was researching the University of Arizona, I made sure to keep a list of the people who I wanted to work with and do potential projects. As soon as I got in, I emailed my advisor and asked him how I could contact them, and also emailed them side-by-side. The process took time and dedication, I was interviewed several times by a bunch of people and had to do a few prerequisite tasks. That said, if others want to do research, be prepared to work long hours and have a lot of the prerequisites required for your job in place. All that can lead to some really amazing projects that will hold good value in your CV.
UA: Where have you lived as a student? Dorms or off campus? What do you recommend, and what has been your experience?
Nikhil: Personally, I like living off campus purely because I get a big room and my own kitchen. I like to cook my own food when I can, and it honestly saves a lot of money. Your expenses reduce a lot for rent and food. I think it is very essential to spend carefully and be as financially independent as possible. Off campus housing is also nice in other ways, as you can always call people over and have enough room to have a good time. I like it because it makes me learn a lot of essential "adulting" stuff that I know will be super useful in the future. But that being said, if a student would like to stay nearby campus and prefer dorms, that's a good option, too, as you will be able to meet so many more people. It would also reduce your commute time depending on where you are located.
UA: What has been your favorite class so far, and why?
Nikhil: My favorite class so far has been ENGL 109H. It is so different from my other classes that are basically like my high school classes. This class is purely a discussion class where you can share your thoughts on the assignment given and do a write up later. Out of all the things in my hectic schedule, this is the time I get to chill in the university and have some fun. The professor is super fun too. He has us do these warmup exercises that keep your mind running and that lead to a fruitful discussion about the assignment in place that day. I also love that there is an underlying theme in that class with regards to what is covered there. As an international student, it has given me great insight about Tucson and the U.S. in general.
UA: Tell us about your interactions with faculty and advisors. Are they helpful, supportive?
Nikhil: As previously mentioned, I got in touch with them all pretty early on. I contacted the advisor asking me to connect to a few students (seniors) to get a view on how the department is and the university in general. They were great resources and are super nice. After getting in, I emailed all the professors who I had in mind informing them that I was interested in their research and would like them to mentor me. A word of caution: Professors and faculty members are very busy and get countless emails so be prepared to wait a few months for a reply or come over to the university and set up an appointment with them. I personally had to wait a while and sent follow-up emails to a lot of them. And yes, once you get in touch with them they are super helpful and give you so many insights on the subject and the department itself.
UA: Ok! Time for a quick lightning round.
UA: Favorite place to eat?
Nikhil: Time Market Pizza and Scented Leaf Teas
UA: Best things about Tucson?
Nikhil: The sunsets ❤️
UA: Places to study on campus?
Nikhil: 5th Floor of Main Library during sunset. Parker Library and Gould Simpson 7/9th Floor in the afternoon are some of the most aesthetic places to study.
UA: Campus life/friends
Nikhil: I have a few really good friends who I hang out with on the weekends.
UA: Most fun activities/memories of time here (so far)?
Nikhil: Trekking on Mt. Lemmon with the Newman Retreat Group.
UA: What advice do you have for incoming freshman to succeed?
Nikhil: I would start by saying, be open and be ready to work long hours. Also, make sure to contact your advisors and professor without any hesitation no matter what the question is. They are always helpful and will direct you to the right person if they don't know the answer for it. You might even get more opportunities by doing that.
UA: Why do you think a student should choose the University of Arizona?
Nikhil: Personally, if you are interested in pursuing astronomy and are ready to do some hard work and cutting-edge research, UArizona is the place for you. This is one of the top universities that focuses a lot on research and has plenty of research output in all fields. I think UArizona offers a nice balance of academic and social life. If that's what you are looking for, this university is for you.