Reintroducing UA Sydney Study Abroad Program
April 6, 2022
The University of Arizona is pleased to announce the reopening of the UA Sydney study abroad program!
In 2019, a longstanding partnership between University of Arizona Study Abroad and University of Technology Sydney was restructured to allow students the opportunity to pay their regular UArizona tuition and use their financial aid and scholarships like AZ Excellence and Wildcat Excellence, falling in line with the rest of the AZ Abroad Location programs. The AZ Abroad Locations are innovative and affordable study abroad programs that allow students to attend partner universities around the world. UA Sydney joins UA Aix-en-Provence, UA Barcelona, UA Jakarta, UA Lima, UA London, UA Madrid, UA Mauritius, UA Phnom Penh, UA Rome, UA Seoul, and UA Tarragona in the AZ Abroad family.
UA Sydney was intended to launch in 2020, but like most study abroad programs, the COVID-19 pandemic induced significant hurdles and barriers for students planning for their upcoming semesters abroad. The University of Arizona Study Abroad team was excited to reconnect with the University of Technology Sydney to discuss student mobility for the upcoming year. The two teams are working together to host information sessions for students to join and get a taste of what the UA Sydney program has to offer.
"We are so thrilled to be able to rekindle our amazing study abroad opportunities with our Australian partner universities for the Fall 2022 semester and beyond after several years of COVID-19-related pause. Participating in a study abroad program in Australia at this time means blazing the trail for future study abroad students as a proud UArizona representative and world traveler!"

- Morgen Daniels, Study Abroad Coordinator
Students can study abroad through UA Sydney in Fall, Spring, Academic Year, and Calendar Year terms. The program is open to students from all majors and offers a unique and engaging academic experience for students. As its name implies, the University of Technology Sydney prides itself in connecting technology and creativity in every academic area. This is a fantastic interdisciplinary study abroad option for students in all majors.
Meet Lisa Barrie, University of Arizona Alumna and University of Technology Sydney Staff Member!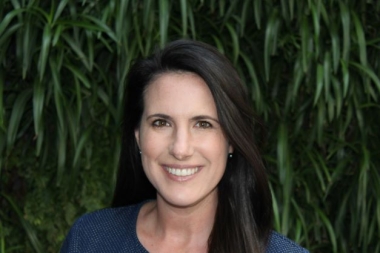 Tell us about yourself and your journey from the University of Arizona to the University of Technology Sydney?
I've always enjoyed travelling and knew I wanted to attend college outside of my home state. Tucson wasn't too far from Los Angeles, and the University of Arizona had so much to offer. I returned to California after graduating with a Bachelor's degree in Psychology to pursue a Master's degree in Educational Counseling. I worked as a school guidance counsellor for the following six years until my husband (also an Arizona Wildcat) unexpectedly received a job opportunity in Sydney. We couldn't pass up the chance to live in another country! When I was offered a position on the UTS Study Abroad team I gladly accepted. I had a fantastic summer study abroad experience in college and wanted to support students on their journey.
Tell us more about your role at University of Technology Sydney?
I am an Officer for the Inbound Global Mobility Programs team.  We look after all of the incoming applications for study abroad and exchange. My primary roles are to assess applications, issue offers and respond to program enquiries. We also host events, meet with partners from around the world and send out communications. Wearing a lot of hats allows us to balance the administrative responsibilities with opportunities for creativity. It's so rewarding to meet students at orientation and hear about their experiences.
What is your favorite thing to share with students about University of Technology Sydney?
The unique architecture is incredible! Every time I walk through campus, I seem to stumble upon something new. UTS has created buildings that are both functional and beautiful. The collaborative learning spaces and state-of-the-art facilities are out of the ordinary, which is what I love most about them. Our campus really reflects that we are a young university with a focus on innovation and creativity. Plus, we are located right in the heart of Sydney!
What is your favorite memory from the University of Arizona?
There are so many to choose from! I would have to say donning my blue UofA necktie and cheering on the football field as a member of Arizona Allegiance. The school spirit and energy that filled the stadium always made me so proud to be a Wildcat. I also enjoyed representing Arizona on the Synchronized Swimming team at Collegiate Nationals. Despite the fact that I now live in Australia, the friendships I formed in college have endured the test of distance.
What is one piece of advice you have for University of Arizona students considering studying abroad through UA Sydney?
Get involved! There are so many unique opportunities to maximize your study abroad experience at UTS. Our extra-curricular programs have been designed to fit within one semester and are a great way to meet local and international students. The UTS BUILD program has a focus on global leadership, UTS SOUL on social justice, and UTS Startups on entrepreneurship. We've also developed a new Ambassador program for social media savvy students to gain an international professional experience and build community. If you are looking for something more recreational, UTS has so many clubs and societies to choose from. Whether you are interested in surfing, science, theatre, politics, art or food, there is something for everyone!
Go abroad and meet Lisa and the rest of the UA Sydney team this fall! The application deadline has been extended, so there is still time to apply. We can't wait for you to Bear Down under at UA Sydney.
Save the date! The next UA Sydney Information Session will be held virtually on May 4th.
Or, take a look at the last Information Session recording here.
Ready to get started or interested in learning more? You can schedule an appointment with Study Abroad Coordinator Morgen Daniels or start your application through the UA Sydney program page.