Party @ Global Brings Students Together for a Night of Fun
The evening offered a mix of food, music, games and activities, and was co-sponsored by Student Unions, Arizona Global, Study Abroad, Campus Rec, and WEB (Wildcat Events Board).
Over 900 people attended the 2021 Party @ Global, held at the Global Center student union on Friday, September 24, capping off the week-long Study Abroad Fair and wrapping up the first month of classes for the fall semester.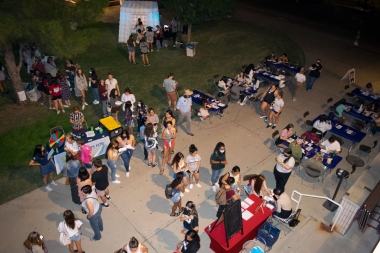 This annual event is held each year to introduce international students to campus life, and to highlight the Global Center as a welcoming space on campus for all students. The Party @ Global was cancelled in 2020, and if this year's attendance was any indicator, it is clear that the University of Arizona community is excited to be back on campus and in-person. It almost felt like old times!
UA Study Abroad was present with an information table for students interested in learning about study abroad, and it was a final opportunity at the end of Study Abroad Fair Week to register for the raffle to win $1000 scholarship towards a study abroad program. (The raffle took place after the Party. Read about the winner here.)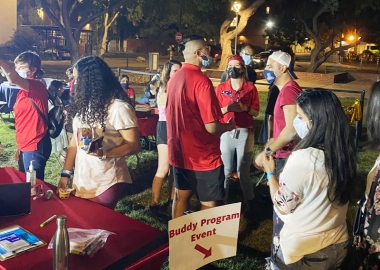 To ensure that the event was held responsibly, organizers followed university health guidance in place at the time. The event was held fully outside, hand sanitizer was provided in many locations, food was individually plated, activities were spaced to encourage social distancing, movement of attendees through lines was managed to keep things flowing in one direction, and face coverings were highly encouraged. Thank you to everyone who attended and followed the recommended guidelines.
The evening offered a mix of food, music, games and activities, and was co-sponsored by Student Unions, Arizona Global, Study Abroad, Campus Rec, and WEB (Wildcat Events Board).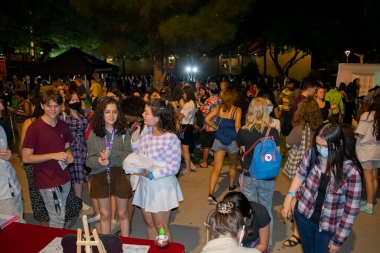 The events, activities and food were free to everyone who attended. Partygoers received a wristband to be eligible to participate in activities and enjoy the many choices of food and refreshments offered. Throughout the evening, seven students received specially marked wristbands that meant they won a gift bag with items donated by Arizona Global and UA Bookstores.
The International Student Services team hosted Buddy Program tables set up with board games that were played and enjoyed  throughout the evening.
A shoutout to the volunteers from Housing & Residential Life who showed up to help set up, keep things going, and even clean up after the event. Cats After Dark, an initiative of Housing and Residential Life, provided non-alcoholic drinks at their mock-tail bar. It really was a team effort!
KAMP Radio DJs kept the party going with great music throughout the night, and announced the gift bag winners every fifteen minutes. Campus Rec hosted volleyball and lawn games, and Outdoor Rec had a challenging slackline set up.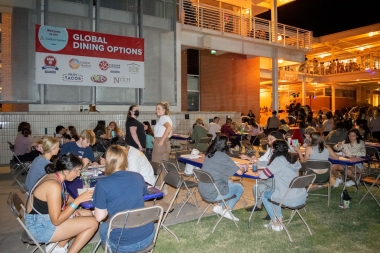 A highlight of the evening was when Wilbur and Wilma Wildcat showed up, ready to dance, play games and have some fun.
Many students had fun in the photobooth, provided by WEB, and some even had their photo taken with Wilma, who certainly loves the camera! There was a long line all evening at the henna table, another popular activity hosted by WEB,
Eight tables were set up with painting activities, provided by Creative Kind, a DIY workshop and event host, and gift & paper good shop in Tucson.
UA Students for Sustainability hosted a table and activity to highlight the work they do on campus and to encourage involvement.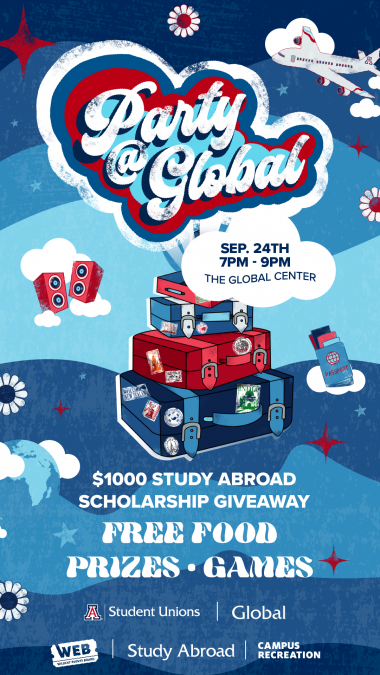 When it came to food, there was plenty for everyone! Arizona Student Unions provided food and refreshments from the Global Center Dining Options, including selections from Mas Tacos, Core+, The Den and Nrich Kiosk.
Arizona Global is grateful to these vendors that contributed tasty treats for the Party@Global:
Shamrock Dairy Maid - Barbell Protein Bars 
Bimbo Bakeries - Lil Bites Muffins
Popcorn Country - Flavored popcorn 
Blue Bell - Vanilla Ice Cream cups
Blue Bunny - Ice Cream Sandwiches and King Cones
Hershey's - Reese's Big Cup with Pretzels 
Sushi with Gusto - sushi samples
Everyone at Arizona Global is so glad you enjoyed the Party @ Global with us! We can't wait for another great event next year!
Here are some story highlights from Instagram: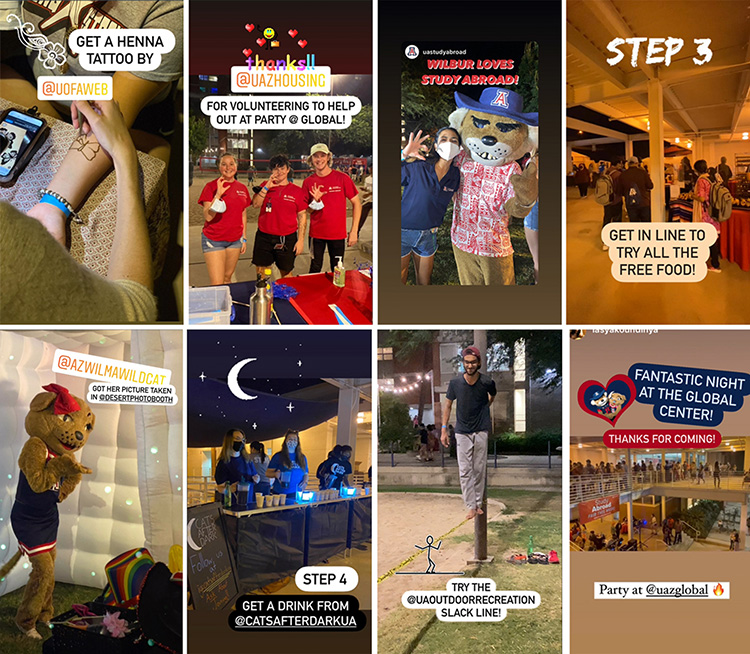 Got photos to share from the party? Tag @uazglobal on Instagram and maybe we'll highlight you in our stories!