New Opportunities For UArizona Chemistry Students In Tarragona, Spain
Aug. 2, 2021
Academic Opportunities Abroad Are Expanding Through New 'Global Tracks'
The University of Arizona offers academic experiences in more than 60 countries around the world. Students across all academic disciplines can benefit from study abroad, earning UArizona credit and developing a critical, global skillset.         
By planning ahead and working closely with their Study Abroad Coordinator and Academic Advisor, students can ensure that the courses they take while abroad satisfy requirements toward their UArizona degree. One way students have traditionally accomplished this is by taking GedEd classes abroad. 
Opportunities are growing, however, for UArizona students to earn direct major or minor credits while studying abroad. The Chemistry & Biochemistry Department is the first department at the University of Arizona to create Global Tracks, encouraging students to incorporate study abroad into a streamlined, four-year degree plan. 
There are two degree plans available for Chemistry students to take advantage of study abroad at UA Tarragona, an Arizona Abroad location, within their four-year degree trajectory.
Arizona Abroad locations are a growing network of partner universities around the world where students can take fully transferrable courses alongside local students. 
Opportunities are available for a Fall or Spring semester or an Academic Year abroad at UA Tarragona, where students can follow a clear path and maintain their momentum toward degree completion as one of the perks of the Global Tracks in Chemistry.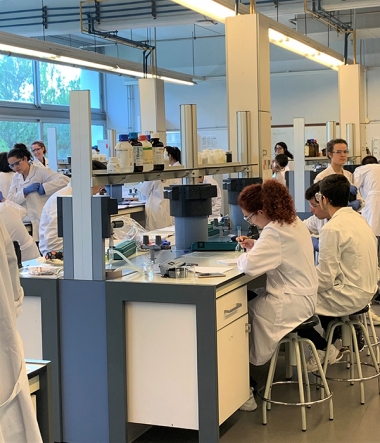 "A study abroad experience can enhance a student's chemistry degree," said Dee Belle-Oudry, director of Academic Services in the Department of Chemistry & Biochemistry. "Study abroad offers new perspectives. You will expand your world view being in a new land surrounded by new people and a different culture. You will also embark on an exciting new academic journey rich with learning opportunities and fresh ideas."  
The benefits of studying Chemistry at UA Tarragona in Spain are multifold. Study Abroad gives Chemistry graduates a professional edge as they bring global perspectives and intercultural competence to their research and future career, making them highly sought-after by employers. 
At UA Tarragona, students have access to a wide selection of Chemistry courses at UArizona's partner institution, Universitat Rovira i Virgili, which count directly toward their UArizona major requirements. Additionally, UArizona students pay the same UArizona tuition rate and can also use their UArizona financial aid and scholarships at Arizona Abroad locations, making the experience attractively affordable.
"This is a terrific opportunity for chemistry students at UofA to enhance their education through a once-in-a-lifetime experience in Tarragona, Spain," said Mariah Nunes, manager of Curriculum Integration for Global Education at Arizona Global. "When students know they have an affordable program with curriculum pre-approved by their major department as an option, it makes the decision to study abroad that much easier."
The Chemistry & Biochemistry Department has evaluated curriculum from Universitat Rovira i Virgili in Tarragona and identified courses that are direct equivalencies to courses at the University of Arizona. Students can plan ahead to spend either their Sophomore or Junior year abroad through the established Global Tracks in Chemistry. 
"The UA Tarragona program offers small classes and a challenging curriculum," said Belle-Oudry, when asked about the program. "The smaller campus size allows for ample faculty and student interaction, both in the classroom and in informal settings," she continued, adding that, "Tarragona is a picturesque town situated on the Mediterranean, just a short train ride from Barcelona. This combination of excellent academics, scenic beauty, and rich history and culture is hard to match."
Belle-Oudry recommends that students considering the program work with the Chemistry & Biochemistry department academic advisors early on to plan out their coursework, adding that the "course sequencing at Tarragona is very different than at UArizona, and you want to stay on track in your degree plan."
Global Tracks streamline the study abroad course selection process, removing potential barriers and uncertainty from the process and facilitating a smooth academic journey abroad. This is great news, particularly for students in traditionally underrepresented or rigorous academic programs with firmer academic degree plans.
With Global Tracks, students may elect from among pre-approved, major-specific classes at a partner institution abroad. University of Arizona departments interested in offering Global Tracks for their programs can contact Mariah Nunes.    
"I definitely felt myself integrating into Catalonian culture. Living with locals, I was introduced to many new traditions. For instance, my roommates and I would have weekly traditional dishes (paella was a favorite of mine and luckily I roomed with an amazing chef)...so many other things no longer seem[ed] 'foreign' to me because I integrated so strongly into the culture." - Sasha Artemieva, University of Arizona student
UArizona student Sasha Artemieva spent Fall 2019 at UA Tarragona. Reflecting on their time abroad, Artemieva encourages other Wildcats to enhance their immersion experience in Spain by trying to "stay with locals." Artemieva states, "I personally feel as though I had such a drastically different experience compared to other students from the U.S. Locals know everything that is happening in the city and know the area very well. If you're lucky, they may even invite you to their hometowns. This is also important if you want to end up learning the language." 
Interested Chemistry students can start a study abroad conversation with their academic advisor!
---
Want to learn more about UA Tarragona? Students can learn more here.
Want to explore all of your study abroad options? Start your journey here.
Want to begin offering a Global Track for your UArizona students? Reach out to Mariah Nunes at Arizona Global.