International Student Spotlight - Grace Elena Torres
Leaving your comfort zone to study in a new country can seem a daunting decision. Grace Elena Torres is an alumnus of the UArizona UPC dual-degree program at Universidad Peruana de Ciencias Aplicadas in Lima, Peru. Grace completed her last semester on our main campus in Tucson, AZ, and shared with us how she made this decision to do a Study Arizona semester.  
"I am here because I always wanted to study in a foreign country and my university (UPC) mentioned this program to me. After hearing about the program, I was very interested to come here." 
We asked Grace how her family helped her with this decision to study in a foreign country.  
"My family has been a great support through this process, when I told them that I wanted to go to the U.S., they said "Go ahead, we know you can do this!" My parents told me that this was a great opportunity to go after my dream and I am glad I did!"
We also asked Grace about her favorite course, and she said that she enjoys her Environmental Ethics class the most!
"The professor always ensures there is an interactive environment in the class. It's definitely my favorite class."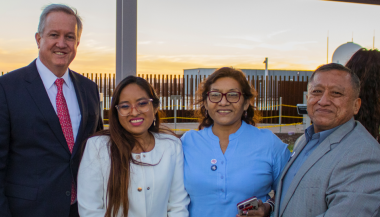 Grace invited her parents to her graduation ceremony in Tucson, held on December 17, 2021. We had a chat with Mr. Torres during the UArizona+UPC graduation celebration, hosted by Arizona Global, to celebrate students in the UPC dual-degree programs.
"I am very proud of my daughter," he told us, with a big smile.
Study Arizona is an amazing opportunity for students pursuing a dual-degree undergraduate program at one of our Global Locations. Students in these programs can enroll on our main campus in the beautiful city of Tucson, Arizona for one semester.