Global Ambassadors Welcome International Wildcats
Aug. 19, 2022
Remembering their own experience arriving for the first time, these University of Arizona students are paying it forward to the next cohort of incoming international students.
For the past two weeks, international students have been arriving in Tucson to begin or continue their academic pursuits at the University of Arizona. The International Student Service (ISS) team of Global Ambassadors has been hosting a Global Wildcat Welcome table at the Tucson International Airport to make sure students – and in particular freshmen – see a friendly face and have assistance when they land.
There are over 3000 international students pursuing degrees on the UArizona campus this fall. Within the framework of international student support services provided by ISS, the Global Ambassadors connect with these students and provide a personal bridge to help them adjust to their new culture and surroundings.
On a recent Saturday evening, three Global Ambassador (GA) volunteers – Aunita, Zain, and Amy – were ready to welcome five scheduled evening arrivals.
Admitted students were invited earlier in the summer to schedule their fall semester arrival through ISS to reserve a ride from the airport to their university housing. Through an arrangement with Lyft, ISS provides transportation for first-time arrivals only.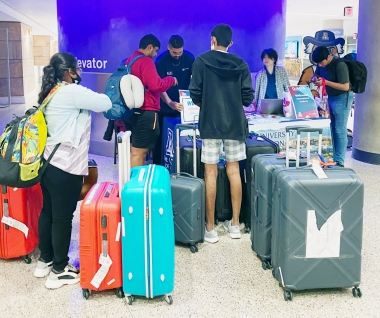 The team has a table located centrally in the B Terminal, near the baggage carousels. They hold signs with the arriving students' names, help them find their bags, and direct them to the welcome table where they will check-in and their ride is called.
The GAs offer a welcome bag with a UArizona baseball cab, of few snacks, and several pages of instructions and helpful QR codes for apps and web pages that students will need.
When the student's ride arrives, they are walked to the car by a GA to make sure they get safely on their way. If a student feels nervous, a GA might even accompany them to campus and make sure they and their bags are delivered to the right location.
It's a crucial service that these students provide, for reasons that nearly all of the GAs have experienced themselves.
"When I arrived on campus as a freshman, I was nervous!" said GA Aunita, a biology major from Esfahan, Iran. "The Global Ambassadors welcome at the airport made me feel safe and secure. I came to the table, and in that moment met some of the nicest people who would soon become good friends. It made such a big impact. That is why I became a Global Ambassador, and why I wanted to pay it forward and be part of the welcome team this year."
Zain, a molecular and cellular biology major from Lahore, Pakistan, has been a GA for a few years. He's also a Resident Assistant (RA) in his dorm, so he has a lot of knowledge and insight to share with students. 
"I think it's important to be the first faces that these students see when they arrive," said Zain. "We are their peers, and we know what they are going through. By being here we not only help them in the moment, but we are examples that show them that in no time they will adjust, too."
GAs are selected by application and go through special training to learn how to connect international students to the campus and community. They provide peer advising, friendship, and activities throughout the year for the international student community, from Study Arizona and short-term exchange students to those seeking undergraduate and graduate degrees.
On this Saturday, Amy, a Global Ambassador from Xi'an, China, majoring in psychological sciences and neuroscience, is handing out welcome bags to arriving students and accompanying them to their rides. Though she's been in the U.S. for a few years, the sophomore knows what it feels like to relocate to a new country.
"I'm here because I think it's important to help students feel glad they came," said Amy. "I want to be a reassuring presence for them."
The next step, once students are settled into their housing, is to connect with the ISS staff and go through orientation – another activity that the GAs will help with.
Global Ambassadors will be present at Destination Arizona, the University's orientation weekend that includes a mix of mandatory and optional programming designed to welcome all new students to campus prior to the start of classes.
The 2022-23 team of Global Ambassadors represent twelve countries and a broad diversity of majors. They help create cultural connections and engage students through friendship and fun. GAs run the Buddy Program, coordinating 1:1 connections for support and sharing resources through regular contact and a Discord group, as well as regular email communications from ISS. They help new students learn about student life on campus, the city of Tucson, and about U.S. life and culture through trips, cultural events, and outdoor and community activities that might include shopping trips, hiking, or visiting museums.
The first few GA-hosted events scheduled for international students this fall semester are:
Learn more about the Global Ambassador program, and explore the Global Wildcat Guide – a resource for everything the international student needs to know about being a student at the University of Arizona.