Global Ambassadors Connect International Students to the Campus & Community
GAs help create cultural connections and engage students through friendship and fun.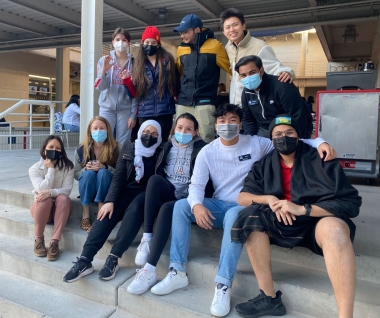 The University of Arizona is home to over 3000 international students on our main campus in Tucson this year, representing over 100 countries and bringing incredible diversity and new perspectives to our community. These students will sometimes face challenges adjusting to the different educational and cultural experience of living in the United States.
Whether a student is here for a short-term experience or to receive their degree, the ISS team provides a framework for students to build connections and help them adjust to their new home.
Each year, from the dozens of students who apply to this leadership program, ISS selects a diverse team of Global Ambassadors (GAs) to create a supportive network of international and local students. Before new students arrive, GAs share their experience and tips for the incoming class through pre-arrival webinars and at the Global Orientation. They also run the Buddy Program, which connects international students through events and activities that the team coordinates each semester.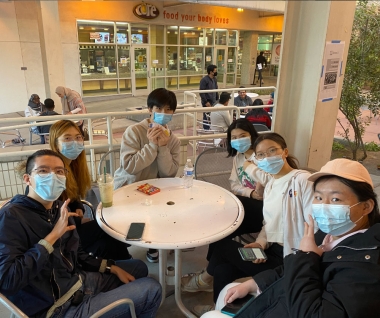 While COVID restrictions have made gathering in person a challenge in recent semesters, the ISS team has recently begun to reestablish the fun and robust schedule of activities that they regularly host for the international student community on campus. With the Global Center as home base for programs, many events take place around campus and in the surrounding Tucson community, providing a great introduction to places to visit and how to get around.
Earlier this month, Global Ambassadors hosted the first Coffee @ Global of 2022 at the Global Center. These monthly gatherings take place on Fridays from 4:30 - 6:30 pm, and are a fun way to transition into the weekend. Students meet in the Global Center Courtyard for free coffee, refreshments and snacks. They play games and have the opportunity to not only connect with other students, but also to ask questions and learn from the Global Ambassadors.
The GA student leaders inject a lot of energy into Buddy Program events, and focus on making them opportunities for important and personal connections that are essential to a successful and gratifying college experience. The Buddy Program is open to all enrolled Main Campus University of Arizona students and J-1 student interns. Students who would like to join the Buddy Program can find more information and links here. Buddies use Discord as their primary messaging platform to find out about upcoming events, connect with other students, and share memes.
Upcoming ISS events that students can look forward to this semester include monthly shopping trips to Lee Lee International Supermarket, and trips around town planned by the Global Ambassadors.
Every two weeks, Global Ambassadors host Study @ Global in the Global Center Lounge. It's an opportunity to find a study buddy, grab a snack and get some homework done.
Monthly Coffee @ Global gatherings in the Global Center Courtyard are scheduled through April. 
ISS is also holding several OPT Workshops and CPT Informational Sessions. Click here for the full schedule of ISS and Global Ambassador events.