This Eller College of Management Graduate is Turning Ideas into Actions and Achievements
May 14, 2022
Meet Jiten Baid, Class of '22 B.S.B.A in Marketing and Management Information Systems
Meet Jitendra (Jiten) Baid, a senior Global Ambassadors with International Student Services, and the graduating student speaker at our International Students and Visitors Appreciation Reception on May 11, 2022 at the Arizona History Museum. Jiten has made the most of his experience as a student and student worker, challenging himself academically and thriving in the international student community.
Hometown: Kolkata, India
Degrees: B.S.B.A in Marketing and Management Information Systems, Eller College of Management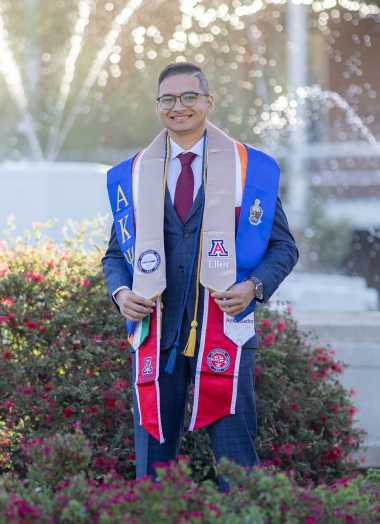 Eller Awards: Jiten has been recognized for his academics, leadership, and service, most notably: 
Nebula Award: This award is given to students who are leaders and role models amongst their peers at Eller. The student has shown that they can successfully unify those around them and lead them to the creation of an unforgettable Eller Experience!

Eller Centurions: Eller Centurions are an elite group of graduating seniors who are recognized for their achievement, not only in academics, but also in leadership and service. They are recognized for their involvement in Eller, the U of A, and Tucson community. Being an Eller Centurion is about carrying this service with you far beyond graduation.

Dean's List With Distinction
We spoke with Jiten to learn more about his experience as a student at the University of Arizona.
---
UA: Why did you chose to come to the University of Arizona?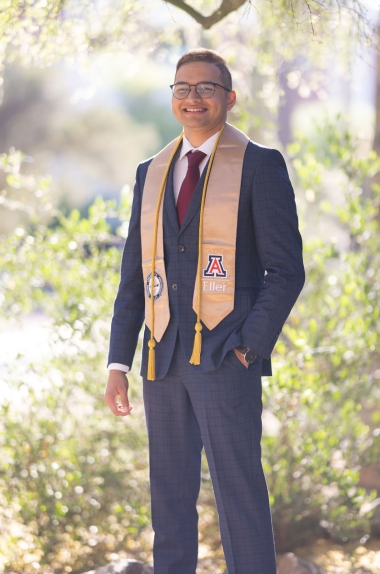 Jiten: I was interested in computer science and business, and I researched programs for MIS and found the University of Arizona. Arizona looked like a very nice place to be, and I considered both UA and ASU. I'd been in a challenging IB (International Baccalaureate) boarding school, so I felt academically prepared and wanted to go into a good program. When I looked at the academics, the University of Arizona had excellent rankings in MIS – tops in the world. Especially the MIS program got my interest and I fell in love with marketing too! So eventually, decided to do both.
UA: What do you love about your major?
Jiten: I really like engaging in both the technical and business side. MIS is a more technical degree program, and I learn how to apply systems. And any business needs marketing, and I enjoy the sales and promotion side of marketing. I like being the person who knows technology as well as the business language and be able to bring the two together.
I like having the opportunity to get real-world experience. In the MIS program I'm working on a consulting project to apply UX (user experience) principles to create an app or improve a process. My team are helping the Agricultural Club on campus to promote their services to students.
UA: What are your future plans?
Jiten: Right now, I am planning to return to India following graduation. I definitely want to start a company but I'm not sure what, where, or how!
UA: How have you been involved in clubs, activities, and your college on campus?
Jiten: I am a member of several campus clubs and organizations, including Alpha Kappa Psi, a professional business fraternity, and the MBSA, the Multicultural Business Student Association. Both have given me leadership opportunities and provided many learning experiences and fostered many friendships. In addition, I am in the UI/UX club and I work in the Main Library as a UX Student Assistant. I'm also active in the Business of Entertainment club, which invites professionals in the entertainment industry to speak to students about their work
and careers. We've had speakers – some of them UA alumni – from Disney, Netflix, and many others.
UA: Have you held many Student Worker positions?
Jiten: I have held many student worker jobs on campus. Since my freshman year, I have worked in the Eller office as a Marketing Student Coordinator – creating graphics, helping with data to promote Eller Marketing Global Programs. In the Spring 2021 semester I was a tutor at C.A.T.S. Academics, tutoring student athletes and others in business and pre-business courses. I was also a Teaching Assistant for one of my professors at Eller. And I have had a position as a UX student assistant at the library from May 2021 to present!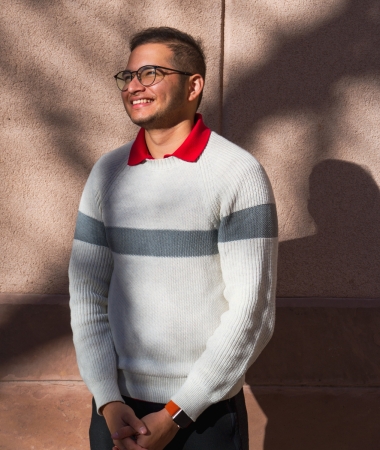 UA: What made you want to be a Global Ambassador?
Jiten: Being a Global Ambassador (GA) on the International Student Service team has been a very rewarding position, one that has given me leadership opportunities and has challenged me to grow. It's empowering, and a big responsibility to be representing the university on an international level. We serve as an early connection point for new international students before they arrive, we welcome them at orientation, we engage them in community-building activities, take them on outings to learn more about Tucson, and we help students adjust to life in a new place.
When I came here, I saw the GAs welcoming students and doing good things, and I wanted to do that too. I wanted to help. So, I applied in the spring of my freshman year. I've grown so much through my experience. I definitely recommend the Buddy Program to new international students. The regular get-togethers, outings, study groups, and social media connections are a great way to meet people and make friends. I always tell students to join. It's a community for international students. You're all in this together. It makes such a big difference to have peers who are going through the same things, sharing challenges and learning with you. And you make friends for life.
UA: How do you think being so involved has influenced your experience as a student?
Jiten: I feel like I've completely transformed during my time as a student here. I decided that I would challenge myself and push my limits, and getting involved was how I did that. For me, it's about who you become at the end of the process.
UA: Any favorite classes or faculty you'd like to tell us about?
Jiten: One class I've really enjoyed I am taking right now, Marketing 428: Sales Communications. It's all about persuasion, negotiation, and customer relationship management in interpersonal marketing communications, learning to apply selling skills in business settings. I have found something interesting in every class I have taken. There are so many to choose from it's like having a buffet.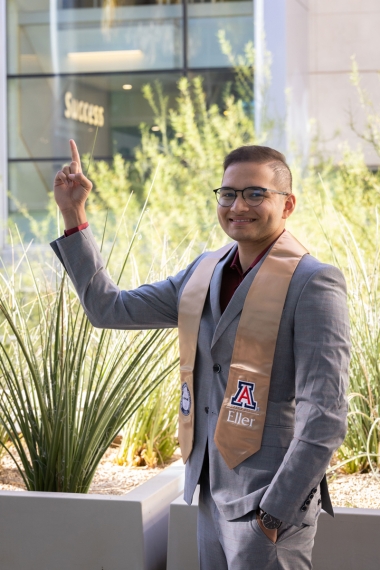 As for faculty, I have found my instructors to be accessible and very supportive. If you show some effort and interest, they are always happy to help.
UA: What has been your experience living in dorms or off campus?
Jiten: I lived in Coronado dorm for the first year and a half. Then we all went home in 2020 when the pandemic began. When I came back to campus in 2021, I decided to live in an apartment near campus. I always suggest that incoming freshman – especially internationals students – live in a dorm. It is 100% the best way to get a full college experience. Everyone else is going through the same things you are - everyone is nervous, looking for friends. Being in a dorm, you are close to campus, you can make friends, and have people available to help and support you.
UA: Where is your favorite place to eat on or near campus?
Jiten: Well, I've tried just about every restaurant in the area, but I'm not a foodie. On campus, I like Jimmy John's. It's my daily fuel. I'm a vegetarian and they have one thing there that I really like, and I can get it fast. If I want something more interesting, I'll go to '85 North at the Franke Honors College. Anyone can eat there, and the food is great and affordable. I also like the new Saffron Bites restaurant at the Global Center.
UA: Tell us what you like about Tucson and the UA campus.
Jiten: It's a laid-back university town, not too big, but with plenty of great places to see that are easy to get to. There is so much natural beauty in Tucson. The mountains were a big surprise. It's not the desert that many people imagine! I love being able to hike and be out in nature. My favorite local hike has been to Seven Falls in Sabino Canyon. It's also really easy to travel from Tucson to places around the region and within the U.S. I've been to the Grand Canyon, San Diego, New York, and even took a train from Tucson to Los Angeles for $40! I've definitely taken advantage of being here to do some interesting things and have some great adventures!
The campus is beautiful, with a lot of trees and the huge grassy mall. My favorite building is ENR2. When I need a place to study on campus, I usually end up at the Main Library or in the courtyard at Eller. I also study at the Global Center. If you want a great view, you can find a spot in the Optical Sciences building or at ENR2. And if you want to work out before or after, you can study at the Rec center or in the new Student Success District.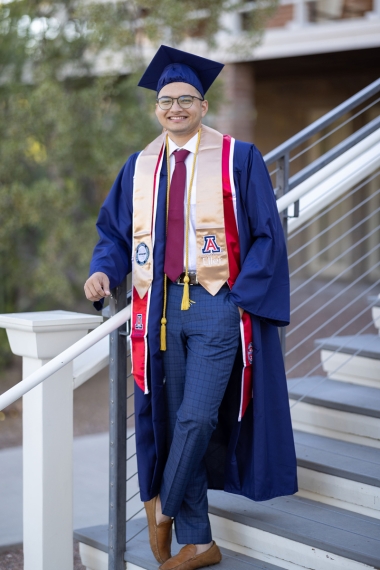 UA: What advice do you have for incoming freshman to succeed?
Jiten: I strongly believe that to be successful, you need to find your own path. Do the things that you want to do. Have your own goals and boundaries and find your own way. Try things outside of your comfort zone. You won't fail, you will grow. There are multiple ways to reach any destination and it's up to you which one you choose.
UA: What memories do you think you will always carry with you of your time at UArizona?
Jiten: Well, I am very grateful that I got to start my career as a student before COVID, in 2019, and now I am able to have a normal graduation in 2022. I suppose I will miss the lifestyle being here as a student. Living here, working, being with friends, learning, my work-study positions, meeting people. I love the working and studying culture – the entire student life.
International Students and Visitors Appreciation Celebration May 2022
Jiten was invited to speak on behalf of students at the May 11, 2022 celebration on campus. A first-generation international student from India, he began by inviting those present to close their eyes and "imagine, amidst all the chaos in the world today, all the tension, all the divisiveness, imagine a place where your race, your ethnicity, your gender, your sexuality, your religion, and your cultural origin doesn't matter. A place that supports you for being you, unconditionally. A place where you can find your voice, be heard, and where the possibilities know no boundaries."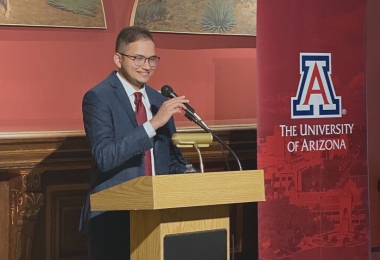 "Look around you now," Jiten continued. "That place is here, at the University of Arizona. How do I know? Because as a young boy in India, I dreamed of going to a place that welcomes everyone. A place where quality education is prioritized before anything else."
Addressing his fellow graduating international students, he said, "During my time as an undergraduate, I got the opportunity to serve multiple positions across various departments on campus. And I can honestly say that I experienced one of Karl Eller's central beliefs: The more you give, the richer you are. This mantra inspired me to help hundreds of fellow international students assimilate into the UA community, and that work gave me a sense of pride and identity far more valuable than material gains."
"Whatever the size and scope of achievements that we have made in our journey," Jiten said as he came to a close, "we should be grateful and take a moment to thank the administration, the faculty, the staff, our loved ones, and, of course, our Wildcat friends."