University of Arizona Global 2021 Annual Update
Advancing cutting-edge learning modalities and creating new paradigms in international education.
Over the course of 2020, the University of Arizona expanded the international focus and reach of the University, adapting to the world's "new normal" with new programs and pathways for students around the globe.
"As the driving force for University of Arizona global engagement, Arizona Global is creating new opportunities for international students to earn a University of Arizona degree, wherever they are in the world," said Brent White, vice provost for global affairs. "We are advancing cutting-edge learning modalities and have created an expansive network of global locations, which are responsive to new realities of reduced mobility in a pandemic, and post-pandemic, world. This global network will also open unprecedented opportunities for University of Arizona students to study abroad in hundreds of cities around the world, and to seamlessly move between these locations as they choose, once travel resumes."
The many initiatives, innovations and other activities pursued in 2020 are captured in the recently published Arizona Global Annual Update.
Below are some highlights from the report.
The Arizona Microcampus Network
In response to the pandemic, the University launched a unique academic format providing international students a more flexible path to a University of Arizona degree. The model builds on the Arizona Microcampus Network that Arizona Global has developed over the past several years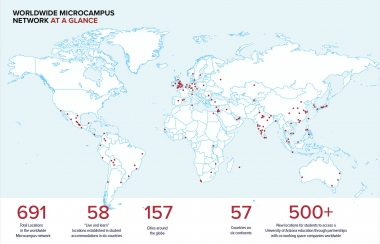 The Arizona Global team worked closely with University leadership, department heads, deans, faculty and course designers to rapidly implement and expand the Microcampus Network.
"Implementation of this type of model can take years of planning, but student needs were immediate and compelling," White explained. "This work built on two of our strengths: the existing network of microcampus locations and our top-ranked Arizona Online courses and programs."
The initiative supports current international students by allowing them to continue their studies in spite of travel restrictions. It also created new access points and flexible, affordable pathways for prospective students around the world to become Wildcats.
In 2020, the Arizona Microcampus Network grew from ten to over 600 locations around the world. The majority of these locations – including universities, student residence halls, and coworking spaces – function as access points for students to take University of Arizona classes and degree programs online, while also having access to an in-person community and amenities, such as high-speed internet, study space, and in many cases a full campus experience. These locations can be found in 157 cities, in 57 countries, on six continents around the world. Additionally, at the heart of the global network are 12 University of Arizona locations on the campuses of partner universities, where the University offers 24 unique in-person dual-degree programs.
Global Direct: The Online Solution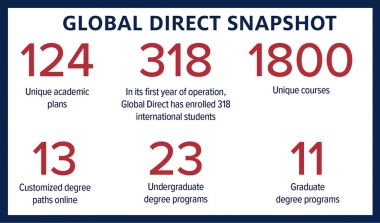 In 2020, the Global Education team launched Global Direct, the online component of the Arizona Microcampus Network.
Global Direct gives students pursuing degrees outside the U.S. access to more than 60 University of Arizona undergraduate and graduate degree programs, a growing number of customized degree paths and nearly 1,800 courses.
"We think the outlook for international students at the University of Arizona is positive," said Stephanie Adamson, assistant dean for global admissions and enrollment. "And the Arizona Microcampus Network and Global Direct are foundations we can build upon."
University of Arizona Academy – the Early University Option
In Fall 2020, the University launched the Arizona Global Academy, which allows academically talented high school students outside the U.S. the opportunity to enroll in a selection of online college courses alongside University of Arizona students, while still in secondary school.  Students typically enroll through University partner high schools, including partner schools in India, Bangladesh, Vietnam, Cyprus and Turkey.
A Journey to Main Campus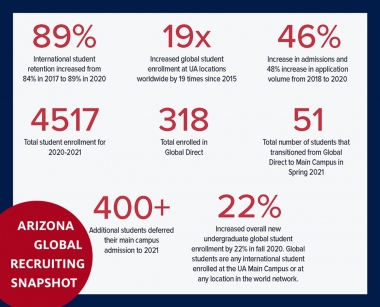 Across the country, international student enrollment has decreased in recent years. But, according to a recent Inside Higher Ed article, many students do still want to come to the U.S to study, especially at the graduate level.
"While University of Arizona international student enrollment for main campus decreased in 2020, it was down less than national trends," Adamson said. "Additionally, when combined with microcampus and Global Direct students, our global student enrollment is actually up 22% this year over last year. Many international students currently studying at microcampuses or through Global Direct also plan to join us on main campus as soon as they are able to do so. We continue to be optimistic about the future, and the changes we made in response to the pandemic have positioned us well for growth.
See pages 6-7 in the Annual Update for a snapshot of global recruiting.
The Global Center
In August 2019, the former Park Student Union was remodeled and reopened as the Global Center – a centralized campus hub on campus for international student services and activities plus cultural celebrations.
Additionally, the Global Center Online, was launched in 2020 to provide easy access to resources, support and student services for students who study at the University outside the U.S., whether by choice or necessity.
Looking Ahead
With the Microcampus Network serving as the infrastructure for future growth, the University is looking to strengthen its partnerships with universities around the world and create more opportunities.
"With an ambitious recruitment strategy and a holistic approach to international student services, we are ready for whatever comes next," Adamson said. "We are eager for international travel to resume and for campus be filled with that energy that only comes with students being here. And until that time, we are thrilled and proud to be able to continue to offer access to the University of Arizona to students everywhere in the world."