University of Arizona Announces 2021 High School Competition Winners in India
Over three hundred high school teams from across India participated in the 2021 Sustainable Planet Competition.
The University of Arizona is excited to announce the winners of the 2021 Champion of Sustainable Planet Challenge!
The annual competition has gained attention and participation in recent years. In 2020, 131 teams competed. This year, 327 teams of students in grades 10-12 from high schools across India entered the challenge. Each team submitted a 500-words essay proposing an ingenious and practical solution to an environmental issue affecting their community and create a plan of action to put their ideas into practice.
Eight very talented teams reached the final round and were invited to present their innovative ideas and proposals to the judges in a live Zoom session on October 16, 2021.
Participating teams were comprised of up to three high school students, in grades ten through twelve, with a teacher as a Mentor. Teams were from a single school and were nominated by the school's Principal or a counselor. Each team submitted a proposal in essay form of 500 words length, that was scored for content, clarity, structure, and overall impression.
The jury members were impressed by all of the finalists and were thrilled to announce the following winning teams and their innovative ideas!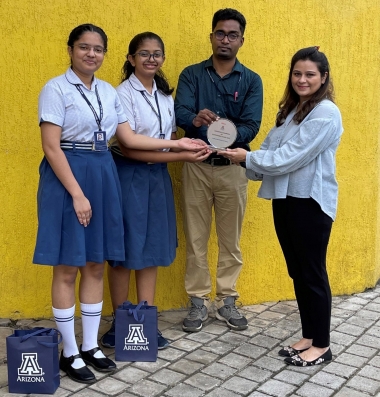 Winner
"Envipods: The Saviour"
The proposal is for a new way to produce and market hand sanitizer in packaging that reduces waste to 0% plastic and is 100% biodegradable.
See the team's final presentation here ->
T­eam: Eco Warriors. Team members: Abhinaya Kondi & Hairat Swami
Mentor: Mr. Akshay Bandekar
School: Lodha World School Palava, Mumbai, Maharashtra, India
Prizes for the winning team included: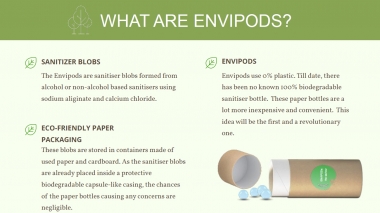 $1000 additional merit scholarship for pursuing a bachelor's program at the main campus
UArizona trophy for the school
Certificate and UArizona swag bag
First Runners Up
"Caelipartum"
The proposal is for a fully electric, autonomous Unmanned Air Vehicle(UAV) which is designed for package delivery by replacing small commercial vehicles, reducing pollution, creating jobs, and with applications in law enforcement and agriculture. Read more ->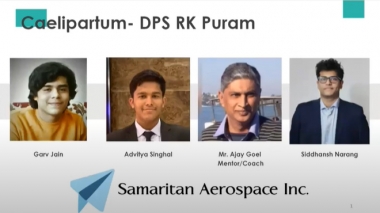 Team: Samaritan Aerospace. Team members: Advitya Singhal, Siddhansh Narang, Garv Jain
Mentor: Mr. Ajay Goel
School: Delhi Public School R.K.Puram, New Delhi, India
Prizes for this team included:
Scholarship worth $800 to do one course from UArizona Academy
UArizona trophy for the school
Certificate and UArizona swag bag
Second Runners Up
"Project Ummeed"
The proposal is for ECS Fuel Cell - a cheap, effective, reliable, sustainable, independent, and renewable source of power generation that can play a significant role in the transition from non-renewable power generation to more sustainable alternatives. Read more ->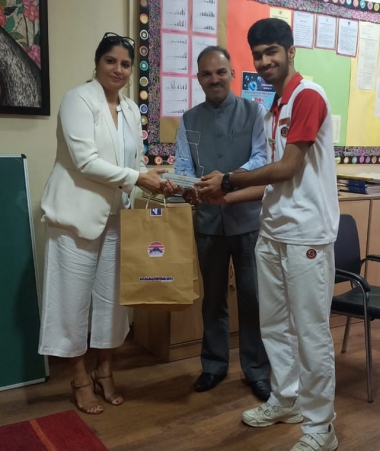 Team: Divit Chopra
Mentor: Dr Sanjay Sachdeva, Principal
School: Scottish High International School, Gurugram, Haryana
Prizes for this team included:
UArizona trophy for the school
Certificate and UArizona swag bag
We congratulate all the students on their entries. These innovative and interesting ideas, presentations, and their energy and enthusiasm inspire us! 
We thank each of the participating schools and the faculty mentors who supported and encouraged their student teams! Every participant in the competition received a certificate of participation. The University of Arizona is proud to have been able to provide students with this unique opportunity to express and apply themselves.
Thank you to the event hosts and organizers, Anju Singh and Apurva Salvi, who coordinated the event in India. And thank you to our 2021 panel of judges: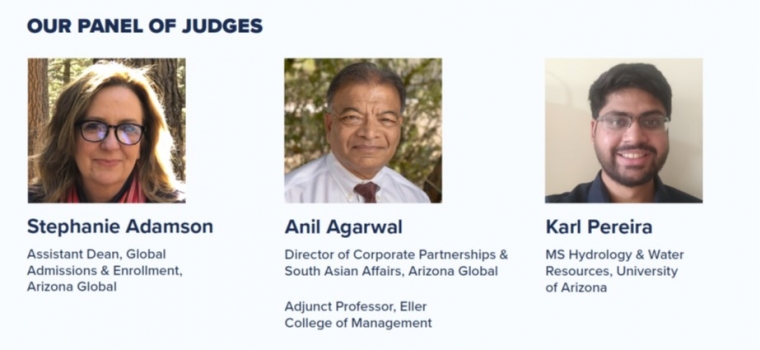 ---
Learn more about the University of Arizona!