University of Arizona and EducationUSA India Announce 2020 Studentpreneur Challenge Winners
Nov. 23, 2020
Teams from across India participated in the 2020 challenge, which was judged by faculty members in the Eller College of Management.
The University of Arizona and EducationUSA India are excited to announce the winners of the UA Studentrepreneur Challenge 2020!
This year, 131 teams from various schools across India entered the challenge, each submitting a 500-words essay on "An Innovative and Successful Business Venture Post COVID." Six teams made it to the finals and on November 21, 2020 they each presented their business plan to the jury, that was comprised of professors from the University of Arizona Eller College of Management. on November 21, 2020.
Participating teams were comprised of up to three high school students, in grade 11 or 12, with a teacher as a Mentor. Teams were from a single school, and were nominated by the School Principal or counselor.  Each team submitted a business idea proposal of 500 words length, that was scored for content, clarity, structure, and overall impression.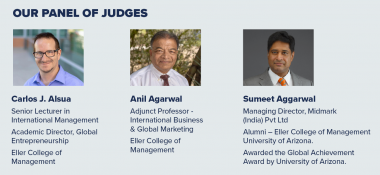 The jury members were impressed by all of the finalists, and were thrilled to announce the following winning teams and their innovative ideas!
Winner
"TRAKMÉ" 
Team: The Crisis Consuls, from The Senior Study 2 School, Amritsar.
Congratulations to team members Gurjot Kaur, Wishavdeep Singh, and Mayur Kandhari!
Proposal summary: "A joint venture between the Indian Railways (3th largest railway network) and LAKMÉ (a 68 years old Indian Beauty Brand). The Joint Venture to be christened: "TRAKMÉ."
Indian Railways' Vivek Express, running along the longest railway path bound between Dibrugarh and Kanyakumari and covering 4,236 km, takes approximately 3.5 days to cover the entire distance. In this venture with LAKMÉ INDIA, TRAKMÉ aims at enhancing passenger amenities and spreading the message of daily hygiene in order to promote cleanliness." This team did their research, spoke with the Railways and LAKMÉ representatives who validated the idea, and the proposal for providing high end salons on Indian Railways, in collaboration with a leading Cosmetic company in India, was chosen as the winner for the 2020 Challenge.
First Runners Up
"Happy Inc. - Ridiculously Happy" 
Team: Happy Inc., from The Lawrence School Lovedale, Ooty.
Congratulations to team members Kian Godhwani & Nandini Bhattacharya!
Proposal summary: "Happy Inc. is a free online peer counselling service, where teenagers in distress can talk, vent, and express themselves freely with our team of Helpers, who'll be there to listen to them, understand what they have to say and support them, all while passing no judgement. A post-COVID19 world is going to be hyper-aware of how imperative mental health is and we know our venture will succeed in it. Keeping in mind how difficult it is to seek help, our organisation has ensured that our process to connect with a Helper is easy, secure and not taxing at all. All our Help-Seekers need to do is visit our website , navigate to the Book a Session page, fill in a few details, and within a few minutes a Helper is assigned to them and the sessions are conducted on Zoom."
Second Runners Up
"The REATRE - Rent-a-theatre" 
Team: SARNS from DPS Ruby Park, Kolkata.
Congratulations to team members Saswata Chakraborty, Aniruddha Mukherjee and Saranya Ray!
Proposal summary: "The idea ("Reatre") comprises of a room (or mini-theatre) having a 14x10 ft screen, upon which the movie shall be digitally projected from an elevated area. The theatre shall have categorized, customizable premier seating arrangements (the number of seats shall correspond to the number of family heads); and special services for appointing butlers, getting manicures, pedicures, etc; for pampering oneself while enjoying their favorite movie with loved ones. A Reatre shall partner with food delivery services like Door-Dash and Zomato, to order food from a customer's favorite restaurant. From the perspective of privacy and hygiene, a closed room would perfectly serve the purpose of social distancing, whereas a movie theatre screening a popular film would be generally cramped. A Reatre can be booked through an app or its official website, which can be developed and easily managed by a team of technicians."
Prizes include:
Scholarship award of up to $10k per annum x 4 years
8 weeks Mentorship under Prof Carlos J Alsua, Eller College of Management
Application fee waiver ($85) to apply at UA, valid until Fall 2022
Certificates and Swag Bags from UA
Thank you to all of the participating schools and faculty mentors for the support and encouragement that they have given to their student teams! And to the students, we congratulate you on your entries, and thank you for your innovative and interesting ideas, presentations and enthusiasm! You inspire us!
The University of Arizona is proud to have been able to provide students with this unique opportunity to express and apply themselves.
Thank you to Professors Carlos J. Alsua, Anil Agarwal and Alumnus Sumeet Aggarwal, as well as  UAZGlobal's Frank Camp and Stephanie Adamson, for participating as judges in the competition. And a hearty shoutout to organizers Anju Singh and Apurva Salvi for making this a huge success!
See the Facebook post announcing the winners: