UA Welcomes 58 International Fulbright Language Teachers to the U.S.
A five-day orientation acquainted 58 FLTAs who hail from 32 different countries, representing 25 languages, with the academic and social cultures of U.S. institutions.
Every year, hundreds around the globe apply to the highly selective Fulbright Foreign Language Teaching Assistant (FLTA) program for the chance to teach their home language for one year at a higher education institution in the U.S. Applying for the FLTA program to serve as "cultural ambassadors" for their countries in the U.S. requires getting through a long and demanding process, and it is an accomplishment to be among those chosen to participate. In August, the University of Arizona was one of seven universities nationwide to host summer orientation programming for incoming FLTAs, to facilitate their transition into the U.S. Joining the program for the first time, the UA organized a five-day orientation that acquainted 58 FLTAs who hail from 32 different countries, representing 25 languages, with the academic and social cultures of U.S. institutions. While warmly welcoming them to the culture of the Southwest, UA provided the FLTAs with the latest in pedagogical training before they begin their foreign language teaching assignments at institutions of higher learning across the country.
The Fulbright FLTA program is sponsored by the U.S. Department of State's Bureau of Educational and Cultural Affairs (ECA) and administered by the Institute of International Education (IIE). The program is designed to develop Americans' knowledge of foreign cultures and languages by supporting teaching assistantships in over 30 world languages at hundreds of U.S. Institutions of higher education. The program offers the grantees--many of whom teach English in their home country--the opportunity to develop their professional skills and gain first-hand knowledge of the U.S., its culture and its people.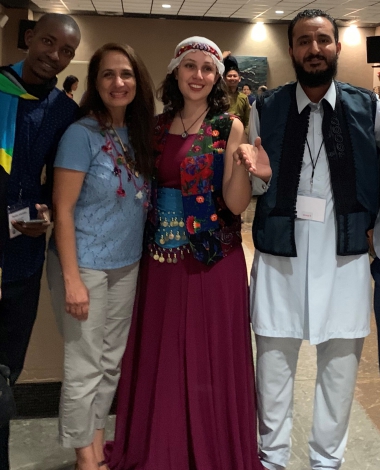 UA's first FLTA summer orientation was organized by Sonia Shiri, grant PI and Associate Professor at the School of Middle Eastern and North African Studies (MENAS) in the College of Social and Behavioral Sciences. Shiri is Middle East Language Programs Coordinator at MENAS and Director of the UA's Arabic Flagship Program and of the Center for Arabic Study Abroad (CASA). In her welcome remarks to the FLTAs, Shiri shared why the UA is involved. "We are hosting this orientation because we are truly committed to supporting the life-changing work you will do while teaching language and culture at your host institutions. Your efforts in the coming year will impact not only the students and faculty that you interact with but will spread out through their social networks, on and off-campus. We are proud of the type of ambassador that you are going to be and honored to be your first stop in the United States."
Shiri enlisted the support of faculty, graduate students and staff from various units and offices on campus to provide high-quality training and a warm welcome to the 58 FLTAs. The units and offices involved include primarily MENAS along with the Critical Languages Program, English, German, East Asian Studies, Arizona Global, Diversity and Inclusion, and the Office of Instruction and Assessment. Graduate students from MENAS, English and the Second Language Acquisition and Teaching GIDP program served as group leaders to the FLTAs during the training sessions, and for outings to the Flandrau Planetarium and Old Tucson. Also in attendance throughout the five days, fielding questions from participants and supporting Shiri and her team, was Derek Cook, the Fulbright FLTA Program Director from the New York office of IIE.
Opening the orientation, Brent White, UA Vice Provost for Global Affairs, and Dean of Global Campuses and International Education, talked about Arizona Global efforts that underpin the university's commitment to supporting international students and faculty and creating global citizens. "As part of that commitment at the University of Arizona, we take language learning seriously," he began, adding that "we teach 25 different languages here, eleven of which are their own department or program."
"The UA is one of the top producers of Fulbright scholars," White continued, "and the Fulbright program is important to the university as well as to our faculty who teach and research abroad. We hope you have a wonderful year in the United States and thank you for coming here to help our students learn the language that you teach."
For many of the participants, this was their first visit to the United States, and Tucson was their first impression of America. During the five-day training, FLTAs got a taste of Arizona culture and college campus life. After a walking tour of the UA Campus, several FLTAs remarked that the Flandrau Planetarium "classic" night sky show was a favorite and that it was exciting for them to learn so much about the wonders of space in this short visit. Participants also visited Old Tucson for a classic western movie reenactment followed by a Southwestern BBQ. Tucson may be a little bit hot this time of year, but as White remarked: "It is all part of a very warm welcome."
Feng, a Fulbright FLTA from China, is in the United States for the first time. After the orientation, he will be teaching Chinese at Catholic University of America. When asked what he hoped to gain from the sessions, Feng said he was "interested to learn about teaching methodologies, American culture, and teaching in a multicultural environment."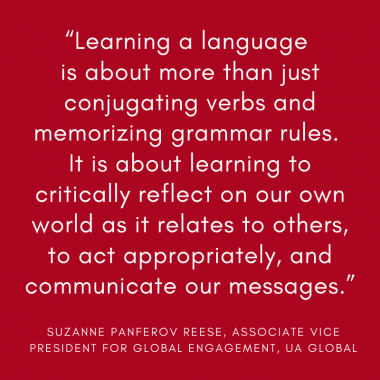 FLTA grantee Adriana, here from Mexico, expected to learn about "ways that students perceive culture, and the importance of having a native speaker as a teacher." Adriana will be teaching Spanish at Gardner-Webb University for the coming year.
Participants Sally, from Egypt, and Berlin, from Indonesia, agreed that teaching methodologies and classroom management techniques were at the top of their lists. Every participant asked agreed that, at the core, they want to understand how to connect with and engage American students in the language learning classroom.
The Fulbright FLTA Summer Orientation Program is designed to help prepare grantees for the challenge of entering a new academic system as a teaching assistant or principal teacher, and to create a platform for networking with fellow FLTAs. During their five days in Tucson, grantees attended workshops and sessions covering topics such as diversity, building professional community, teaching methodologies, academic evaluation, instructional technology, equity and inclusion, curriculum development, and student engagement.
In her session on "The Value of Internalization and Language Teaching," Suzanne Panferov Reese, Associate Vice President for Global Engagement, Arizona Global, invited the future teaching assistants to ask themselves, "How will you impact the lives of your students and colleagues? How will you bring the world to your students, and engage them in learning about languages?"
Panferov Reese reminded participants that "languages are critical to internationalization because the world is constantly changing. Learning a language is about more than just conjugating verbs and memorizing grammar rules. It is about learning to critically reflect on our own world as it relates to others, to act appropriately, and communicate our messages."
The summer orientation program culminated with each participant micro-teaching a language lesson to a small group of fellow FLTAs, followed by feedback from their peers and group leaders. As they reflected on the orientation experience, participants commented that being able to focus intensely on teaching for several days had been very helpful. Many remarked on how much they had learned, and how well organized the experience had been. Tucson received high marks as a beautiful and welcoming city that many hope to come back and visit someday.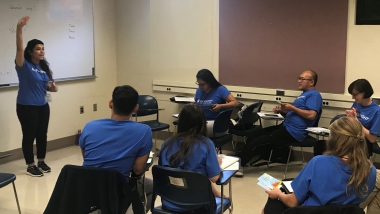 The University of Arizona is no stranger to the FLTA program. Over the years, it has repeatedly hosted, for the full year, Arabic, Persian and Turkish language FLTAs at MENAS and Portuguese language FLTAs in the Department of Spanish and Portuguese. This year, UA will be home to five Fulbright FLTAs. Laura Fontana Soares, who is with us from Brazil, will be teaching Portuguese. Turkish language FLTAs are Ihsan Onur Yigit and Dilan Erteber, both from Turkey. Arabic language FLTAs joining us this year are Imad Guemmah, from Morocco, and Heba Abu Zaher, from the Palestinian Territories.
In addition to the professional and pedagogical training they received at UA, the FLTAs bonded with each other and with the UA team. In the written evaluation submitted on the last day of the orientation, one of the FLTAs summed up the collective spirit when they commented, "I would say that this is the coolest orientation that could have ever been held! I was not expecting to fall in love with Arizona, Tucson, and UofA! And of course Sonia and team who have been really awesome! I will miss this place and the warm people!"
Learn more about the Fulbright Foreign Language Teaching Assistant program at fulbright.state.gov.