UA, Saudi Universities Partner on Farming Solutions
June 22, 2016
The institutions are advancing social agriculture to help farmers achieve economic profitability while promoting environmental sustainability.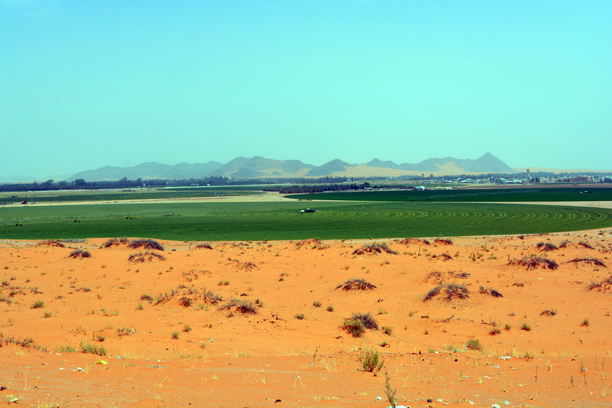 An alfalfa farm in Al-Khitah Village in Ha'il, Saudi Arabia, is cooperating with Ha'il University and the UA in using a mobile phone app providing same-day data on prices of farm produce in Hail and in the central agricultural auction markets in the kingdom, including Riyadh, Jeddah and Dammam. (Photo: Ronnie DeGuzman)
The idea that it takes millions or billions of dollars to make a significant difference in social agriculture is being dispelled by the University of Arizona and Saudi Arabia institutions.
Working in partnership to develop pilot farming projects with price tags of less than $50,000, the institutions are advancing social agriculture to help farmers achieve economic profitability while promoting environmental sustainability.
By definition, "social agriculture" and "strategic agriculture" are the development and implementation of strategies that provide farmers — in this case from villages in Saudi Arabia — access to technology, solutions and innovations, said Turki Faisal Al-Rasheed, a graduate of the UA College of Agriculture and Life Sciences and a faculty member.
Al-Rasheed is leading the effort with Joel L. Cuello, a UA professor of biosystems engineering, and Kevin M. Fitzsimmons, a UA research scientist and CALS director of international programs.
"We're not reinventing the wheel," Al-Rasheed said during a recent visit to the UA. "We're basically writing an agriculture strategy for every region of Saudi Arabia, and then we want to put together a master plan for the small-scale farmer that we want to have implemented as a national strategy."
The model is relatively simple: Work directly with farmers to identify problems and find effective, low-cost solutions as they try to sustain their business.
Al-Rasheed worked with three Saudi universities — Ha'il, Al Baha and Al Kharj — to help identify villages the UA contingent could visit to meet with farmers, analyze their issues and problems, and determine if there was an opportunity to help.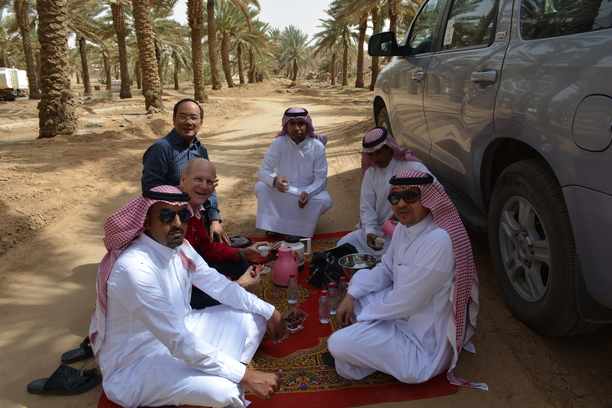 Kevin Fitzsimmons and Joel Cuello (second and third from left) and Khalid Assiry (Ha'il University, right), together with staff, interview a farmer (second from right) in Ha'il, Saudi Arabia. (Photo: Ronnie DeGuzman)
The group visited three villages near Ha'il in the summer of 2015 with a plan to look for effective strategies that would require little funding but make a big and immediate impact.
A Market Strategy
If there were preconceived notions that the problems the group would find would all be related to the science of agriculture, they were dispelled immediately when the primary problem they encountered in the villages was marketing.
"It was actually surprising because we were thinking maybe it's the water, maybe it's the soil. And indeed those were concerns for them," Cuello said. "But in at least two villages, the most pressing problem they had was marketing their produce."
The issue, Cuello said, is that all the farmers in the villages deal with middlemen to sell their products, primarily into the three urban areas of Riyadh, Jeddah and Dammam.
But the farmers have no idea of the supply and demand, nor of the market prices.
"They have phones. They have Macs. So we thought, 'What if we designed an app that would actually report to them on a daily basis the prices in these three market centers?' And that's precisely what we chose to do," Cuello said.
Fitzsimmons said a problem is that one village might be selling to one city, whereas a different city may be in need of produce.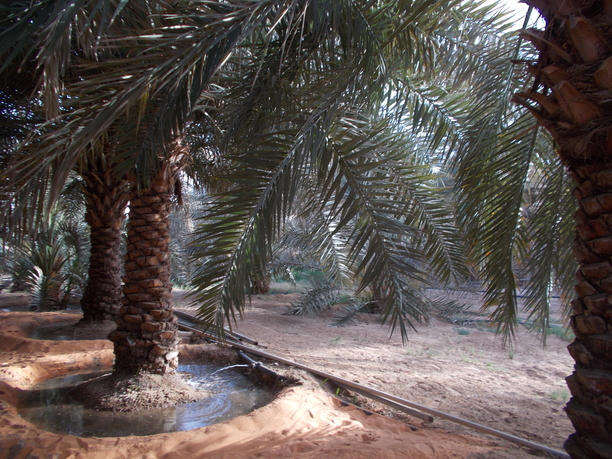 A date-palm plantation in Jubbah Village in Ha'il, Saudi Arabia, partners with Ha'il University and the UA in warding off red-palm-weevil infestation. (Photo: Ronnie DeGuzman)
"If they could find that information, they could find a much better opportunity to sell to one city rather than to another that has four farmers supplying the same product. It's a communication issue," he said.
The group plans to get the app into the hands of the farmers in a few months and hopes to have tangible results to demonstrate how such a small effort can have a high impact for the farmers. Then the plan would be to take that model to other villages, even other countries, to help farmers sustain their businesses.
"It's cut and paste," Al-Rasheed said. "When this works, we do it again. It's very simple."
The Role of Universities
Offshoot benefits exist. One is getting academics from the Saudi universities into the field where the knowledge they pass on to students in class also can be used to develop real-world solutions to pressing problems. This is not how universities have historically operated in Saudi Arabia, Al-Rasheed said.
And getting that effort moving is exactly what the UA, as a land-grant institution, is tasked with, Fitzsimmons said.
"What we're trying to do is work with the Saudi faculty members collaboratively when we do these types of projects so it's not just us going back and forth or other people from the UA going over for extended periods of time. It's training them so they can do this type of outreach and education, incorporating the concept of social agriculture."
Al-Rasheed said another hoped-for side benefit of the group's work is to show the Saudis that farming can be a viable business in an effort to stem the tide of people leaving the rural areas to settle in urban centers.
Added Cuello: "Ultimately, what social or strategic agriculture aims to achieve is (to) work out appropriate public-private-academic partnerships that will allow agriculture in Saudi villages to remain economically viable."