UA Establishes Global Microcampus in Lima, Peru
June 26, 2019
Strolling down the historic streets and rocky beaches of the cliffside capital of Peru, locals stopped in their tracks to snap photos and videos. They witnessed something they'd never seen before, something entirely unique to the University of Arizona – none other than Wilma and Wilbur Wildcat.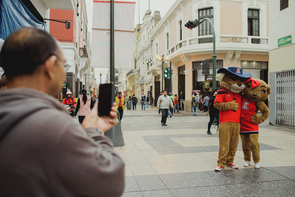 During their foray into South America, the famous couple helped launch the UA's first microcampus on the continent, UA Lima at Universidad Peruana de Ciencias Aplicadas, or UPC. They connected with students and university leaders during the June visit, even donning their formal attire at an event to celebrate the new UA location.
microcampuses, as unique to the UA as Wilma and Wilbur, operate at universities worldwide where students earn both a UA degree and a degree from the partner university. UA and local professors offer the courses collaboratively in a co-teaching environment.
The microcampus at UPC offers six academic paths, including accelerated master's options, allowing students to earn up to three degrees in as little as five years.
UA colleges that currently offer degrees at this microcampus include the College of Architecture, Planning & Landscape Architecture; the Eller College of Management; the College of Engineering; the James E. Rogers College of Law; and the College of Social and Behavioral Sciences.
Students can complete the degrees entirely in Lima or choose to study at the main campus in Tucson for a summer, a semester or longer.
"Microcampuses provide students worldwide with affordable access to a top-quality education while promoting joint research with international partners," said Brent White, vice provost for global affairs and dean of global campuses. "The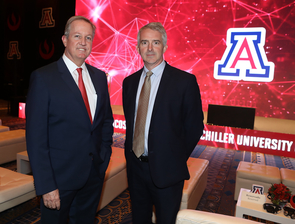 y also create innovative opportunities for collaboration. For example, UPC professors will visit the UA in Tucson next spring to teach classes to UPC and UA students. Through the microcampus model, we are constantly redefining the international education experience."
The UPC's mission centers on excellence and innovation. Among Peruvian universities, it ranks No. 1 for social and economic impact, No. 1 for internationalization among Peruvian universities for 5 years in a row, and No. 1 for universities less than 50 years old. Founded in 1994, it currently offers 20 graduate and more than 45 undergraduate programs. It is the only university in Peru institutionally accredited at the highest level by the Western Association of Schools and Colleges, an agency officially recognized by the U.S. Department of Education.
"We are honored to partner with the University of Arizona to give young Peruvians the opportunity to graduate from a top 100 global university and prepare our students to be future leaders of our country's development," said Edward Roekaert, rector of UPC. "UPC and the UA share a commitment to academic quality, research and innovation. It's a perfect fit."
UA microcampus students take courses at the Monterrico Campus of UPC, which features modern architecture and an abundance of green space. The campus also provides an ideal place for domestic students to study abroad, an added benefit of the microcampus model.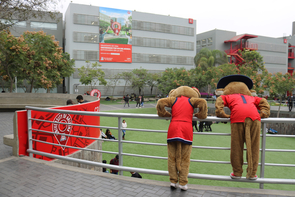 "UA students based in Tucson can now study abroad at many of our microcampuses, including our location in Lima," White said. "Students pay UA tuition, receive UA financial aid and stay on track toward their degrees. In most cases, the cost of living and total cost of studying abroad is less than staying in Tucson."
As reported in 2018, the Thomas R. Brown Foundations helped establish the microcampus in Lima with a gift to support startup costs such as course development, training and renovations.
UA Lima at UPC joins an expanding network of microcampuses worldwide. The UA has fully operational sites in Qingdao, China; Phnom Penh, Cambodia; Jakarta, Indonesia; Ajman, United Arab Emirates; and Amman, Jordan. Five additional locations are launching over the next academic year.
Students interested in studying abroad at UA Lima at UPC can find more information here. Applications open this July for spring 2020 study abroad at this location.