Taking Chances Opens Doors for International Student from China
Ryan combined his goals into an ambitious plan to do something that even the most outgoing personality might find challenging: to have fifteen conversations with fifteen different people every day.
In 2016, a young man named Xiaoyu Zhao came to the University of Arizona from Tianjin, China, to study Geography. Now a member of the graduating class of 2020, Xiaoyu, who goes by 'Ryan', will graduate this spring from the College of Social and Behavioral Sciences, with a degree in Geography (GIST), Information Science and Technology.
When he arrived in Tucson for the first time, Ryan had big plans for his future. From an early age, he intuitively understood that opportunities are created through networking. As a self-proclaimed introvert, he also knew that he would have to leave his comfort zone, take chances, and push his own boundaries in order to create the life he wanted.
Ryan's interest in attending college in the U.S. was sparked during high school, while visiting an American campus for a math competition. He was struck by the positive atmosphere and engaging academic community. He knew then that he wanted this experience, and that learning English would be the key to getting it.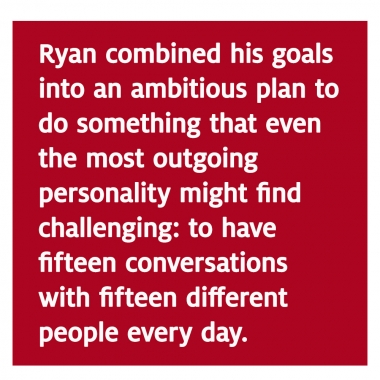 He chose the University of Arizona because of the strong geography program and commitment to research. The location in Tucson was ideal, the weather was perfect, and it would be a good base from which to travel and explore the U.S and Mexico. After ten months of study and passing the TOEFL exam, Ryan was on his way.
Ryan quickly fell in love with the Arizona campus and Tucson. He loved the mountains, the cactus, and the blue sky, fresh air, and sunshine. His dorm roommate was his first guide to American culture--even inviting Ryan to spend Christmas with his family--and he helped Ryan learn how to converse, make friends, and how to fit in.
Ryan hit the ground running, and quickly became involved in campus activities. Through International Student Services (ISS), he participated in outings and organized events. A very fond memory is playing drums in his band at the annual International Students Got Talent competition.
After his first semester, his plan for self-improvement was set in motion. He found himself a mentor to support his entrepreneurial ambitions, and he discovered a strong community of university faculty and peers on campus to support his academic journey. He had a plan.
Ryan took his big vision for himself and reverse-engineered the steps he would need to take on a daily basis to reach his dreams. At the top of the list, right after networking, was the desire to improve his English. So he combined the two goals into an ambitious plan to do something that even the most outgoing personality might find challenging: to have fifteen conversations with fifteen different people every day.
Ryan kept a notebook to track his conversations, and a google sheet where he journaled about what he had learned about English, language, idioms and colloquialisms, as well as self-reflection about his experience as a speaker and listener. Ryan would sometimes ask if he could record these conversations so he could listen to them later, to uncover areas for improvement.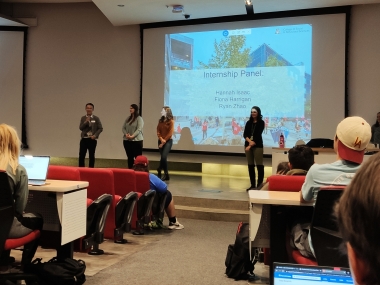 In Chinese schools, the British English that Ryan learned included British formalities. "I was taught to greet someone with 'How are you?' When I came to the U.S. I was so confused when my American friends would ask me, 'What's up?' I used to reply 'I'm good,' which felt like a vague answer. After asking some colleagues at my office, I learned to reply, 'Living in the dream, man!' and that always makes my friends laugh."
At the same time, he was reading self-development books and listening to daily podcasts from successful entrepreneurs. "In order to keep my accountability on reading, listening, and networking, I made a short video for myself at the end of every day, summarizing what I had learned. Then I sent it to my parents, my girlfriend, and my business mentors. I did this for three years, and only recently slowed down as I am spending more time working and planning my future."
When asked what he has learned about himself through talking with so many people, what stood out is that one has to be a good listener in order to have a good conversation. He also learned that if he wants to be a leader, "it's not about what I know, but more about how much I care about someone or something. That's what helps me connect."
With a persistent growth mindset, Ryan uses every conversation as an opportunity to learn something new about pronunciation and accent, social customs and culture, business language and norms. When he needs a boost, he has an uplifting self-talk that he repeats out loud: "Rejection means I'm doing it right! Keep it up, reflecting every time and having a growth mindset so I am 100% confident to perform better on my next try. Keep a positive attitude, be patient, and motivated every day. I know my life will be different. I will be the diamond on the stage, impacting thousands of people and making their life better off than mine."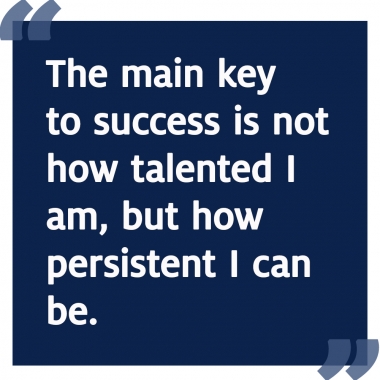 As his language skills improved, Ryan's network of friends and colleagues grew. And with this growing network came opportunities. In the three and a half years that Ryan has been a student at the University of Arizona, he has completed three internships and has held many "first" or "only" international student positions with several departments on campus.
Last summer, Ryan began working as the only international research assistant on the Community Research, Evaluation & Development team in the McClelland Institute, bringing his data analysis and visualization skills to group. His work is supporting research on rural food banks and child care providers in the state of Arizona.
Ryan's supervisor, Kara Haberstock Tanoue, when asked about his role on the team, said that he has been a phenomenal addition. "Ryan has a clear drive to learn and master new skills in data analysis and visualization. Even when it is a stretch beyond what he currently knows, he will put in the time to learn what he needs to get the task done."
"Ryan contributes to the sense of camaraderie among our student research assistants. He is usually the first to suggest social outings, he is always willing to help other research assistant, and he has made a clear effort to get to know everyone on our team. He has been a delight to work with both due to his technical abilities and his collegiality."
In his Junior year, Ryan was the first international student to work as a student recruiter in the office of domestic student admissions, leading campus tours for prospective students and their families.
Ryan has been a speaker at UArizona New Student Orientations for six semesters, and is currently the only international student serving as a student ambassador with the College of Social and Behavioral Science (SBS). He is the only Chinese student in the last ten years to be a speaker at the annual UA Clicks SBS College Meeting.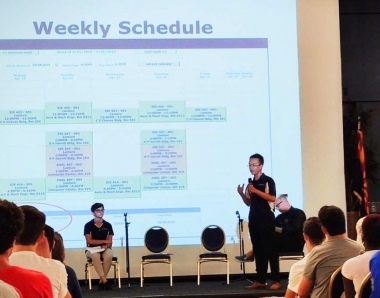 He currently works in the Office of International Admissions, located in the new Global Center, where he is part of the China recruitment team. Since arriving at UArizona, Ryan has found camaraderie, support, and guidance from the Global teams that work in International Admissions and International Student Services. Ryan wanted to spend his last semester working for them, as a way of paying-it-forward and saying thank you for the support they have given to him as an international student.
Kayla Lugo, M.A, Communications Manager for International Admissions, is Ryan's current supervisor in the Global office. "We are so grateful to have Ryan working with us this year," Lugo shared. "His speaking and listening skills are put to use every day, to help ease the fears and anxieties of our prospective international students."
Ryan's short term plans after graduating this May will include finding a job in the U.S in the field of data analytics. He plans to get a master's degree and pursue a PhD in the field.
When asked what he learned about people, in general, through his many conversations, Ryan reflected: "People feel appreciated when you listen to them, and are interested when you share your own story." He uses his personal journey to encourage others. "I want to share my story, and add value to other peoples' lives, to be the person on stage helping others realize their potential."
---
Related news: