Study Abroad Students Band Together to Keep Orvieto Beautiful
April 13, 2017
University of Arizona students studying abroad in Orvieto, Italy consider the picturesque hilltop city their second home, and they made a tangible effort this spring to preserve the area surrounding campus. They joined study abroad students from three other universities— Gordon College,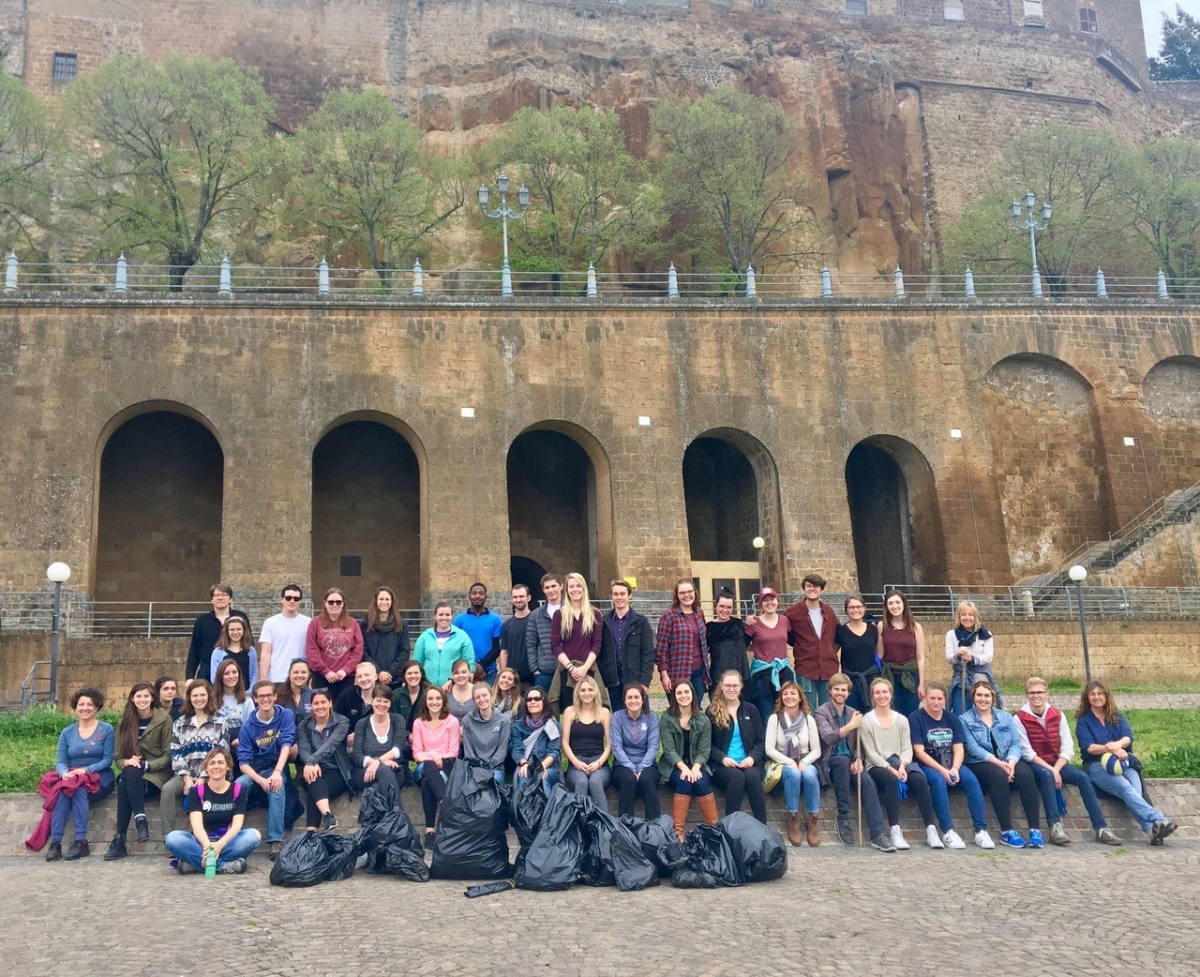 Kansas State University, and Saint Anselm College— to pick up trash along a popular trail as part of an event called "Beautify Orvieto." The idea was born when a city resident noticed trash littering the pathway and enlisted the help of Dr. Claudio Bizzarri, Professor in Residence of the Arizona in Orvieto program.
"The fact that our university group considers Orvieto a second home needs to be clearly stated, not just in words but also in concrete actions," said Dr. Bizzarri. "Orvieto loves to have American students around; residents understand that these young women and men will forever be ambassadors in the world for Orvieto. It is a good exchange, and this effort was a way to pay back some of this love."
The students gathered in the morning with garbage bags and strolled down the scenic trail, picking up trash along the way. The city's garbage department later joined in the effort by collecting the full bags. Dr. Alba Frascarelli, Program Manager with Arizona in Orvieto, said the "Beautify Orvieto" event was the talk of the town, even garnering an article in the local news.
UA students said they were eager to participate. "Cleaning up the trash not only makes this town more beautiful, but it also gives everyone who calls this town home a chance to make others appreciate its beauty even more," said Dara Mandell.
Megan Redding, another UA student who participated, echoed that sentiment: "Orvieto has been my home for more than two months now and the locals have made me feel so at home. I wanted to give back to the community and show them that we really care about their town!"
Arizona in Orvieto is one of the most popular programs facilitated by UA Study Abroad, housed within the Office of Global Initiatives. Just one hour by train from Rome and two from Florence, the quaint city is known for its breathtaking views, warm people, and rich history. Bolstering the study abroad experience, four museums surround the medieval cathedral, holding some of the finest examples of Orvietan art from the Neolithic period to the present day.
The charm of the city isn't lost on UA student Josh Ambre, who took part in the "Beautify Orvieto" event. "I wanted to give back to Orvieto out of gratitude for all that it has given me: Unparalleled life experiences, lifelong friends, and more beauty that I ever knew existed."
---
Program Specifics
Arizona in Orvieto runs in the fall, spring and summer. Students can enrich their studies in a variety of disciplines including: Classics, Italian, Art, Art History, Communication, Psychology, Journalism, English, and Architecture.