Students from the UA and Sonora Generate Ideas for Social Change
April 13, 2017
Outside the classroom, a select group of undergraduate students are guided by a commitment to solve complex problems to benefit their communities. They develop programs to empower vulnerable women, create projects to promote healthier cities, and use technology and teamwork to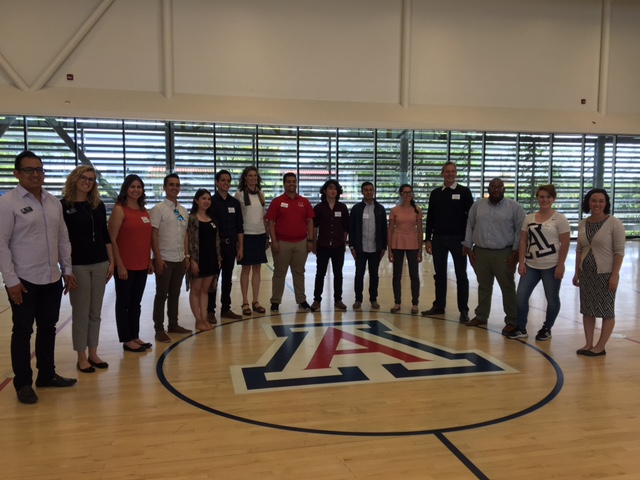 overcome challenges. The only difference: Some live in Sonora, Mexico and the others in Tucson.
This April, UA Study Abroad bridged that gap by connecting students from the Instituto Tecnológico y de Estudios Superiores de Monterrey – Campus Sonora Norte (ITESM), the Blue Chip Leadership Experience, InnovateUA, and Tech.Global. The latter three programs at the UA empower students to participate in real-world projects that incite positive change in their communities and beyond.
ITESM has a similar dedication to student engagement through a program called Semana i, a non-credit experience required for graduation. "Semana i is a positive approach to encourage students to think outside the box and do something good for the community," said Sandra Perez, Director of Exchange Programs for ITESM-Sonora Norte. "Students can create a project or choose from many projects that engages them in challenging activities outside the classroom to solve real-life problems."
Donella Ly, a Program Development Manager with UA Study Abroad, researched the Semana i program and saw an opportunity to expand students' horizons at the UA. "ITESM is a longstanding partner of the UA and this collaboration expands our student knowledge network to face challenges shared across our Sonoran region."
Ly helped to organize a brainstorming session at the MAC Gym where UA and ITESM students exchanged ideas about how to strengthen their communities. They came up with a concept to expand a women's empowerment project created by ITESM students Natasha Rochin and Emilio Castillo.
"Alas de Mujer," which translates to "Wings of Women" helps women who lack opportunities start their own businesses. The women come up with the business idea, and then students support them by facilitating finance workshops, pairing them with mentors, and providing marketing help.
The collective group decided to take "Alas de Mujer" a step further by delivering a curriculum for children who lack opportunities, opening doors at a younger age. "We want to encourage children that they can do anything they put their minds to. Maybe we take them to a playground and then explain afterward that an architect or an engineer designed it, and they can one day attend college and do the same thing," said Rochin.
Robert Johnson, Senior Director of InnovateUA and Tech.Global Developer, was excited to help develop the plan. "InnovateUA has a strong understanding and deep belief in empowering everyone to find their entrepreneurial or innovative spirit," he said. "I had a chance to discuss this with the ITESM students and by bringing out the core concepts of what InnovateUA stands on, they fully understood how and why we operate in the way we do."
The idea is a natural fit for developers from Tech.Global, a 100% Engagement experience within the Office of Global Initiatives that empowers students to explore the world and create real solutions for technology challenges. It also aligns well with the standards of students from the Blue Chip Leadership Experience.
"The Blue Chip Leadership and the ITESM Semana i programs value creating solutions to the challenges faced by our shared communities, as well as working with community members from a collaborative and empowering approach," said Devon Thomas, Senior Coordinator for Leadership Programs at the UA. "I look forward to this student-initiated and student-led experience as an exciting opportunity for Blue Chip Leadership and ITESM students to work together and learn from each other to create positive change."
Ly with UA Study Abroad hopes this pilot program leads to a long-term partnership. "Our hope is that this becomes a permanent fixture where students focus on different topical challenges each year," she said.
Johnson was inspired by the unique perspective the students from ITESM brought to the table and is eager to participate in a program that transcends national boundaries. "The experience I gained from collaborating with the ITESM students allowed me to see a different direction on what students experience internationally and challenges they face compared to us," he said. "I further understand how we can share the resources and education gained from our own accomplishments and failures to bring a unifying voice across overall student engagement for both communities."
---
Tech.Global is a UA non-credit 100% Engagement experience created to empower students who love technology, and who have a strong desire to explore the world. UA Tech.Global students develop market-ready skills such as MVC, SQL, and JavaScript in an internationalized, highly collaborative team environment.
The Blue Chip Leadership Experience is designed to help students engage on campus, connect with like-minded Wildcats, and develop their leadership skills. Students come out of the Blue Chip Leadership Experience Real-World Ready. Blue Chip also teaches students how to develop a well-structured resume and a professional portfolio that contains accomplishments, goals, and involvement experiences.
InnovateUA is a student-led innovation and entrepreneurship hub, connecting students to resources and providing opportunities to make their ideas a reality. InnovateUA envisions a future where innovation and entrepreneurship are engrained in the student experience at the UA. Initiatives include Hack Arizona, Demo Day, Accelerator, Startup Weekend, and Pitchfest.