Sadako and the Thousand Paper Cranes
April 20, 2022
Students promote message of healing and support for healthcare workers in the community, kicking off the start of APIDA Heritage Month celebrations on campus
---
On April 4, 2022, two University of Arizona student groups gathered to learn the story of Sadako and the Thousand Paper Cranes, with a goal making 1000 origami cranes to send a positive and uplifting message of support for healthcare workers at Tucson Medical Center.
The University's office of Asian Pacific American Student Affairs (APASA) helped promote the event that was sponsored by the student-run Asian American Cultural Association (AACA) and the Asian Pacific American Medical Student Association (APAMSA). Students Lydia Nguyen, representing AACA, and Yijen Yang, representing APAMSA, jointly planned and presented the event that was part of APIDA Heritage Month, celebrated in April on the University of Arizona campus. 
"Supporting healthcare workers is very important to me because I'm very interested in healthcare," said Kenneth Ly, co-president of AACA. "The pandemic has exacerbated a huge problem in healthcare, which is burnout and mental health," added Ly, who is pursuing an MS in Molecular and Cellular Biology. "Physicians have one of the highest suicide rates of any occupation, and many are quitting medicine nowadays when we need them more than ever. I want to tell healthcare workers to hang in there, don't give up, and that you need to take care of yourself too!"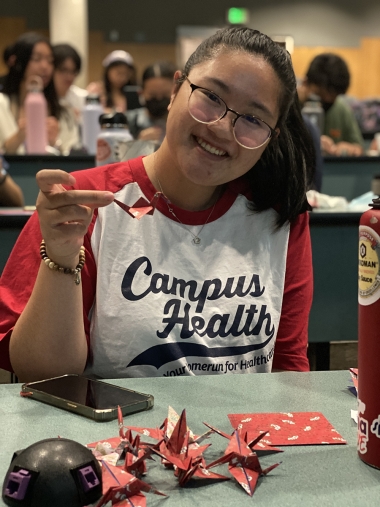 Around 40 students came to the event, that began with a retelling of the legend of the thousand cranes and the story of Sadako.
The story of Sadako and the Thousand Paper Cranes is told in the novel written by Eleanor Coerr, and is based on the true story of a girl named Sadako Sasaki. At the age of eleven, Sadako is diagnosed with leukemia that was the result of radiation from the atomic bomb that had been dropped on the city of Hiroshima, Japan in an attempt to end World War II. As the story goes, Sadako's friend tells her that the crane, a sacred bird in Japan, lives for a hundred years, and if a sick person folds 1,000 paper cranes, then that person would soon get well. After hearing the legend, Sadako decided to fold 1,000 cranes in the hope that she would get better.
In the novel, Sadako does not reach her goal, but the real-life Sadako is said to have folded over 1400 paper cranes before she died. Shortly thereafter, her friends and schoolmates helped create a memorial to her and all the children who had died from the effects of the atomic bomb. A statue of Sadako holding a paper crane was installed in the Hiroshima Peace Park, with a plaque that reads: "This is our cry. This is our prayer. Peace on Earth." This wish for peace is remembered each year on August 6 (Hiroshima Day), and Sadako's legacy of patience and courage continues to inspire new generations through the Peace Crane Project.
The tradition of making 1000 origami cranes for someone who is seriously ill is still followed today and has become a symbol of hope and healing during challenging times. And that is why the AACA and APAMSA student groups chose the project during APIDA month to send positive messages of hope and healing to people who need it.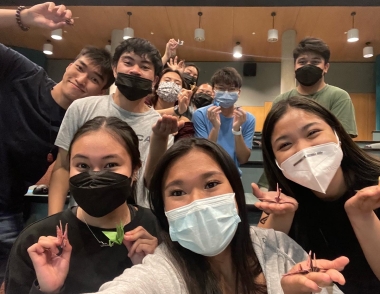 "We want to send a positive message of support to healthcare workers in our community," said Lydia Nguyen, a pre-med student in the College of Medicine and one of the AACA event organizers. "We hope that these colorful paper cranes will bring some happiness and positive endorphins to the people who have been working so diligently to heal others through this pandemic. That's why we chose to support the Banner Health Hospital Healing the Healer Initiative."
For Lady Elli, an executive board member for Pre-Health APAMSA and one of the participating students the activity brought back memories of studying in The Philippines. "The act of making origami paper cranes together," said Elli, "is about being able to use culture to build community and support for each other, especially during difficult times."
Following the presentation, and after a few minutes of origami instruction and practice, colorful paper was handed out and the work of folding began. And with the folding came time to enjoy a buffet-style dinner provided by New Asia Chinese Restaurant and engage in conversation with fellow participants.
Some of the students reflected on how participating in this activity connects them to their identity, to memories of people or places, and to shared cultural experiences.
"I felt like throughout high school I was never really proud to be who I am," said Ly, "but when I got to college, I found a community of people who could relate to my experiences. I chose to become a co-president of AACA because it has helped me to reconnect with and be proud of my culture. The Sadako and the Thousand Paper Cranes philanthropy was one of our bigger events this semester, and I want to thank our awesome treasurer, Lydia Nguyen, for coming up with the amazing idea and coordinating with APAMSA and APASA to make it successful."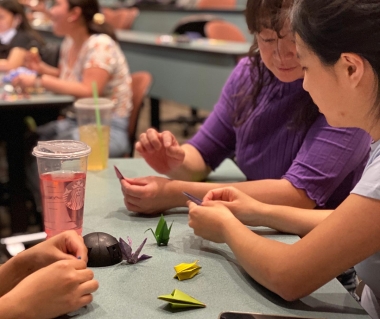 Another participant, Min, said that paper cranes remind them of a friend. "Every time I saw my friend, they were always folding more paper cranes," said Min. "They would fold paper cranes with any material they had on them, from origami paper to napkins to receipts. They could fold paper cranes of many different sizes, some large, and some smaller than a penny. Often, they would give away the paper cranes they made as gifts. I still have the paper cranes they gave me. Every time I see paper cranes, I think of my friend."
Others talked about the importance of activities such as these that APASA sponsors, for the friendships that they develop and the many opportunities there are to become involved. "APASA offers opportunities and resources to be involved in APIDA clubs and organizations," said Elli, "as well as create projects that benefit the community, such as the Black and Asian Allyship conversation with FASA (Filipino American Student Affairs), #StopAsianHate Talk with FASA, and the APIDA Heritage Week with the Pan Asian Council." 
"One of my earliest memories with my father is folding origami together in church," recalled participant Chrissa Wilcox. "He would keep me entertained by showing me how to fold cranes, frogs, or samurai hats. The last time I helped make 1000 paper cranes was in elementary school after the tsunami hit Japan in March 2011. My father was stationed in Japan, and I remember that everyone was called upon to volunteer and assist. As children there was a limit to what we could really do to help, so to show our support our school made 1000 cranes to send to the volunteers and workers. I remember folding cranes with my class, one by one placing our finished cranes in a box while our teacher strung them together. Though it didn't directly help the volunteers and healthcare workers, it was our way of sending our support and goodwill."
"I joined the Sadako and the Thousand Paper Cranes philanthropy because APAMSA activities are always educational but also fun and relaxing," said participant Nikki Asuncion. "Being a member of APAMSA is very important to me. As an out-of-state student I felt immediately welcomed. I consider my APAMSA friends as family, and it's invigorating to be with students who have the same aspirations as I do."
At the end of the two hours, the group had made 450 paper cranes. The remaining papers were distributed amongst attendees who wished to continue folding independently. The group reached their goal of 1000 origami paper cranes that are being strung together and will be displayed at their final destination, bringing the message of peace, hope, courage and compassion that both the Japanese legend and the story of Sadako inspire.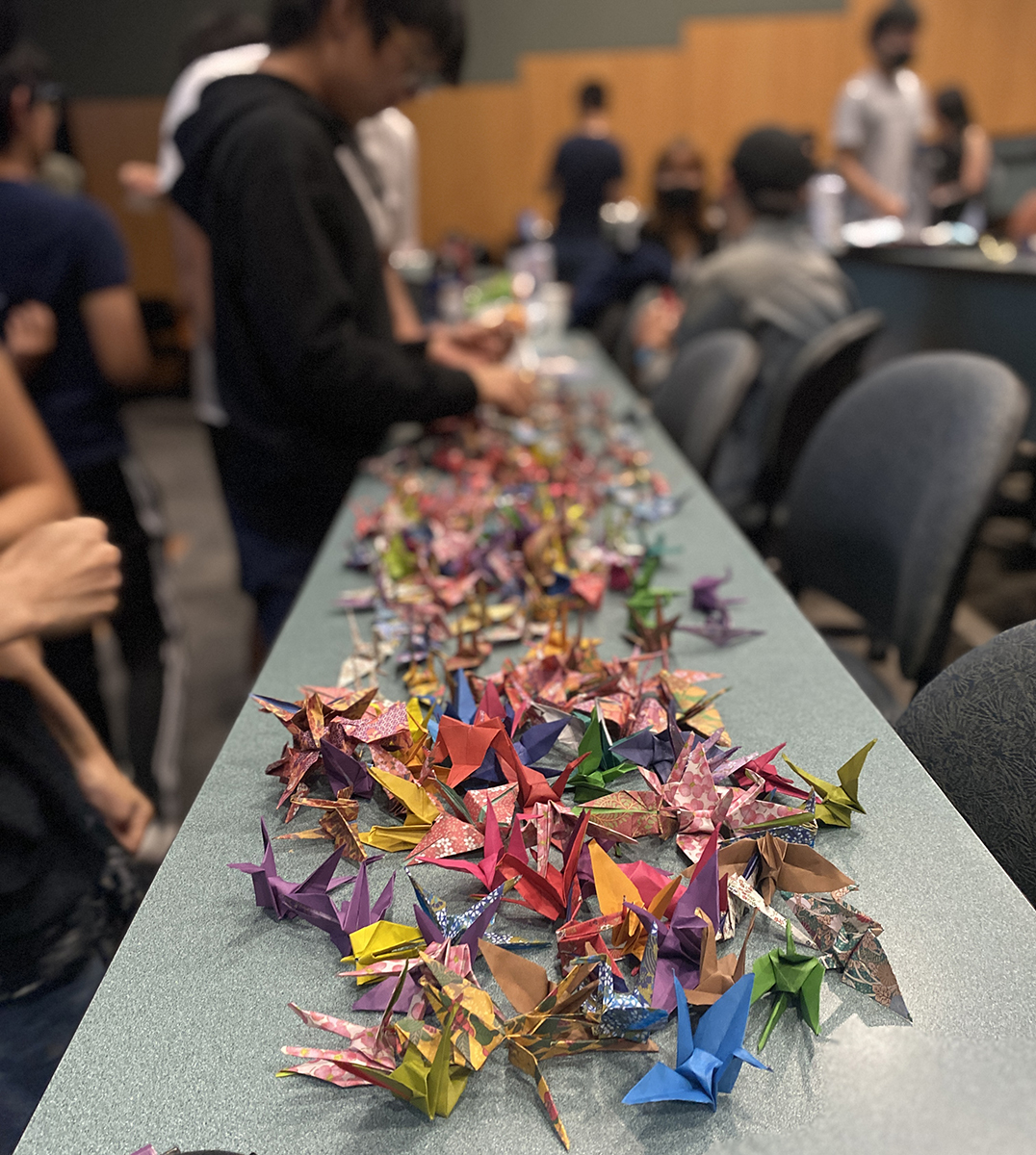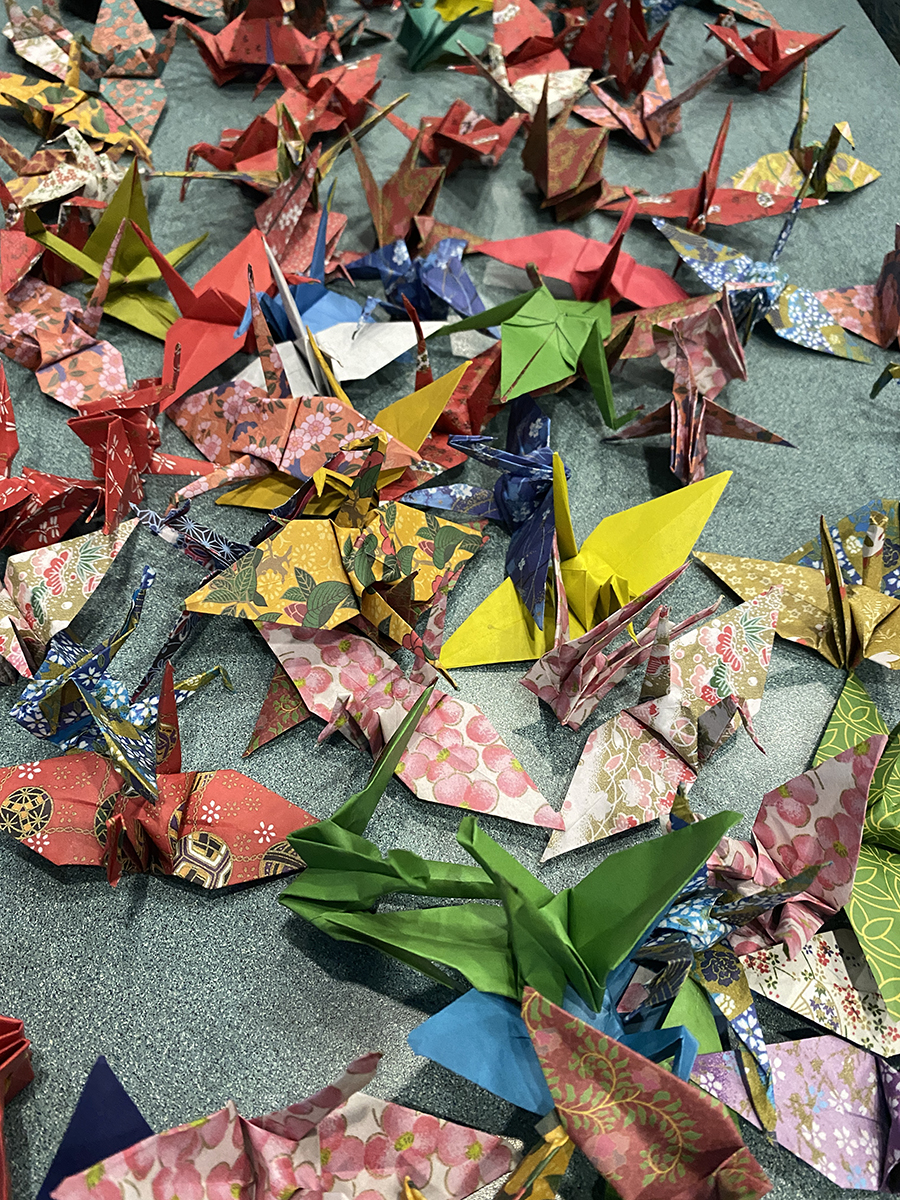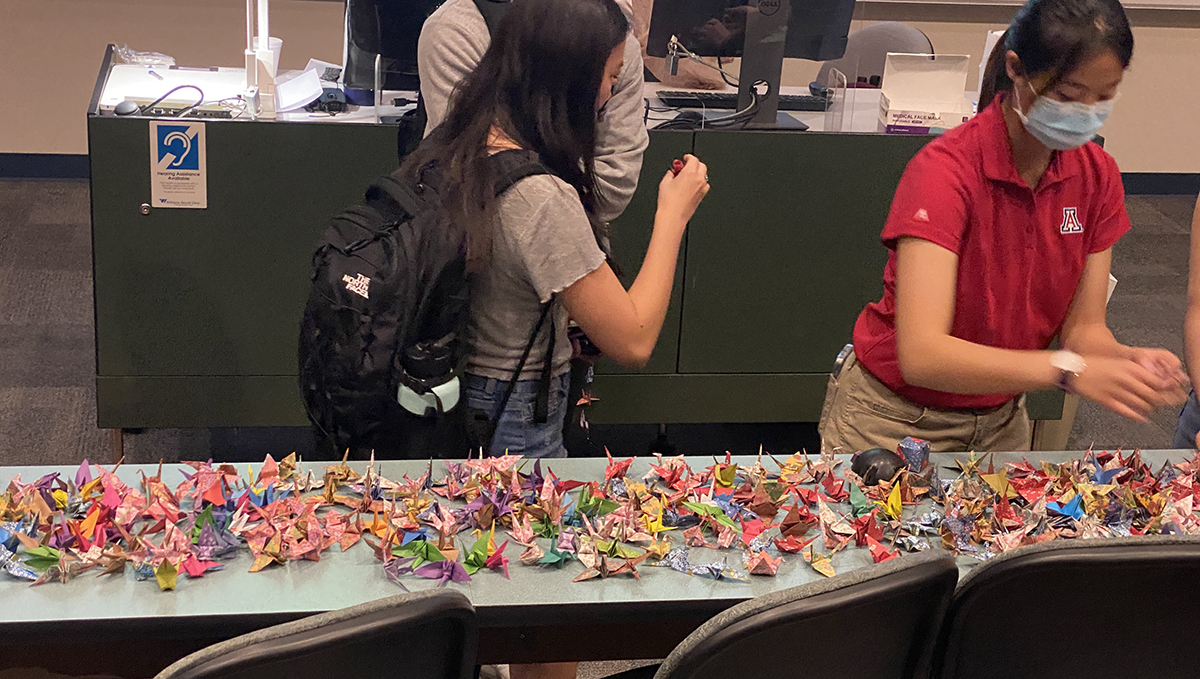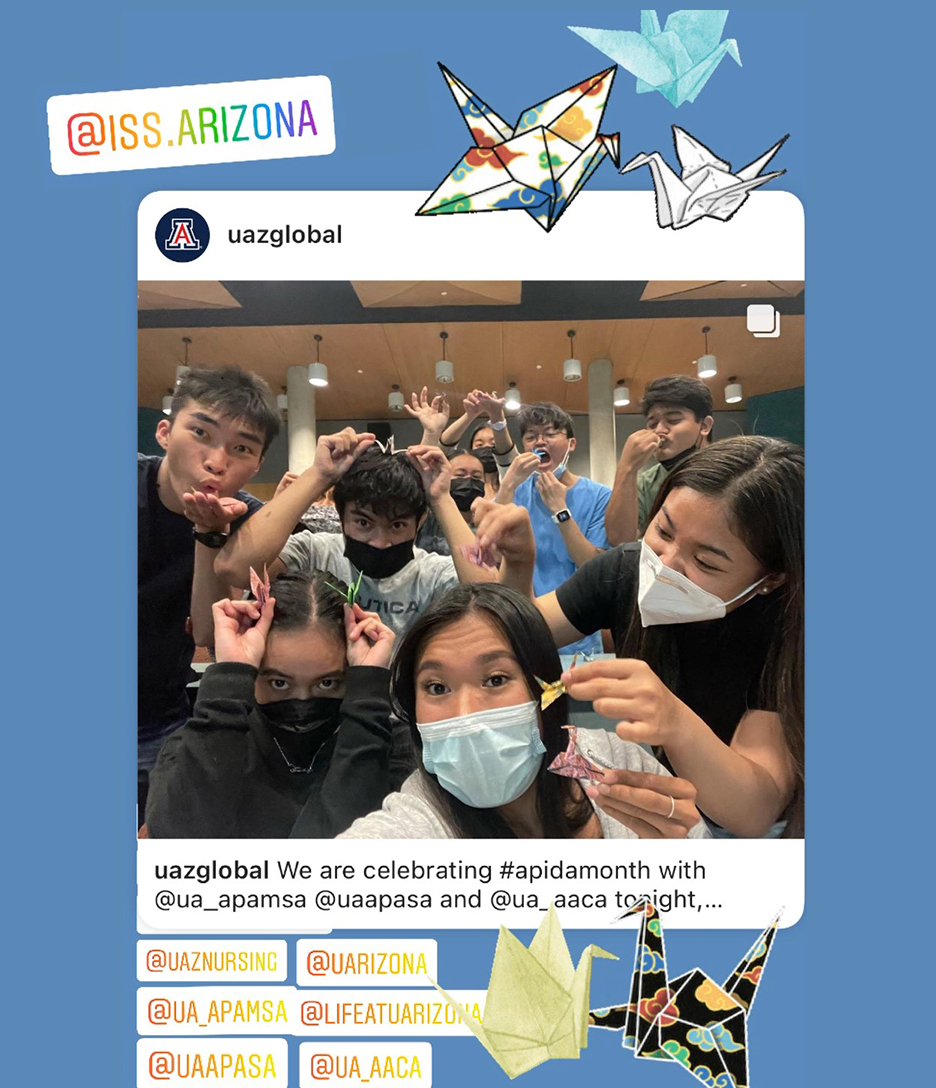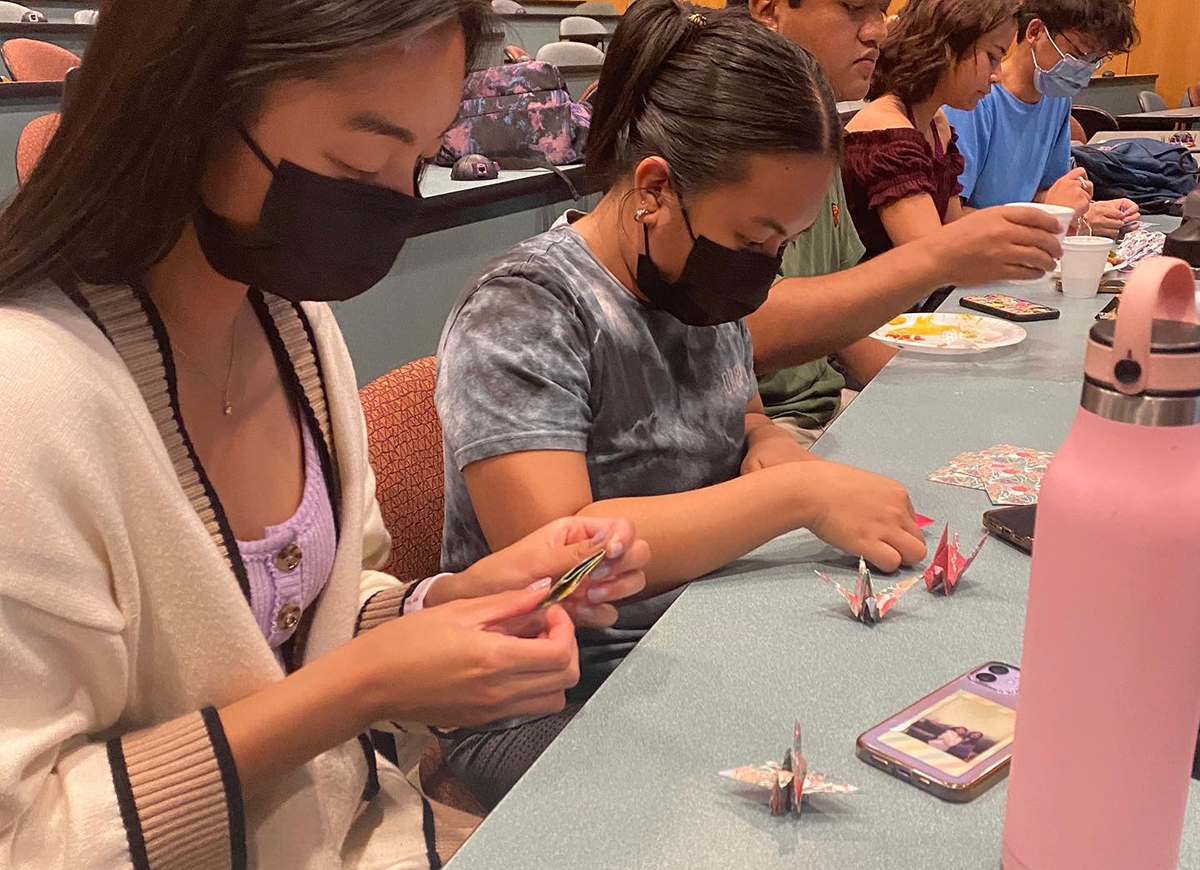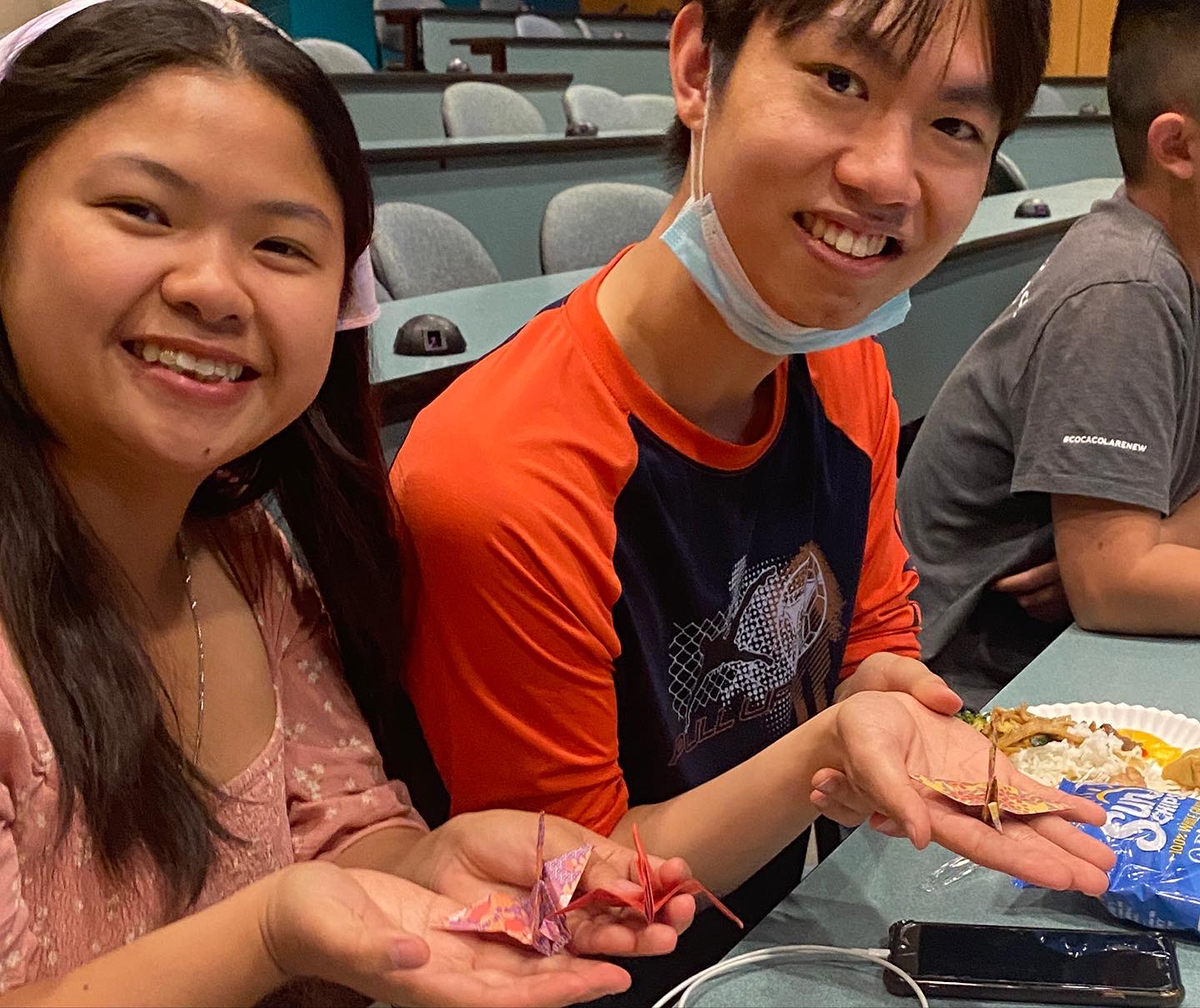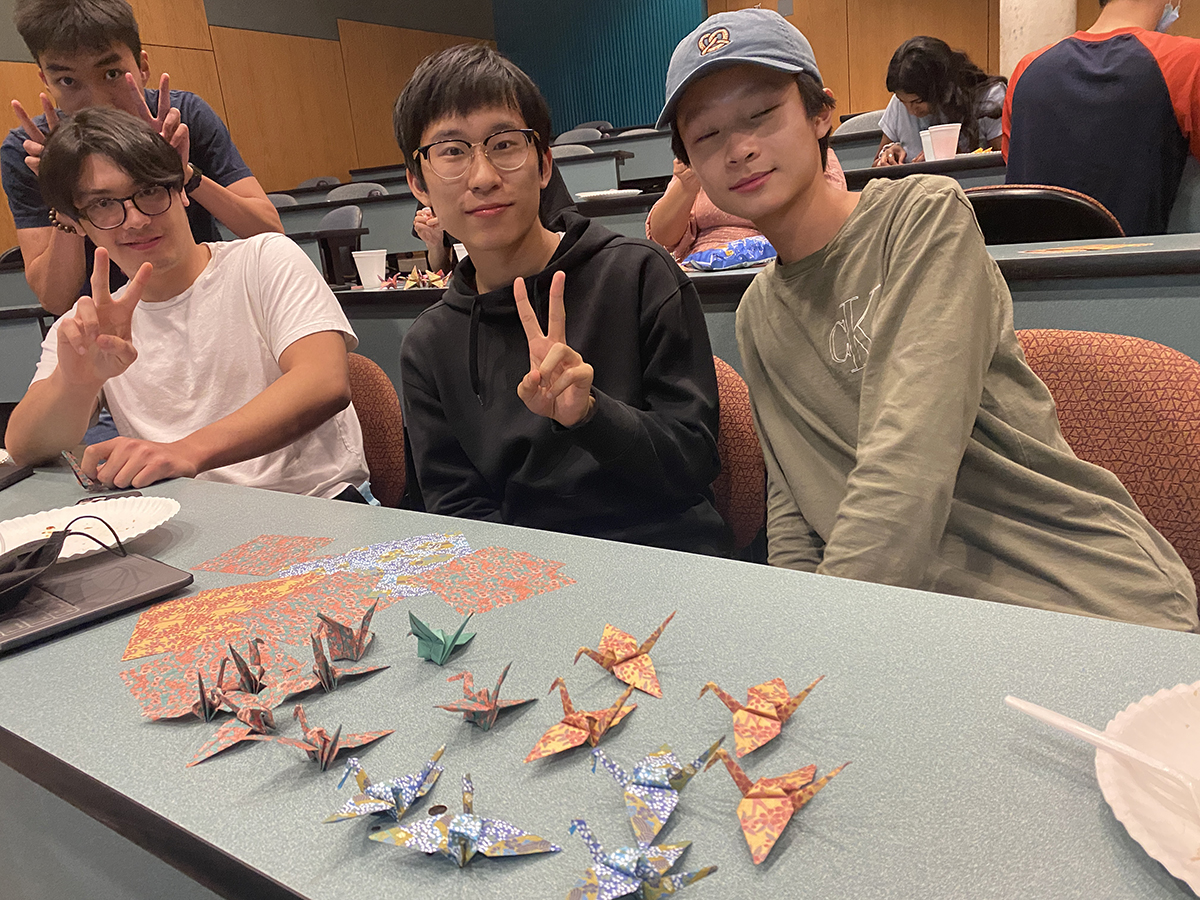 ---
More APIDA Events!
APASA is proud to present a series of events throughout the month of April as we celebrate Asian Pacific Islander Desi American (APIDA) Heritage Month, including a campus-wide Culture Week April 26-30, hosted by the APA Student Council.
On April 13, APASA partnered with the Student Health Advocacy Committee (SHAC) to host a Culture Through Cuisine Food Festival on the UA Mall. Students were invited to sample dishes from APIDA cultures around the world, provided by APIDA student associations on campus. The Chinese Student Association provided Milk Tea, Tanghulu (candied fruit), and Bubble Waffles. The Indian Student Association shared samples of Chili Paneer. Students in the Korean American Student Association provided Sotteok Sotteok (Korean Sausage & Rice Cake Skewers) and Kimbap (Korean Seaweed Rice Rolls). And the Japanese American Student Association made Chicken Skewers for students to try.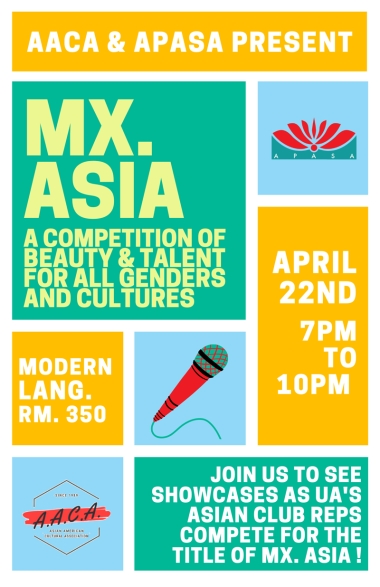 The next big AACA event is Mx Asia, taking place on Friday, April 22nd, 7-10 pm in Modern Languages 350. The beauty pageant/talent show celebrates beauty in the Asian community. It will be our biggest event this semester, and everyone is welcome! Open admissions and free for all.
Here are some upcoming highlights:
April 22: Mx Asia, 7 – 10 pm, Modern Languages 350
April 23: Underskore's End of Year Showcase. 6:30 – 8:30 pm, Social Sciences 100
April 25: APIDA Heritage Celebration. 10 am – 2 pm, tabling on the UA Mall
April 26: Potluck & Game Night, 5 pm, McClelland Park
April 28: Featuring APIDA Student Experiences at UArizona. 10 am – 12 pm, UA Mall
April 29: Movie on the Mall: Moana & Cultural Showcase. 5 – 7:30 pm
April 30: FASA Fiesta. 5 – 9 pm, Tucson Convention Center
May 7: Lotus Laureate Convocation. 5:30 pm, Student Union Ballroom
Follow the Pan Asian Council on Instagram to hear about these and other events.
---
Resources for Students
The office of Asian Pacific American Student Affairs APASA cultural center was established in 1993 with the help of student activism by some students from the Asian American Cultural Association and other students from marginalized communities. APASA provides a physical space for students, as well as services to promote student success for the diverse East Asian, Southeast Asian, Pacific Islander, and Desi or South Asian American communities on campus. Click here for a complete list of student organizations. APASA seeks to increase awareness of the experiences and issues facing the diverse communities represented, and provides academic, educational, and cultural programs and resources to engage students to realize their potential and become active citizens in a global society. For more information and to find out about upcoming events, presentations and workshops, follow APASA on Instagram.
The Asian American Culture Association was the first Asian interest organization on campus. AACA is a non-profit organization at the University of Arizona dedicated to instilling and maintaining a spirit of community among all students on campus. AACA promotes the various Asian American cultures through events each semester. Follow AACA on Instagram for announcements and activities.
The Asian Pacific American Medical Student Association has been advocating for the health of Asian American Pacific Islander (AAPI) communities in our country. Efforts are focused on advocacy, community outreach, research initiatives, chronic hepatitis B/C, bone marrow registry, mental health, cancer initiatives, and cross-cultural and cross-linguistic barriers to care. Follow APAMSA on Instagram to learn more and to hear about future events.