Remembering Global Wildcat Alumnus Aiman Sabbagh, M. Arch. ('89)
The Global Wildcat family is saddened to share that Aiman Sabbagh, a graduate of the University of Arizona School of Architecture, died on October 11 while trying to protect his home from the approaching Saddleridge Fire as it raged through his Porter Ranch community in Southern California. Sabbagh went into cardiac arrest while speaking with fire fighters, and later died at a hospital.
Sabbagh, originally from Jordan, received his master's degree in Architecture from the University of Arizona in 1989. Throughout his career, he worked with top-tier contractors and consulting firms in the United States, Dubai, Saudi Arabia, and, most recently, Abu Dhabi.
The 54-year-old father of two moved back to the United States just two weeks prior, to begin work on a new construction project in California.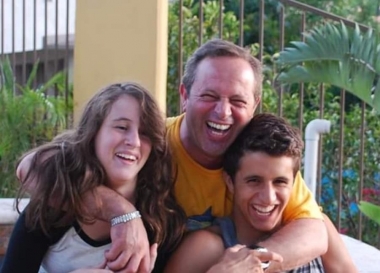 Arizona Global's Senior Director of Middle East and North African Affairs, Hassan Hijazi, was a close friend. "Aiman was a beautiful, kind, and intelligent man," said Hijazi. "He was an avid Wildcat and one of the top students in Architecture." Sabbagh was an active member of the Jordanian alumni chapter of Arizona Wildcats.
Brent White, Vice Provost for Global Affairs at Arizona Global, called the loss "Simply heartbreaking. An unspeakable tragedy." 
Following graduation in 1989, Sabbagh worked as a Senior Associate with several design firms in Phoenix, AZ. In 2003, he opened Sabbagh Design Studio, LLC, leading a team of architects and engineers in the design of iconic custom homes in the Phoenix metropolitan area.
In 2010, Sabbagh relocated to the Middle East to work on several high-profile projects that included, among many, the King Abdulla Petroleum Studies and Research Center (KAPSARC), a non-profit institution for independent research on global energy economics, located in Riyadh, Saudi Arabia. The project, for which Sabbagh was Operations Director, was designed by internationally renowned architect Zaha Hadeed and received numerous awards for outstanding design, engineering, and "green" technology.
A July 2018 article in Emirates Projects Magazine (see pages 63-66) features an interview with Sabbagh, who at the time was General Manager of ANC Contracting, a company that helped shape the modern skyline of Dubai. The piece recognized Sabbagh for his significant contributions to the construction industry in the UAE.
Earlier this year, Sabbagh had established his own freelance business and in recent months had begun the process of relocating his family to the San Fernando Valley to work on projects in the greater Los Angeles area. His family was still in Dubai at the time of the fire.
As condolences poured in online, one friend described Sabbagh as "an amazing man and good father," and another said he was a "most ethical, loving and caring person."
The Saddleridge Fire destroyed 19 structures and damaged 88 others since it first erupted on the night of Oct 10. As of Oct. 20, the fire was reported to be 83% contained and the losses to the Porter Ranch community are still being assessed.