LGBTQ+ Pride Month: Celebrate YOU Abroad!
June 29, 2022
As Pride Month comes to a close, the Study Abroad team wants to bring attention to the joys and needs of LGBTQ+ students as they go abroad. Studying abroad should be for everyone, and we want to make sure all students feel supported and respected as they embark on this incredible opportunity. Here are some tips for planning a safe and positive Study Abroad experience as a member of the LGBTQ+ community.
Finding an LGBTQ+ Friendly Program
As you narrow down your program choices by academic fit, semester and duration, language, and other factors, you should also consider the wants and needs you established for yourself in terms of your gender and sexual orientation. Laws and social attitudes about different parts of the LGBTQ+ community differ greatly from country to country, and you will need to do some
 research into the locations you find interesting to make sure they offer what you are seeking. 
Fortunately, many cities and countries around the world have thriving LGBTQ+ communities with social events and meet-ups, nonprofit organizations offering resources, and LGBTQ-focused restaurants and nightlife. I myself attended the Pride festival in Madrid, Spain, when I studied abroad during my undergraduate experience. Known as MADO, Madrid's pride festival is one of the largest celebrations of the LGBTQ+ community in the world. Although not every Study Abroad program location hosts these opportunities, many do. If this sense of community is important to you, do some research on program cities as you decide where to apply. 
Likewise, many of our partner institutions abroad have resources available for the LGBTQ+ community. In addition to large-scale city events or local businesses, you can turn to your host university for a sense of LGBTQ+ community. Some host universities have LGBTQ+ Resource Centers on campus or LGBTQ+ student organizations. Finding other LGBTQ+ students, both locals and other international students, can be a great way to feel connected while abroad. You can find this type of resource on a host institution's website or by searching for these school-based opportunities on social media. For example, St. Mary's University, which hosts the UA London program, has a network of LGBTQ+ staff and allies who are happy to connect with students about their needs. Similarly, the American University of Rome, host of the UA Rome program, has a Facebook page for their LGBT student club. Many institutions beyond these examples offer similar resources, making it easier to immerse yourself in a local community. 
Addressing Less Friendly Locations
There are some program locations where local people will generally not be as open to LGBTQ+ individuals. This may be an issue of familiarity or may come from cultural beliefs. Programs in these locations may still be a great fit for your academic and professional goals abroad, but participating in them may come with a compromise. Refer back to your concerns about studying abroad, and make sure that your needs are still being met, even if you are compromising on some of your wants. Your safety and happiness are important factors in your decision to study abroad, so remember to prioritize your wellbeing as you make your location selection. You can use a resource such as Diversity Abroad as a starting point when looking into national attitudes. 
Supporting your Mental Health
Minority Stress, the extra anxiety or tension that individuals may experience when they differ from the local majority, is an issue that impacts people from all sorts of minorities, including minority gender identities or sexual orientations. When added to other stresses like Culture Shock abroad, Minority Stress can be a lot to handle. When students go abroad through the University of Arizona, our team enrolls them in GeoBlue health insurance, which includes Global Wellness Assist mental health services. Additionally, the University of Arizona's Counseling & Psych Services (CAPS) office is always here to help point students in the right direction for the services they need. 
Funding your Experience
Take pride in your identity, and share your story! You can earn scholarships by writing about your goals and aspirations as an LGBTQ+ student going abroad. As an example, the Rainbow Scholarship through the Fund for Education Abroad (FEA) is specifically for LGBTQ+ students participating in an international educational experience. Previous recipients have studied abroad all over the world, with the Summer 2022 recipients going to South Korea, Spain, and France. Saving money on program costs is a great way to expand your opportunities for travel and activities abroad, and earning a scholarship can connect you to an alumni network of previous recipients.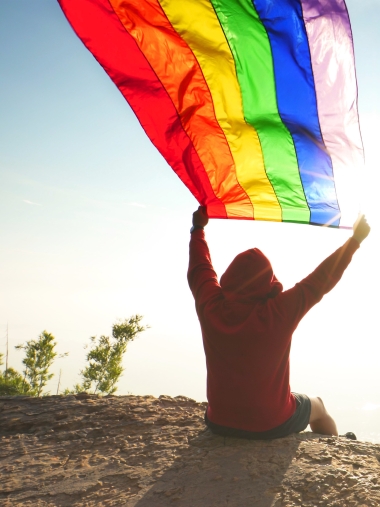 Getting Started
Many students in the LGBTQ+ community have safe, meaningful, and positive experiences abroad in locations all around the world, and you can too! As you consider the tips above, remember that you're not alone as you make decisions about studying abroad. Your Study Abroad Coordinator, your Academic Advisor, the health teams at CAPS and the Travel Clinic on campus, and office of LGBTQ Affairs can all offer you support and advice as you make plans to go abroad. This is your education, so we're here to help make it authentic to YOU!
Learn more about Study Abroad at https://global.arizona.edu/study-abroad