Introducing the International Society of Chinese Health Practices
A chance meeting nearly 20 years ago sparked a dream between two men. Now, two universities nearly 7,000 miles apart have met to bring that dream to fruition.
While earning his medical degree and doctorate at the University of Virginia in Charlottesville, Phillip Kuo (now a University of Arizona professor of medical imaging, biomedical engineering and medicine) met ShaoJun Lyu (now a professor at Beijing Normal University in the College of Physical Ed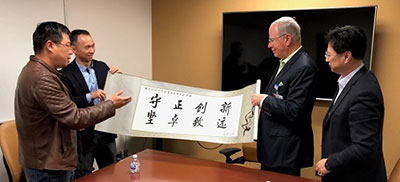 ucation and Sports). As a student, Dr. Kuo took Tai Chi classes from Dr. Lyu and it quickly became clear that the two shared enthusiasm for the ancient Chinese martial art that benefits the mind, body, and spirit.
The two friends dreamed of starting a special project that would promote the practice and understanding of this ageless form of exercise.
Fast forward to 2017, UA Professor Kuo was participating in a martial arts examination in his spare time when he realized one of the judges was his old friend, Professor Lyu. They exchanged information and picked up where they left off in Tai Chi class so long ago. They still dreamed of promoting traditional Chinese health practices.
Today, the International Society of Chinese Health Practices (ISCHP) is the realization of that dream. A non-profit organization incorporated in Arizona, ISCHP is an international collaboration between the University of Arizona and Beijing Normal University (BNU), one of China's key institutions of higher learning.
Professor Lyu and his colleague, Professor Guofeng Qu, traveled to the UA in January 2019 to represent BNU in a meeting with representatives of the UA College of Medicine – Tucson, the UA Mel and Enid Zuckerman College of Public Health and the UA Libraries. The meeting initiated the process of forming ISCHP and the group now is working on an International Memorandum of Agreement to solidify the cooperative relationship between the UA and BNU.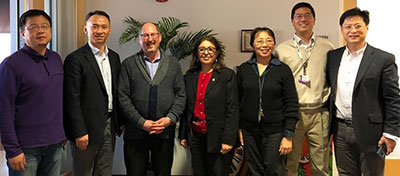 As a physician and researcher, Dr. Kuo is enthusiastic about both Western and Eastern medicine. "Researching the benefits of Chinese health practices will promote the complementary use of Eastern and Western medicine on a global scale," Dr. Kuo says.
Dr. Kuo's passion for Tai Chi is only one aspect of ISCHP, which also will include the study of acupuncture and herbal medicine. "Traditional Chinese health practices can take an integrative and balanced approach to treating illness and preserving health," Dr. Kuo says.
ISCHP is planning to co-sponsor conferences to facilitate collaborative research by scholars, students and faculty throughout the world. The first annual conference is planned for November 2019 and will be held on the BNU campus. The UA is co-sponsoring this effort. ISCHP also will promote the exchange of students and faculty between the UA and BNU.
About the University of Arizona Health Sciences
The University of Arizona Health Sciences is the statewide leader in biomedical research and health professions training. The UA Health Sciences includes the UA Colleges of Medicine (Tucson and Phoenix), Nursing, Pharmacy, and the Mel and Enid Zuckerman College of Public Health, with main campus locations in Tucson and the growing Phoenix Biomedical Campus in downtown Phoenix. From these vantage points, the UA Health Sciences reaches across the state of Arizona and the greater Southwest to provide cutting-edge health education, research, patient care and community outreach services. A major economic engine, the UA Health Sciences employs nearly 5,000 people, has approximately 900 faculty members and garners $173.5 million in research grants and contracts annually. For more information: uahs.arizona.edu