International Students Services Provides Authentic Arizona Experience
April 7, 2017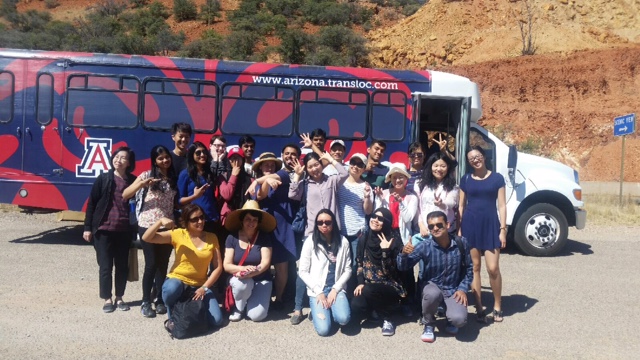 International students at the University of Arizona (UA) experienced the Old West this spring with a visit to Bisbee, a city known for its rich mining history and vibrant, quirky culture. Ninety miles southeast of Tucson, Bisbee is nestled within the Mule Mountains and filled with shops, restaurants, and galleries—all with Old West architecture.
"I had a lot of fun with my friend just meandering through the streets and window-shopping," said Faqryza Ab Latif, a junior from Malaysia. "The fact that Bisbee is situated in a valley makes for some enjoyable sight-seeing. The shops are also charming in that rustic, homey sense."
International Student Services (ISS) within the Office of Global Initiatives (OGI) organized the trip as part of its Totally Tucson series, where students have an opportunity to appreciate cultural activities in the Southern Arizona community.
"It can be easy for any student, and maybe especially international students, to forget to balance academics and living life. On top of that, venturing out on your own in a country you aren't familiar with, no matter how fun it can be, is certainly a little daunting," said Andrew Conlogue, an International Student Specialist with ISS. "Our goal with Totally Tucson is to give students a good, guided introduction to the community that the UA is a part of."
Conlogue's team organized a tour of the famed Queen Mine, once the most productive copper mine in the state of Arizona. Students were outfitted in hard hats with headlights as retired mine workers took them 1,500 feet underground, telling stories of mining techniques, dangers, and drama.
Bisbee experienced a significant population shift in the mid-1970s when mining activities lost steam and an influx of artists moved in to pursue their creative projects. After the mine tour, international students wandered the city, seeing evidence of the transformation in the colorful boutiques, galleries, and restaurants.
As a fifth generation Arizona native, Conlogue was well-suited to lead the trip to Bisbee this semester. "Bisbee is such a neat place that I think gets overlooked. It's kind of an unusual, unexpected experience to find in Southern Arizona. I'm also from the area around Bisbee, so I must admit having the opportunity to bring students to my home was part of my reasoning when we were planning the trips," he said.
International students also visited the Arizona-Sonora Desert Museum as part of the Totally Tucson series this semester. "The Desert Museum is an old favorite – we go there at least once a year and have been for several years. I think it is quintessential Tucson and it will probably be part of our schedule for years to come," Conlogue added.
Jinhui Wu, a Ph.D. student from China, said he looks forward to Totally Tucson events, especially as he adjusts to his first year at the UA. "It's nice to explore places nearby to help relax during a busy semester, and it's fun to go with my fellow students and make new friends. Also, it is cheaper than going there by myself!"
Latif also plans to participate in Totally Tucson again, and said she appreciates the support she's received from ISS in helping her feel at home at the UA. "My experience with ISS has been wonderful for the past few years. The staff members are helpful and friendly, and if it weren't for them, it would have been much harder for me to adjust to the American culture back when I was a freshman." 
Conlogue, who participated in a study abroad program when he was a student at the UA, has advice for international students as they embark on their academic and personal journeys. "Be fearless. Any student who leaves their home country behind and studies in a new one is already a good candidate for this motto, but I would reiterate it. Don't do anything crazy, but be willing to take a few risks and go outside your comfort zone. Feel free to explore, because you have people here at the UA, especially at ISS, to help you. I think Totally Tucson is the epitome of that idea. Let yourself boldly go where you've never gone before, and feel safe to try it because we're taking you there."