International Students and Visitors Appreciation Reception
May 12, 2022
Arizona Global recognizes and celebrates the international community of students, faculty & scholars that bring academic, intellectual, and cultural diversity to the University of Arizona
On Wednesday, May 11, 2022, as part of Commencement week, Arizona Global hosted an International Students and Visitors Appreciation Reception at the Arizona Historical Society's AZ History Museum, to celebrate the many achievements and contributions of our international community at the University of Arizona.
"Global engagement is at the heart of the university's values and identity, and this is demonstrated by the diversity of our group gathering here tonight to celebrate." said Senior Vice President and Provost Liesl Folks, who spoke at the event. 
"We have not come together for this event for two years and so it is a special occasion, to be here with you today to celebrate the University of Arizona's international community. It's marvelous to see so many graduating students here and I know many have travelled a long way from our partner campuses in Indonesia and Peru. You have risen to the challenge of the past few years, and we are very proud of your achievements. I congratulate you all." said Folks.
Invited guests included graduating international students, dual degree microcampus graduates, visiting international faculty and scholars, visiting and returned exchange program students, and Arizona Global staff and guests.  Senior university faculty and staff in attendance included Senior Vice President and Provost Liesl Folks, Dean of the College of Agriculture and Life Sciences Shane Burgess, Dean of the College of Social & Behavioral Sciences and Dean of Global Education JP Jones, and Associate Vice President of Global Affairs Daniel Palm.
As they arrived, guests were invited to explore the museum, which features collections and exhibits focusing on southern Arizona history from Spanish colonial through territorial eras. Exhibit topics include mining and transportation, the Arizona's Treasures exhibit featuring 18th-century Spanish silver artifacts, and hands-on exhibits for children. A current traveling exhibit on display in the museum is the Migrant Quilt Project, a collaborative effort between artists, quiltmakers, and activists to document the names and number of lives lost each year in the deserts of the borderlands. The quilts are created to encourage compassion and inspire support for humane changes in border policies. 
In his opening remarks, Associate Vice President of Global Affairs Daniel Palm said, "Today we bring together members of our growing and diverse international community to celebrate the achievements of our graduating international cohort that includes students on campus here in Tucson, as well as our globally-located dual degree, microcampus and online students around the world."
"We also extend a warm welcome to our international faculty and scholars," Palm said, "and acknowledge their contributions to the academic and research activities of the University."
The Class of 2022 international student cohort graduating this month includes more than 870 students from over 100 countries. 537 have studied on campus in Tucson and 318 have pursued dual degrees at one of our global locations. These students are graduating across undergraduate and graduate programs in more than 132 majors and study areas.
"These graduates deserve our congratulations," said Dean of Global Education JP Jones, "for the significant work and time they have invested into their degree studies. Though, also because they met the challenge of the past few years during the pandemic, to rise above the disruption and adapt to new teaching and learning methods. I am positive this graduating class is built of particularly resilient stock and will excel in our changeable world."
Jones also expressed delight to see several returned study abroad students at the event. "Our outbound study abroad and exchange students," Jones said, "venture into the world, often for the first time, on one of more than 100 study abroad programs. It is great to see the study abroad program is recovering well post pandemic with over 400 students planning to attend their program this summer!"
Throughout the reception, attendees enjoyed jazz music performed by University of Arizona alumnus Jonathan Hines on keyboard, and student jazz musicians Rylande Dodge on drums and Jack O'Brien on bass. Always popular at such events, Wilbur and Wilma brought their playful Wildcat energy to interact with guests and pose for photos.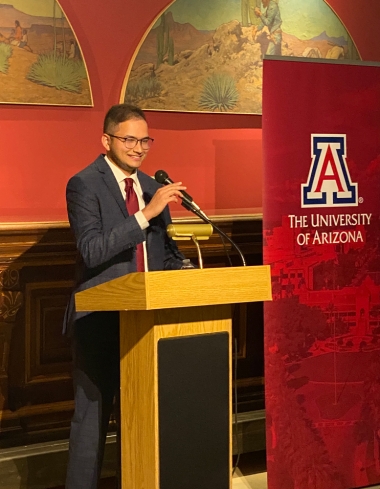 Graduating senior Jitendra (Jiten) Baid was invited to speak on behalf of students. Baid, who is on the Dean's list, is graduating with distinction this week from Eller College of Management, with a degree in Marketing and Management Information Systems. He is an Eller Centurion, an elite group of graduating seniors who are recognized for their achievement, not only in academics, but also in leadership and service, and has been recognized with the Nebula Award for leaders and role models amongst their peers at Eller. Baid is also a Senior Global Ambassador and a student specialist with International Student Services, where he has worked for several years.
A first-generation international student from India, Baid began by inviting those present to close their eyes and "imagine, amidst all the chaos in the world today, all the tension, all the divisiveness, imagine a place where your race, your ethnicity, your gender, your sexuality, your religion, and your cultural origin doesn't matter. A place that supports you for being you, unconditionally. A place where you can find your voice, be heard, and where the possibilities know no boundaries."
"Look around you now," Baid continued. "That place is here, at the University of Arizona. How do I know? Because as a young boy in India, I dreamed of going to a place that welcomes everyone. A place where quality education is prioritized before anything else."
Addressing his fellow graduating international students Baid said, "During my time as an undergraduate, I got the opportunity to serve multiple positions across various departments on campus. And I can honestly say that I experienced one of Karl Eller's central beliefs: The more you give, the richer you are. This mantra inspired me to help hundreds of fellow international students assimilate into the UA community, and that work gave me a sense of pride and identity far more valuable than material gains."
"Whatever the size and scope of achievements that we have made in our journey," Baid said, "we should be grateful and take a moment to thank the administration, the faculty, the staff, our loved ones, and, of course, our Wildcat friends."