International Student Spotlight: Nathan Acosta, Computer Science
Sept. 8, 2021
Sonora-Arizona Scholarship Opens Doors to Opportunity
My name is Nathan Acosta. I am an international student from Mexico, majoring in Computer Science with a minor in Informatics and Cybersecurity, in the College of Science.
I was born and raised in the city of Agua Prieta, Sonora, a small town located on the border between the U.S. and Mexico, and next to its sister city of Douglas, Arizona.
Pursuing a college education has always been a goal for me, however, access to Computer Science and Cybersecurity programs was very limited in Mexico. Thankfully, I was one of the recipients of the Sonora-Arizona scholarship, given to students from Sonora to study at each state university in Arizona. This scholarship opened the possibility for me to pursue a bachelor's degree in the United States.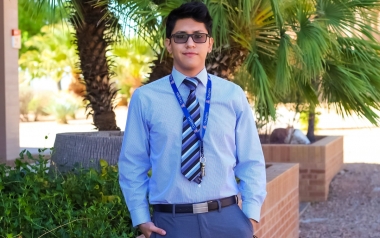 Throughout my UArizona journey, I have been involved in various leadership positions.
This year, I was able to attend and represent the University of Arizona at the 26th Annual Hispanic Association of College & Universities (HACU) Capitol Forum, where I had a chance to advocate for Hispanic communities in front of local, state, and national representatives from Congress. This is just one of many opportunities I have had amongst conference talks, workshops, and clubs that the University of Arizona offers. 
I will be graduating with the Academic Year Highest Academic Distinction and a 100% Student Engagement distinction.
It is an honor to be a student from Mexico and have the opportunity to be part of these events put together by the University of Arizona and Mexico Initiatives. Overall, this journey has widened my perspective and inspired me to become an advocate for STEM in Hispanic communities, both in the U.S. and in Mexico. 
---