International Education Week 2019
Celebrating our Growing Global Community with Events and a Go Global Expo
International Education Week (IEW), an annual celebration of international education and global exchange, takes place at the University of Arizona from November 18 through 22. 
The U.S. Departments of Education and State started IEW in 2000, to recognize and reflect on our interconnectedness and the importance of education around the globe, to promote cultural understanding and international exchange, to attract future leaders from abroad to study in the United States, and to acknowledge the value of preparing students for a globally relevant future.
The university is committed to becoming one of the most globally-diverse national research universities. International Education Week is a way to honor that commitment and to celebrate some important progress in that direction. 
A significant achievement for 2019-20—driven by ambitious goals in the strategic plan—shows an increase of 22% in international student enrollment at the Undergraduate level and a 5% increase at the Graduate level, with a notable rise in the number of students from India. 
In addition to advancing the number of new international students enrolled at the University of Arizona, the quality of those students has also greatly increased, as evidenced by higher TOEFL scores, as well as higher average GPA (3.96), higher median ACT (27) and SAT scores (1330). This is a testament to the efforts of the university to be a welcoming and inclusive destination for international students.
The University of Arizona's strategic plan outlines bold goals for both international student enrollment and the level of service and support provided to those students. We have improved pick-up services when students arrive at Tucson Airport, and we have created a more integrated student orientation process. Establishing the Global Center as the university's hub for all global activities has been a major realization of our commitment to these goals and to our students. 
To celebrate IEW, the Global team will host two major events during the week: the Go Global Expo for students to explore study abroad and exchange opportunities, and the Global Wildcats Got Talent show.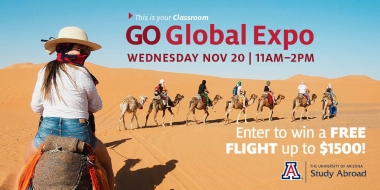 The Go Global Expo on Wednesday, November 20, runs from 11 AM to 2 PM at the Global Center, 615 N. Park Ave. All UA students are invited to the Global Center to explore exciting destinations for study abroad, speak with coordinators and faculty, and get help with questions and starting applications. Refreshments will be provided! 
Students who attend the Go Global Expo will also have an opportunity to participate in a drawing for a free flight voucher (up to $1,500) toward any UA study abroad program!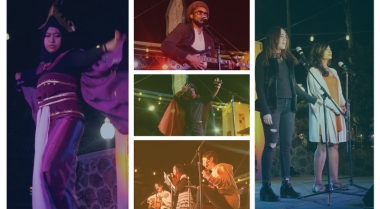 On Friday, November 22, we host the 8th annual Global Wildcats Got Talent show, from 7-9 PM  at the Stevie Eller Dance Theatre. The show is hosted by International Student Services and the Global team and features talented UA students from all over the world performing dance, music, singing and more. Don't miss this annual favorite!
In addition—as Global has done for many years in partnership with the Center for English as a Second Language—we will host the annual Global Excellence Awards Reception on Friday, November 22, from 4-6:30 pm in the Stevie Eller Dance Theatre Lobby. These awards recognize the efforts of university staff, faculty, and students who have furthered the global mission of the University of Arizona.
Many IEW activities are taking place across campus. Check the International Education Week calendar for a complete listing.
Some highlights include:
Art & Photography Workshops on the theme "Immigration: Images of my Other Self", at the Global Center, 2nd floor.
Nov. 18-20, 5:30 - 8:30 pm | Intercultural Awareness Through Art (workshop)
Nov. 21-22, 4:00 - 7:00 pm | Social Photography (workshop)
Yoga @ Global, Nov. 20, 8:00 - 9:00 am, upstairs in the Global Center lounge.
Go Global Expo, Nov. 20, 11:00 am - 2:00 pm | at the Global Center, 615 N. Park Ave.
Global Scholarships, Nov. 21, noon - 1:00 pm | Honors Village rooms 1067 & 1068
Learn about scholarships and fellowships for global experiences.
International Scholar Academy Poster Session, Nov. 22, 4:00 - 5:00 pm | Stevie Eller Dance Building. Visit with members of the 2019 International Scholars Academy cohort and learn about the research being done by these emerging campus leaders.
Global Excellence Awards Reception, Nov. 22, 4:00 - 6:30 pm | Stevie Eller Dance Theatre Lobby.
Global Wildcats Got Talent 8, Nov. 22, 7:00 - 9:00 pm | Stevie Eller Dance Theatre
Tickets $5. Light refreshments from 4:30 - 6:30.
The Global team encourages the entire UA community to attend these intercultural events throughout International Education Week. Help us show the world that the University of Arizona is one of the world's most welcoming, diverse, and inclusive universities!
Be sure to tag #IEW2019 and #GlobalWildcats throughout the week to spread UA pride worldwide!
---
For more information about IEW, and a full list of events, please visit our website: https://international.arizona.edu/IEW.