International Admissions World Tour 2022
March 29, 2022
Prospective students are invited to attend virtual events with a regional focus, April 4 - 9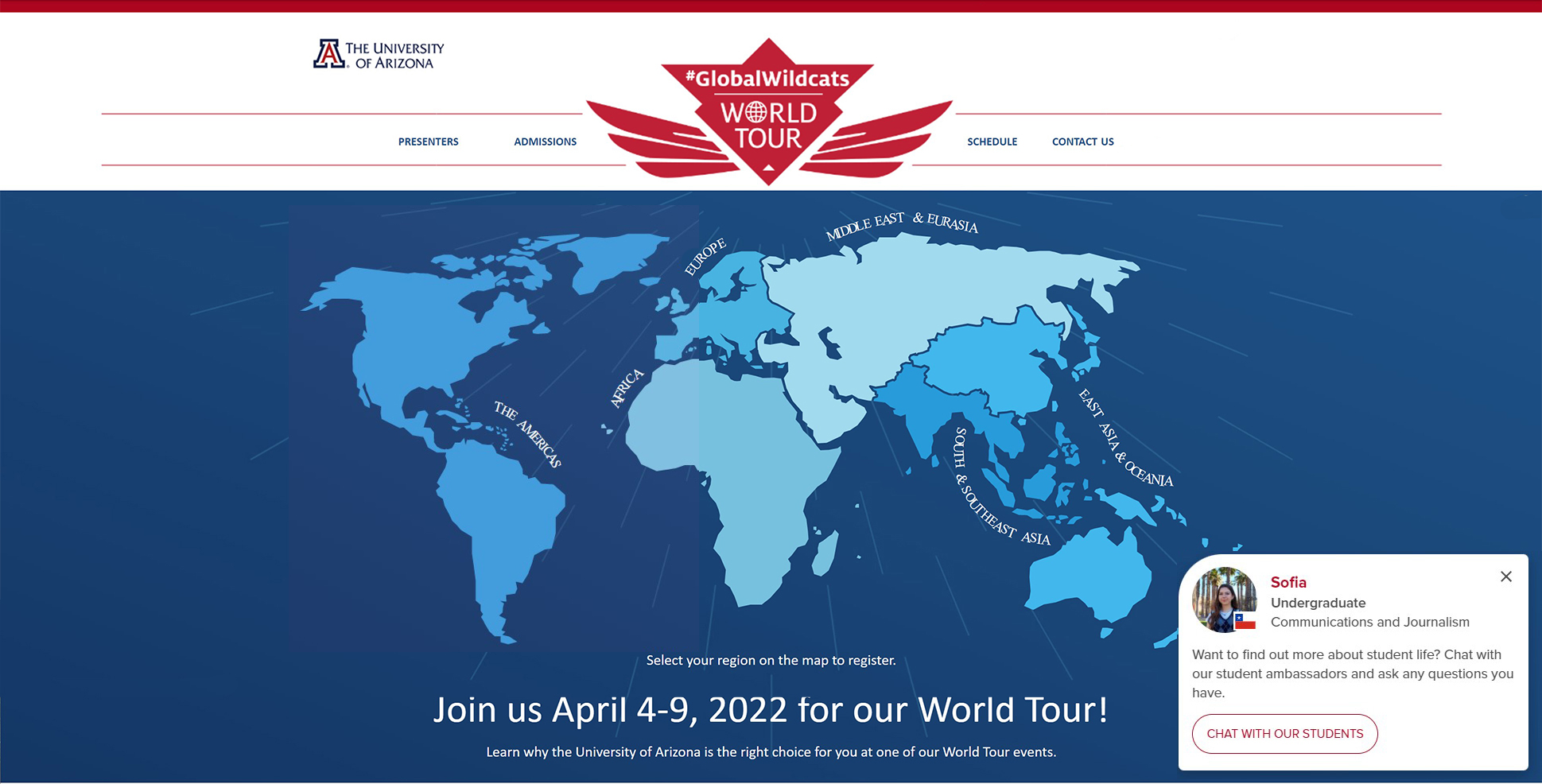 I'm Sofia, and I am a sophomore at the University of Arizona, majoring in English with a minor in Public Relations. I am originally from Santiago, Chile, but I was born in Bogota, Colombia. I am a Unibuddy Ambassador on the International Admissions team at everywhere.arizona.edu, and I love to talk to prospective students about my experience and answer their questions about the University. 
When I was going through the college application process, I had a difficult time envisioning myself at all the different universities I was applying to. I often wondered things like:
How did the campus look?
What are the other students like?
How were the classes?
What is the campus culture?
But most importantly, would I fit in?
All these questions were difficult to answer without the ability to visit the schools and see firsthand what they could offer me as a student. 
This year, during the week of April 4–9, 2022, the Office of International Admissions is hosting the World Tour to provide students an opportunity to learn if the University of Arizona is a good fit and the right choice.
The World Tour is the perfect event to meet the Enrollment Counselor for your region, ask all your questions, and connect with other prospective students that are interested in the University of Arizona. The best part about the World Tour is that you can attend from the comfort of your home. The World Tour is divided into different regions, offering specialized attention just for you. See the schedule below all times are in Pacific Time (UTC-7):
Through the World Tour, you will be able to envision yourself as a UArizona student, discover all the opportunities that UArizona has to offer, and you can meet other prospective students from the same region as you, thus creating connections and friendships all before setting foot on the UArizona Campus. The World Tour is just a click away, Register Today
---
Sofia's Unibuddy Ambassador Profile
Sofia is a sophomore from Santiago, Chile. She speaks English and Spanish, and wants to pursue a career in Communications and Journalism. Her hobbies and interests range from reading, writing, and working out, to fashion and hanging out with friends. Sofia's favorite course are ENGL 380: Literary Analysis · ENGL 373B: British and American Literature, from Restoration to the 19th Century · PR 317: Strategic Writing for Public Relations · CLAS 160D2: Classical Mythology. Sofia is involved in a sorority, Kappa Alpha Theta, as well as in the clubs UA Trend (the university's fashion club) and U of A Habitat for Humanity. A fun fact about Sofia is that she has lived all over the world (India, China, Chile, Japan, New York, England). 
You can connect and chat with Sofia and other Unibuddy Ambassadors at everywhere.arizona.edu/unibuddy.
You can also follow Unibuddy Blog Posts here.