A Global Wildcat Welcome at the Global Center!
International students celebrate with Wilbur and Wilma at the Global Center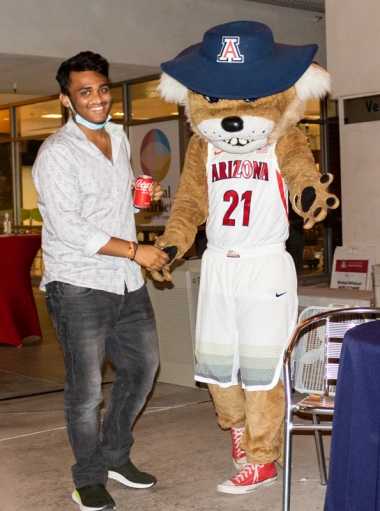 On Thursday, September 2, Arizona Global hosted our first in-person event of the semester—and the first in many months—at the Global Center on Park Avenue.
Two unique groups of international students were invited to attend the #GlobalWildcat Welcome Party.
The first included nineteen students from La Universidad Peruana De Ciencias Aplicadas (UPC), our Microcampus partner in Lima, Peru. Through the Study Arizona program, these students are spending the Fall 2021 semester on our main campus to take classes and participate in activities and projects as part of their degree programs.
When asked about what he's enjoying most about being here, UPC student Sebastian Montoyo said, "I am enjoying learning about American culture and the American university life." Several students commented that they are enjoying walking around our beautiful campus and making new friends.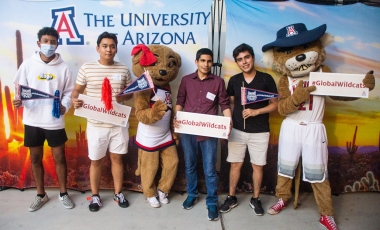 Another group of twenty-six attendees were Global Direct students who, due to COVID-related travel restrictions, had started their degree program online in Fall 2020 or Spring 2021. They were finally able to transition to main campus to attend in person for the first time this fall. Students from Bangladesh, China, Ecuador, India, Indonesia, Mexico, and several other countries attended the welcome party.
Many of these students commented on how happy they are to be attending classes and engaging with their professors and peers in person. Everyone in the UArizona community is thrilled to welcome these students who have worked so hard and waited many months to get here.
The 75 guests also included faculty and staff from Arizona Global, International Admissions, and academic departments on campus that are engaged with these students. Guests followed the COVID event protocols in place on campus at the time of the event.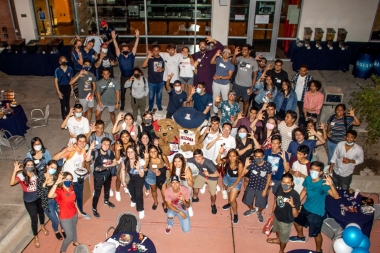 In her opening statement, Assistant Dean of Global Locations Lisa Turker gave a warm welcome to the students. "We feel immensely proud that these students decided to join our Wildcat family! When we talk about our school motto – Bear Down! It means do your best, make wise decisions, and do not falter when you encounter challenges. These words give us strength and keep us moving forward during difficult times. These students have already mastered the Bear Down spirit, as they managed to get here in such challenging times.
Turker also thanked the Arizona Global Education team that made the welcome event possible, highlighting the efforts of Assistant Dean of Global Education Becca Naylor-Sánchez and her team for "moving mountains to coordinate this first in-person event in many, many months!"
Guests played Bingo to learn more about each other and about Tucson and Arizona, and were treated to a selection of refreshments and tacos from Mas Tacos, a new dining choice at the Global Center.
The party revved up when Wilbur and Wilma Wildcat stopped by for photos and to provide some engaging (and mischievous) fun! At the end of the evening, they helped distribute prizes to the winners of our raffle drawing.
Arizona Global and the entire Global Education team send a warm welcome to all the international students who have been able to join us, either in-person or online, this fall semester. You are all Wildcats, and you are all welcome here!
---
Apply today at everywhere.arizona.edu