The Global Tech Experience: A New Way to Study Abroad
The world is changing how we work. UArizona is providing students with the future-proof tools and skills they need to change with it.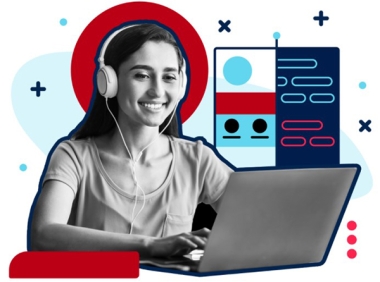 The University of Arizona is partnering with Podium Education to bring you the Global Tech Experience, a virtual study abroad program that provides you with access to real-world, hands-on, global education focusing on three specific areas of technology: digital marketing, coding, and data analytics.
As a result of the pandemic, Study Abroad offices across the United States have developed new and innovative options, such as virtual study abroad programs that provide students with the technical and intercultural skills needed to succeed in the global workforce, without the requirement to travel.
The result is three innovative tracks that students can pursue -- earning a possible 6 credits in each track -- over the course of the summer: Digital Marketing, Introduction to Coding, and Data Analytics. Three tracks – a world of opportunity.
The UArizona Global Tech Experience will be offered during the Summer Term from May 23, 2022 to July 29, 2022. Enrollment is now open for Summer 2022.
What are the benefits of this program?
In our increasingly interconnected world, the hybrid skillset of tech skills and intercultural communication is critical and is sought after by employers. The Global Tech Experience is an opportunity for you to gain relevant, high-tech skills and intercultural competencies that ensure you are career-ready anywhere in the world.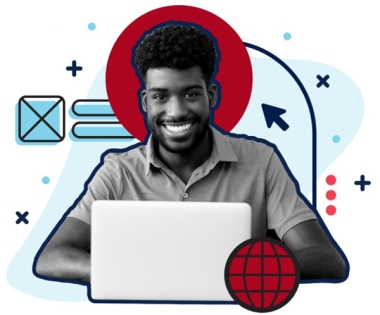 The Global Tech Experience consists of three key attributes: authentic global experiences, applied learning and intercultural communication training and reflection.
You will gain real-world experience while tackling projects from some of the most recognized companies and organization in the world like AirBnb, the WHO, Kiva, Netflix and UNESCO. Using global data sets and case studies, students work in the software and applications most requested by employers, like Tableau. And through workplace simulations, UN Story Circles and synchronous LiveLabs, you will learn to critically reflect and apply new global skills and concepts.
How do I know this program is right for me?
The Global Tech Experience is open to all undergraduate students. It is an ideal opportunity for non-tech majors to get hands-on technical experience, to develop leadership skills, and enhance your future career prospects.
If you've never coded, explored the world of marketing, or worked with data analytics, this is a fantastic opportunity to dive in and start building your skills and ultimately your resume. It is the perfect opportunity for students who want exposure to international education but cannot or do not want to travel in-person.
What kind of credit will I get?
All students in the Global Tech Experience program will earn 6 direct University of Arizona credits. The specific courses you'll be enrolled in will depend on which of the three tracks you choose.
Digital Marketing course credits: ESOC 488 and ISTA 495
Global Commerce today is digital. Learn how to launch and market products across the world using applications like Spotify, Instagram, and Google Ads.
Introduction to Coding course credits: ISTA 230 and ISTA 330
There are so many companies today that need developers. Learn to code by building websites and apps for users around the world using HTML, CSS, and JavaScript.
Data Analytics course credits: ISTA 321 and ISTA 320
The world runs on data. Learn how to use data analytics to make data-driven decisions with Excel and Tableau.
What makes this an international experience?
The goal of the Global Tech Experience is for students to learn how to work in diverse teams and to build products for a diverse set of customers. You will meet on a live platform with peers from over 38 different countries and together you will learn effective and appropriate intercultural communication skills and collaborate in real-time with teams in diverse and remote environments.
When you take one or more of the Global Tech Experience tracks, you'll work on projects directly with some of the world's largest international companies.
You'll explore digital marketing with Instagram and Google, learn coding with Twitter and Wikipedia, and dive into the world of data analytics with AirBnb and Spotify, all while supplementing your experience with intercultural competency and leadership education.
Upon completion of the program, you'll earn badges and certifications that you can include on your resume and LinkedIn profile, making you stand out as a top candidate amongst your peers.
How much does it cost?
You will pay for 6 credits of UArizona summer tuition and can use any scholarships or funding that you are eligible for in the summertime.
How do I get started?
If you're interested in learning more about this program, there are two things you should do.
First, reserve your seat for the program of your choice, and connect with a program coordinator to learn more about the application process. Not sure which track is right for you? The Global Tech Experience Team can help you figure that out. Contact the UArizona Global Tech Experience Team using this form, or call (520) 639-9644. 
Next, chat with your academic advisor and discuss how this summer experience fits into your plan of study. You'll earn 6 credits from this experience and your academic advisor can let you know how those credits will be used in your degree.
"We're excited to be able to offer these new and innovative summer programs at a time when students and families are looking for alternatives to traditional study abroad programming," says executive director of University of Arizona Study Abroad Harmony DeFazio.

"Courses offered through the Global Tech Experience provide students with the ability to access interactive online instruction and 1:1 guided support with instructors around the globe, teaching the most relevant and up-to-date tech skills, and ensuring that our graduates are ready to thrive anywhere in the world."
Learn more about these programs on the Global Tech Experience website and get ready to jumpstart your career with a global impact!