A Future Comes Into Focus in the College of Fine Arts
Aug. 10, 2022
Dennis discovered his passion for storytelling and filmmaking as a freshman, and plans a career in film & television.
When Dafeng (Dennis) Zhuang shared his "Why I chose to come to the University of Arizona" story, the reason that got him interested may be surprising to some.
"I love basketball," said Dennis, now a senior in the College of Fine Arts.
"I've been a basketball fan since middle school, so I knew about Arizona's history of great teams and players. I'm also a fan of the Golden State Warriors Head Coach Steve Kerr and player Andre Iguodala, and I knew they were both University of Arizona graduates. That made me curious about the school," said Dennis, "so, I did some research into the academics and the city and campus, and I decided it sounded like a great place to be for my college education. It was also a financially suitable choice for me."
Dennis, who came to Arizona as a freshman from Fujian, China, says that he loves the city of Tucson, Arizona, and the feel of being on the main campus.
"The atmosphere here is peaceful and calm," Dennis said, "and it's a good environment to study."
Dennis, who will graduate in May 2023 from the highly-ranked School of Theatre Film & Television with a major in film & television and a minor in theater arts and studio arts, gave us a tour of his college before sitting down to talk more about his experience as an international student at the University of Arizona.
University of Arizona International: Dennis, thank you for telling us about what made you initially consider the University of Arizona. Can you tell us what you like about your major? How did you decide that Film & Television was a career path you wanted to pursue?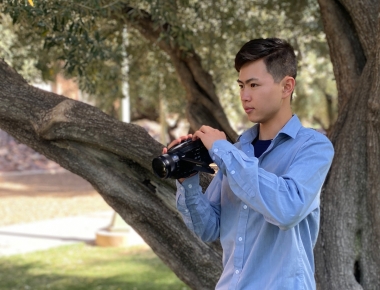 Dennis:  I wasn't sure at first. I began with a General Studies major and considered being an English teacher. I like storytelling, and discovered the film major. I felt like a good fit for me. I enjoy putting together the elements of a good story, from the narrative to the visual. So in my sophomore year, I declared my major in Film.  
I love the documentary genre. In my junior year, I made a documentary about our football team winning a game, after a series of losses. It was exciting to be there to eyewitness the first win after two years, to interview the players and capture the experience to share with others. I also made a documentary about the annual Tucson Met Yourself event. I like to be present, to witness authentic situations and be able to share personal stories.
I am passionate about films that engage global audiences with pressing social issues and dramatic visual style. Growing up in Fujian, China, I developed a fascination for current international events and nonfiction storytelling that led me to pursue my education in the United States, where I can develop my skills and passion for documentary storytelling and nonfiction filmmaking experience.
You will be graduating next spring. What are your future plans? 
Dennis:  I would like to go into the film industry, to make documentaries. I am learning the skills and everything I can about being a professional filmmaker. I imagine that I can use my skills for marketing, as well. There is a lot of demand for film and video these days.
I hope to be able to stay in the U.S., which is top in the industry. But I would also like to learn more about the industry in China.
How has the University of Arizona prepared you for your career goals?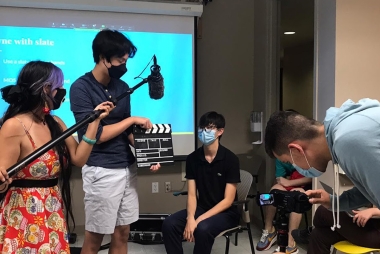 Dennis: My classes have definitely prepared me. My professors and mentors have been very supportive. Professor Skyler is my mentor and advisor for documentary filmmaking. She has worked in the industry, and shares tips from her real-world experiences. She has office hours each week – as do all of my professors – and I try to connect regularly. She's been helping me create my portfolio, and my resume and cover letter.
The university also has prepared and supported me with the resources in the office of Student Engagement & Career Development. I found my recent job as a student social media and video specialist in the College of Applied Science and Technology through the Handshake app that all students can use for job search.
Do you participate in clubs and activities on campus and in your major?
Dennis: I am very involved in the University Filmmakers Organization (UFO), a club for students at all levels who want to learn and gain experience on film sets on campus. Students can learn about and get experience in directing, script writing, make-up design, cinematography, and editing. We explore the entire filmmaking process from the pre-production to the finished product. It's a great place to meet other students with the same interests and goals.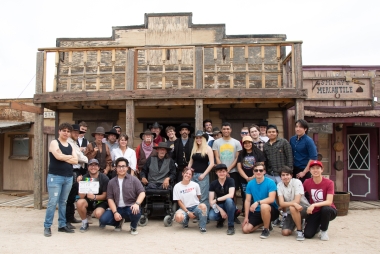 As a student-run club, it is a platform to come together to make videos, practice film skills, and learn from each other. We get to take what we learn in the classroom and work as a group to put theory into practice. Each semester, members pitch ideas to the group, and we all vote. The top two are adopted as projects, and the winners get to be the directors. Last spring, we produced a short film, a western (cowboy) film, and I was the production chair. We even got to visit a western movie set located in Tucson. At the end of the semester, we rent out a theater and show the films that we have made.
I am also involved in the Global Ambassador leadership program, which is part of the International Student Services (ISS) programming. We are a select group of fifteen students, undergraduate and graduate, from different countries, who connect international students to the campus and community by providing peer advising, friendship, and activities throughout the year for the international student community.
I've been involved for a few years, and this year will be a senior GA. Global Ambassadors organize and host outings and trips, run the international student Buddy Program, host weekly and monthly gatherings and study sessions, and are part of the airport welcome team and international student orientation programs. It's a great way to be involved, meet new people and make friends, and feel a part of the university community. My favorite outings are hiking in the Tucson area. There is so much to do here, and I get to take videos and photos of our activities to share on social media!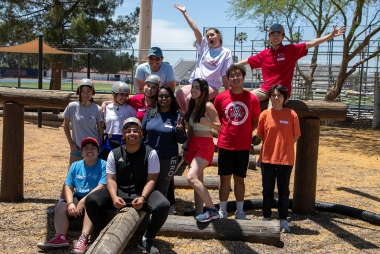 I always knew I wanted to be involved with campus life, and as a GA I have the opportunity to serve other international students. I think it's important to make them feel welcome and help them adapt and learn. As a GA I have learned about so many different cultures, made so many friends, and learned to have empathy and listen.
Tell us about what it is like to live on campus as a student.
Dennis: As a freshman, I chose to live in a dorm on campus. I think it is the best decision for an international student. You have the convenience of being close to everything – your classes, healthcare, food options, libraries, and International Student Services. The university resources are here to help you with everything you need. You will have a Residential Assistant (RA) who will be there to answer questions. It's the best way to meet people, make friends, and start to build your community.
I was already here and studying when COVID started, and I chose to stay on campus, taking classes online and living in a dorm, instead of going home, as some students did. I was glad to already have friends, and we helped one another through it. The ISS team was especially helpful during this time, and I also went to my friends at the Christian Challenge church located near campus, where a lot of international and local students go. It is a supportive community and there was always someone to help answer my questions.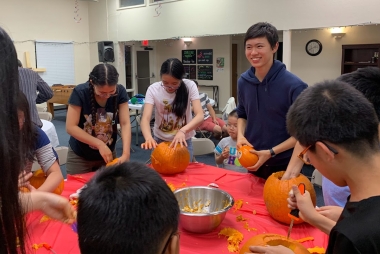 I met one of my best friends living on the same floor in the Coronado dorm during COVID. We started making spaghetti together and studied and worked out. It made some of the more difficult moments easier to deal with.
There are also a lot of apartments and houses in the neighborhoods around campus. Since last year, I have been living in an apartment nearby and I can bike to my classes in five minutes.
Have you had any jobs or internships while you have been a student?
Dennis: I have! There are a lot of job opportunities for students on campus. In my freshman year, I worked in one of the restaurants in the Student Union Memorial Center (SUMC). The following year, I worked in the SUMC events planning office and did some video production for the International Admissions office. In my junior year, I worked for the College of Applied Science & Technology (CAST) and was a Global Ambassador. And this year, I am a Senior Global Ambassador for International Student Services.
What are some of your favorite places to eat on campus and in Tucson?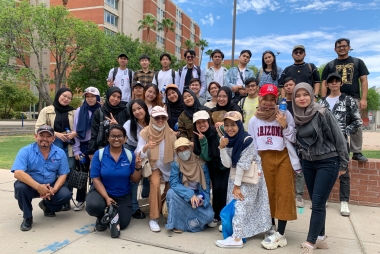 Dennis: One of my favorite places to get meals is the buffet at 85 North. It's part of the Honors Village, but anyone can eat there, and it's really good. I also enjoy Mexican food, and there is plenty of that available around Tucson. Mexican food has a lot of the same ingredients that I am familiar with–rice, beans, spices–just made a little differently so it was easy to adapt to. For students coming from China, I think you will find plenty of food that you're comfortable with and a lot of opportunities to explore and try new things!
I think Tucson is a great city. It is very diverse and international, and I like seeing the influence of Mexican culture here. And the people are kind and welcoming.
Tell us a little about campus life.
Dennis: There is always something to do. And there are resources for students for everything you need, from Campus Health and the Campus Pantry to academic and college support. One of my favorite places to study has been the multimedia section in the Main Library. The CATalyst Studio has equipment available for virtual reality, media recording, and a maker studio. The Global Ambassadors have organized tours for the ISS Buddy Program for students to learn how to access and use the equipment.
What advice do you have for incoming students to succeed at the University of Arizona?
Dennis: My first tip is definitely to attend Orientation for international students! That is where you will learn everything you need to know to get off to a good start. The ISS team and the GAs will be there to support you. It can be hard and overwhelming to do things by yourself when you study abroad.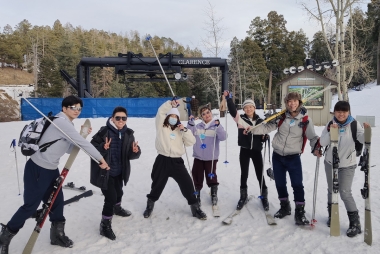 Whatever kind of community you are looking for, there is probably a group on campus or nearby to find people you can count on. For me, it was Christian Challenge. When I got sick, my friends there took me to see a doctor. It has been an important community for me that gathers weekly and also does hikes and other activities.
Clubs and groups are also great for practicing English. I was not completely fluent when I arrived, and I learned a lot from my roommates, from church, through activities with ISS and clubs, and from my coworkers in my jobs. It's been great for helping me develop my English skills through active learning and natural interactions. Now I feel I am very good at writing and reading, speaking, and listening. It makes a big difference to be in the country where you can use the language every day.
Why should a student choose the University of Arizona?
Dennis: Come to the University of Arizona to find your own true passion! There are so many majors and options to explore. I discovered my true passion here, overcoming challenges along the way. You can try new things, academic or outside. You will learn and experience life in a beautiful city and state, with people who are friendly and supportive.