Delaney Dives In! Schnell Among Several Wildcats Going for Gold in Tokyo
July 23, 2021
Delaney Schnell, Abdi Abdirahman, Dejah Mulipola, Shaina Pellington, Sage Watson and Steve Kerr are just some of the current and former Wildcats who will take part in the Olympic Games in Tokyo.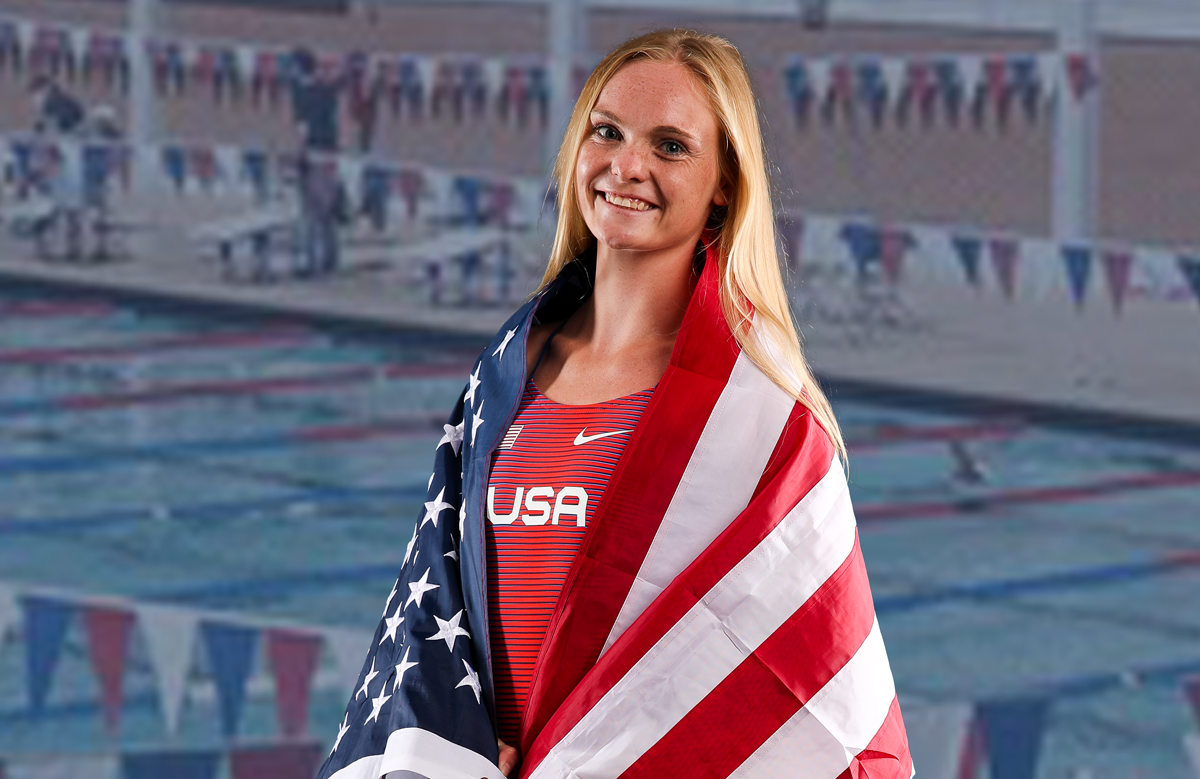 It takes a little more than 12 hours to fly the 5,886 miles that separate Tucson and Tokyo. It takes Delaney Schnell roughly 1.5 seconds to travel the 10 meters between the diving platform and the water.
And it takes years of practice, patience and sacrifice to make it to the Olympics.
Schnell is one of several current and former Arizona Wildcats who will participate in the Olympic Games in Tokyo, beginning this week. Schnell, a Tucson native with two more years of collegiate diving eligibility remaining with the Wildcats, will start graduate school in the fall to pursue a master's degree in speech-language pathology.
"It hasn't really even sunken in yet," said Schnell, the 2021 Pac-12 Diver of the Year, who qualified for Team USA in the 10-meter platform individual diving event and the 10-meter synchronized platform event with her diving partner, Jessica Pratto. "My synchro partner, Jess, is a two-time Olympian, so she has been walking me through what to expect, but I don't think either of us will feel like it's real until we're actually there."
The Olympics, originally scheduled for summer 2020, were postponed to this year due to the COVID-19 pandemic. Schnell redshirted from the Wildcat diving team in 2019 to prepare for international competition, but when everything was called off, she had to improvise.
"It was pretty big shock, to be honest," Schnell said. "Not only were all the big international competitions canceled, but we didn't have access to a pool or training facilities. And in any sport where you're competing at a high level, any kind of long layoff can set you back in a big way."
That's where Schnell's gymnastics background came in handy.
Before Schnell hit the international diving circuit in her teens, she was a top-notch youth gymnast. So, when she couldn't get to a pool, her local gym allowed her to work on her flips, turns and landings indoors. Eventually, she got access to a pool in Phoenix and continued to train for her Olympic dream.
"I am so fortunate. All of this really made me appreciate the sport even more," Schnell said. "It was a really good time for me to work on my mentality and find out how well I can roll with the punches."
Schnell is the seventh diver in UArizona history to qualify for the Olympics and the second to compete for Team USA. Former Wildcat Michele Mitchell won silver medals in the 10-meter platform for the U.S. in 1984 and 1988.
More Olympians with UArizona Ties
Twenty-six current and former Wildcat athletes and coaches, some of them current or past international students, will represent 12 different countries in the Olympic games this summer. 
COUNTRY TEAMS WITH WILDCAT CONNECTIONS:
| | |
| --- | --- |
| Australia | Nigeria |
| Canada | The Philippines |
| Germany | Seychelles |
| Israel | Slovakia |
| Italy | South Africa |
| Mexico | Team USA |
They will be competing in 10 different sports: swimming and diving, softball, track and field, men's basketball, women's basketball, men's golf, women's golf, rugby, water polo and BMX racing. Here are the athletes, and links to their Wildcat Athletics profiles.
Softball
Women's Basketball
Men's Basketball
Track and Field
Women's Golf
Men's Golf
Swimming and Diving
Rugby
Water Polo
BMX Racing
The Tokyo Olympics take place from July 20 to August 8, with the opening ceremony – co-hosted by UArizona alumna and NBC News "Today" co-anchor Savannah Guthrie – to be held July 23. 
For a full schedule of when Wildcat-affiliated athletes and coaches will be competing, visit the Arizona Athletics Olympics page, which will be updated regularly throughout the Olympics.
---
Adapted with permission. Original article here.