Celebrating the Arizona Global Graduating Student Workers
May 9, 2022
Meet Madison Frees, graduating Study Abroad Peer Advisor.
This May, Arizona Global celebrates and recognizes the contributions of our many graduating student workers. We're introducing them here over the next few weeks. We appreciate the level of professionalism and Wildcat work ethic these students bring to their respective roles in the business unit. We are proud to call them coworkers and teammates, and we wish them all the greatest success as they take their knowledge and skills out into the world.
Meet Madison Frees, Class of '22 and a Peer Advisor on the UA Study Abroad team. Madison, who has worked for Study Abroad for the past year, is graduating Magna Cum Laude from the Eller College of Management with several notable awards.
Hometown: Chandler, Arizona
Degrees: B.S.B.A in Marketing, Minor in Global Business, Eller College of Management
Study Abroad: UA Barcelona, Spain, Spring 2021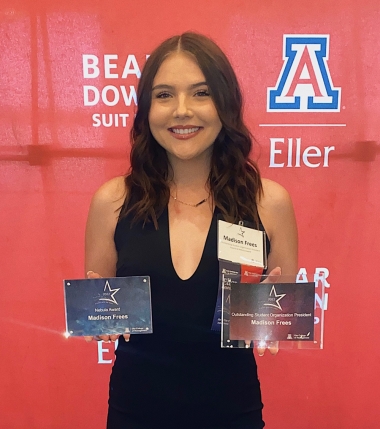 Eller Awards: Madison received two awards, presented at the Eller "A Night with the Stars" gala on May 4, 2022:
Outstanding Student Organization President Award: This award is given to an outstanding organization leader. Eller is home to over 40 student organizations that provide the opportunity for about 2,300 students to learn, engage, mentor and lead. Madison has served as President of the American Marketing Association on campus.

Nebula Award: This award is given to students who are leaders and role models amongst their peers at Eller. The student has shown that they can successfully unify those around them and lead them to the creation of an unforgettable Eller Experience!
We spoke with Madison to learn more about her experience as a student at the University of Arizona.
---
UA: Why did you chose to come to the University of Arizona?
Madison: The first time I toured campus and walked on The Mall, it felt like home. There were students hanging out, talking, collaborating, and I immediately felt comfortable here. There are so many opportunities to get involved on campus and in the Eller College of Management. And so many ways to be involved socially and in Greek life. There's a place for everyone here.
UA: What do you love about your major?
Madison: Marketing is exciting to me because there are two sides – the creative and the analytical – and you get to learn about and gain skills in both. I love the marketing program at Eller College of Management because it sets you up for success and prepares you for the real world. I feel so prepared, from resumes and cover letters to interviews and elevator pitches, the program really sets you up and gives you really good start as a professional.
UA: What are your plans after graduation?
Madison: I know I want to work in digital marketing, so that's where my focus is right now. I would love to work my way up in an agency. I want to experience the agency dynamic where you get to collaborate on a variety of clients at the same time and learn about so many different aspects of the business. After a few years of real-world experience, I plan to get my MBA.
UA: What do you want to accomplish in your career?
Madison: When I think about my career, I want to further my knowledge in all the different areas and aspects of marketing. I'd love to be someone who can jump between the creative and analytical. My dream is to find a way to use both my Marketing major and my Global Business minor to build a career with an international company. I'd be very happy to be able to travel, live and do international business in other countries.
UA: How has the University of Arizona helped prepare you for your career goals?
Madison: Simply by being in the Eller College of Management you are part of a program that is designed to prepare you. I have utilized career coaches within Eller. I've utilized Indeed to look for job opportunities, and Handshake, the University of Arizona's job board and career development platform. In my job at Study Abroad my colleagues there have been helpful with ideas and strategies. I feel very supported all around. From talking with professors to listening to speakers from industry, there are many opportunities to make connections, talk about internships and jobs, and network as a student.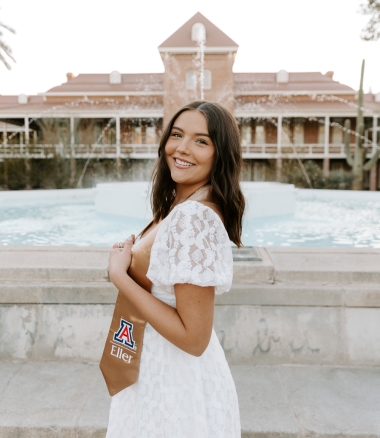 UA: What activities have you been involved in during your four years?
Madison: I'm a member of Pi Beta Phi, a sorority that develops women of integrity, cultivates leadership potential and enriches lives through community service. I was in the Professional Women in Business Association, a student organization within the Eller College of Management, my freshman through junior years. I joined the American Marketing Association at the University of Arizona in my sophomore year and have been very involved ever since. I was the 2021-22 President of AMA, and I really love the hands-on marketing and professional development activities we host, the fun philanthropic and social events, and the networking opportunities with professionals we invite to speak with us from across a variety of industries. Of course, I've also been involved with Study Abroad.
UA: Where have you lived during your time as a student here?
Madison: I lived in a dorm my freshman year and loved it! It was the best experience, and I would recommend it to everyone. I made so many friends and had a really great RA (Residential Assistant) that I still keep in touch with. The last three years here, I have lived off campus, nearby, in an apartment.
UA: What student work or other positions have you had during your four years here?
Madison: I've had a variety of summer jobs, not on campus. After experiencing a semester abroad in Barcelona in 2021, I was excited to work for the Study Abroad. I've been with the team for one year. My favorite part about being a peer advisor is helping students begin their study abroad process and researching programs that fit their personal, professional, and academic goals. I've also been able to do some work with the Study Abroad Marketing team and have learned a lot this year. This semester, Spring 2022, I've had a media relations internship with a PR agency in Orlando, Florida, working remotely.
UA: Do you have a favorite classes that you recommend?
Madison: Right now, I am taking Marketing 452: Integrated Marketing Communications. The class is about the management of all of the elements of an integrated marketing communications mix. We learn about topics like advertising, public relations, events, TV, radio, sales promotions and new media. The format is interesting in that we meet for lecture about a topic on Monday, and then have a speaker from that industry present to the class on Wednesday. It's been interesting to hear from professionals in the field, and has been instrumental in helping me find the areas I want to focus on.
UA: Do you have a favorite place to eat on or near campus?
Madison: I love Illegal Pete's, it's a cool and iconic little Tucson spot. I also end up a lot at Cartel Coffee, where I do homework and hangout.
UA: What are some of your favorite things about Tucson?
Madison: I love the artsy feel of Tucson, with the many large murals around town. It's something not everyone knows about until the come here. I love the diverse Downtown with so much to do. I like going to the many local farmer's markets around town, too.
UA: Do you have a favorite place to study?
Madison: There's a place at the west end of campus called Scented Leaf. I often get a tea and study there. I'm a coffee (or tea) shop person, so you'll often find me there, or at Cartel Coffee or Black Rock Coffee Bar.
UA: What advice do you have for incoming freshmen?
Madison: I think it's helpful to keep an open mind. There are so many things to discover and learn, and to learn about yourself when you embark on your college journey. Go to events and participate. Join clubs and be active, hold positions. I would tell students that it's cool to be involved and to be in leadership. I never did that in high school, and never imagined I would, but I made a conscious decision to challenge myself. Utilize every moment to build your network. Put yourself in new and uncomfortable situations because you never know what doors it might open.
UA: What are some significant memories you will have of your college experience?
Madison: Two specific things come to mind. First, the American Marketing Association and all of the opportunities it has brought me. In my junior year I was VP of Communication and ran all the social media. In senior year, I became President and I get to organize networking events, reaching out to get major industry marketing professionals from places like Nike, the San Francisco Giants, and Snapchat to speak at our events. These are opportunities I never would have had without AMA. And my leadership involvement really paid off when I received the Eller Outstanding Student Organization President Award this month.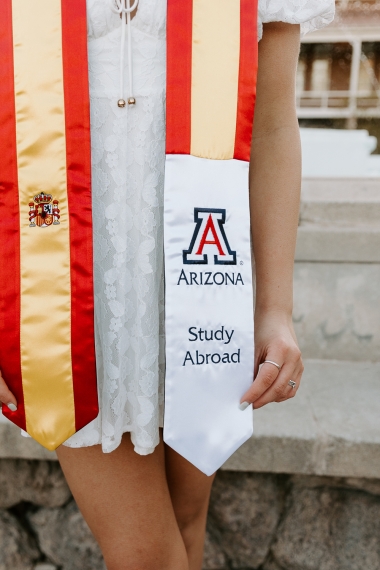 The second is my Study Abroad experience, which was hands down the most exciting and memorable thing I did in my four years. I went to the UA Barcelona Arizona Abroad program in Barcelona, Spain, in Spring 2021. The biggest benefits of studying abroad were being able to experience a new environment, develop as an individual, and create memories of a lifetime while furthering my education. I found a new appreciation for adventure, traveling and the world.
Because of the pandemic there were fewer people than usual in the program, so we had a unique experience and became very close. Something I did most days while there and one of my favorite spots around Barcelona is Parc de la Ciutadella. It's a beautiful park near the Arc de Triomf, which was a few blocks from my apartment, where I would go with my roommates and friends to hang out, walk around and enjoy the beautiful scenery. There is a fountain in the park that we would stop at, take everything in and spend time as a group.
It was such a fun experience and will always hold a very special place in my heart. It' been really rewarding, as a Peer Advisor, to be able to help other students make their study abroad dreams come true!