Arizona International and Sampoerna University host the 2023 Microcampus Conference in Jakarta
From June 28-30, the University of Arizona and Sampoerna University co-hosted the 2023 Microcampus Conference in Jakarta, Indonesia. The conference brought together microcampus partners and University of Arizona faculty and staff to share and collaborate best practices to advance the unique microcampus educational model.
Dr. JP Jones, outgoing Dean of International Education and conference leader said, "The 2023 Microcampus Conference renews our commitment, post pandemic, to meeting with our partners in-person to exchange information on best teaching practices, student recruitment and success, overcoming cultural barriers to international education, and to explore multidirectional student mobility."
The first two days of the conference focused on activities and events to facilitate familiarization and networking. Delegates enjoyed a tour of Sampoerna University and an excursion to Jakarta's cultural landmarks and attractions. On Thursday evening, Sampoerna University hosted a welcome reception and dinner. Delegates heard from Sampoerna University and University of Arizona alumni, and enjoyed a traditional Balinese dance performance.
On Friday, June 30, conference sessions commenced with a keynote address by Dr. Jenny Lee, incoming Vice President for Arizona International and Dean of International Education. Dr. Lee spoke about regenerativity in international higher education, including the challenges, realities, and a renewing commitment to a better world.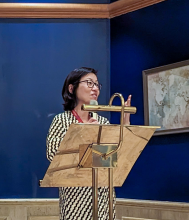 "Internationalization is not the ends, but the means towards addressing global problems and bettering the planet for future generations. Regardless of our position, institution, or country, we each play a part. And as international partners, we can be especially effective, which is why the microcampus network is so important."
Panelists and speakers from the University of Arizona and partner universities engaged with delegates across a variety of sessions throughout the day including Intercultural Competencies in Practice, Student Best Practices – from Recruitment to Graduation, Best Practices for Faculty across Modalities, Enhancing Multidirectional Student Mobility and New Horizons in Microcampus Programs.
Among the speakers from the microcampus partner network were Marshall Schott, President, Sampoerna University; Edward Roekaert, President, Universidad Peruana de Ciencias Aplicadas, Peru; Ming Yu, Associate Dean of Law, Ocean University of China; Jian Zhou, Dean, Hebei University of Technology; David Moser, Dean and Professor of Law and Global Affairs at the American University of Phnom Penh; and Desyarti Safarina, Director, Center for Excellence in Teaching and Learning, Sampoerna University.
Marshall Schott commented "that one of the beauties of the vision of the microcampus model is that it allows us to think globally and leverage talent and resources across national boundaries and across time zones. The foundation of this partnership is trust. We are genuine partners, and that has so much promise in the vision for international education."
Established over the last decade, the microcampus network brings the University of Arizona to partner university campuses in 10 countries, including Cambodia, China, India, Indonesia, Jordan, Kazakhstan, Mauritius, Peru, the UAE and Vietnam. More than 1,900 students are currently enrolled across the network in dual degree programs including law, architecture, agriculture and life sciences, technology, engineering, management and health sciences.
The microcampus dual degree model allows students to earn both a local and U.S. accredited degree and students also benefit from access to resources at a major U.S. research institution, research-based teaching methodology, and the opportunity to study in the U.S. for a semester.
Learn more about the University of Arizona Microcampus Network