American College Students Demonstrate Chinese Proficiency at the UA
May 5, 2017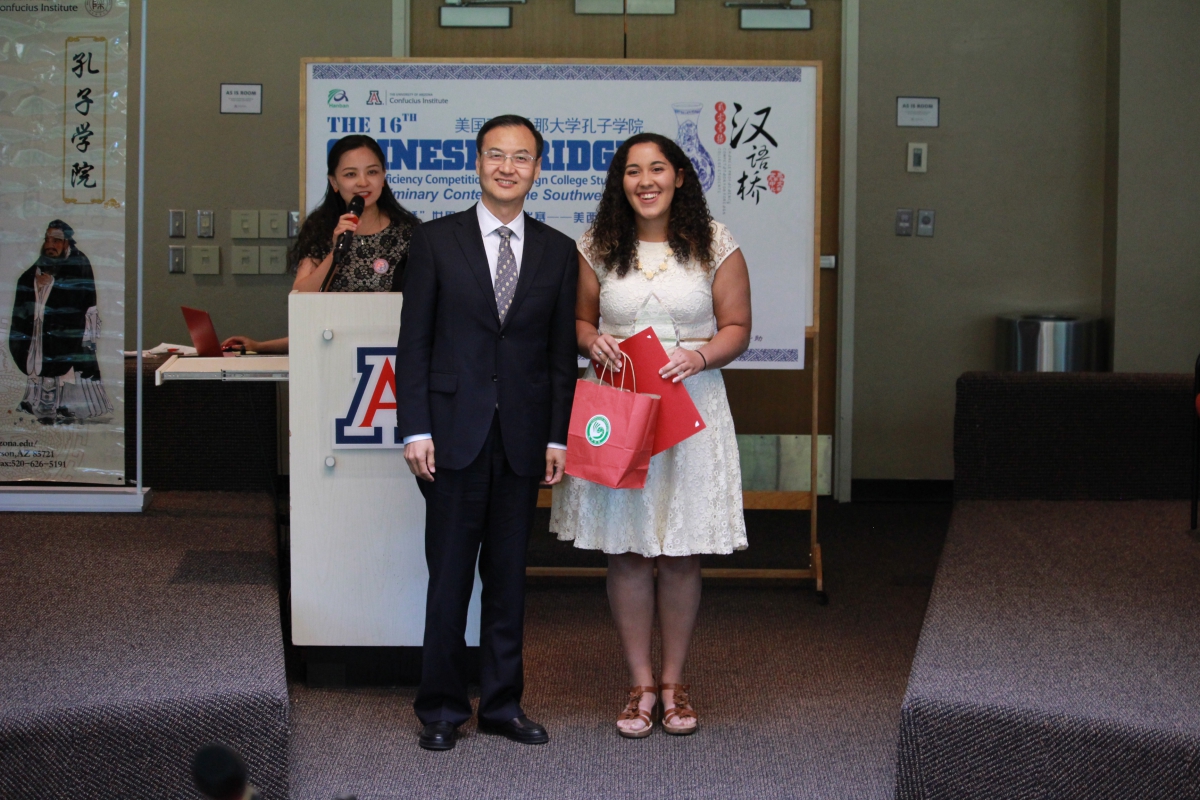 Organized by the Consulate General of the People's Republic of China and hosted by the University of Arizona Confucius Institute (CIUA), the 16th Annual Chinese Bridge competition featured several college students from the Southwestern United States who have an interest in the Chinese language and culture.
The event at the UA Student Union Memorial Center provided entertainment for a crowd of nearly 100 people, while also serving as a platform for students to showcase their language skills and talents. Competitors represented Confucius Institutes from Arizona, New Mexico, California, and Hawaii, forging new relationships between students with similar interests.
CIUA director Dr. Zhao Chen welcomed everyone and CGLA Counselor Dr. Dong Yuan talked about how learning Chinese would not only benefit the competitors, but also promote mutual understanding and a deep friendship between China, the United States, and the whole world. He encouraged every participant to learn Chinese and encourage their friends to realize its beauty as well.
"This competition was carefully prepared and was different from previous years. The theme focused on tradition and history, while also increasing the understanding of modern China," said Professor Wei Zhao, CIUA Chinese Director.
This year's theme was "dream to light the future," and competitors, all non-native Chinese speakers, delivered a short speech in Mandarin based on that theme. The students also answered questions from professors at the UA East Asian Studies Department about Chinese language, history, geography, and culture. An optional talent show ensued where students demonstrated their skills in Chinese art, music, and martial arts
After two and a half hours of intense competition, Ryan Featherston and Samantha Sanders of the Confucius Institute at Arizona State University took home the advanced and intermediate prizes. Featherston impressed judges with his talk about spending nine months in Beijing, and Sanders wowed the crowd with the beautiful "Little Love Song." Both students now advance to the 2017 Chinese Bridge Competition in China this summer.
Dr. Yuan was impressed with how the event has progressed over the past 16 years.
"The competition was fierce. It showed that the overseas Chinese teaching effect is remarkable as high-level students continue to emerge from these programs."