Fueled by wonder and a strong commitment to serve
May 18, 2020
Dr. Nadia Alvarez Mexia creates safe learning spaces and remarkable academic experiences that have brought recognition and changed lives
Dr. Nadia Alvarez Mexia has devoted her professional and teaching career to creating collaborations that link people and institutions, nourishing the extraordinary beauty of diverse and inclusive communities. Fueled by wonder and a strong commitment to serve others, Nadia creates safe learning spaces and remarkable academic experiences that have brought recognition from the University of Arizona, as well as from NAFSA in the U.S. and institutions of higher education in Mexico.
Wonder makes Nadia serve.
In her role as Director of Mexico Programs for Arizona Global, Nadia has cultivated a strong network of colleges, units, offices, groups, and colleagues. Through her leading-edge work with students on the UArizona campus, she has helped amplify the voices of young women and diverse populations.
For the past thirteen years, she has brought international students to the University of Arizona to conduct research, improve their English proficiency, and learn about the academic culture in the United States, and has recruited many international students to come to the University for both undergraduate and graduate studies.
Nadia has developed short-term programs for first-generation college students, Native American students, indigenous students in Mexico, women in STEM, pre-service and in-service teachers, international faculty and professionals, domestic students in the U.S., and student from Mexico and other countries. She is a member of the first cohort of the University's Hispanic Serving Institution Fellows.
The drive to serve others is something that comes naturally, but is also something that Nadia purposefully nurtures and cultivates on a daily basis. She reminds herself and others that "it is not an action related to a person's title or other professional designation."
"To serve does not mean that you need to develop an ambitious project to make a difference. You can start with something that looks simple and you always, ALWAYS need to work in community. Don't be afraid to give others the opportunity to shine! Do things because you believe in them and never expect a reward," she says, "because you will lose authenticity."
In 2018, Nadia's work was recognized by the Edith Sayre Auslander Established Visionary Award and the Human Relations Commission of the City of Tucson Recognition. She holds a Faculty Affiliate position in the Department of Teaching, Learning and Sociocultural Studies in the UA's College of Education, and is a recipient of the Erasmus Circle Award, one of the highest honors from the College of Education.
Last year, Nadia received the Trajectory Award 2019 for Outstanding Contributions to Higher Education and its Internationalization. The award, presented by Autonomous University of Ciudad Juarez (UACJ) and the National Council of Sciences and Technology (CONACyT) in Mexico, recognizes the impact of programs she created to train, guide, and mentor undergraduate students from Mexico to pursue a graduate degree and develop a research career in their home country, the U.S. or other world regions. Since 2009, through these programs, many students have been awarded CONACyT scholarships, and have obtained their master's or doctoral degree from institutions worldwide, including the University of Arizona.
More recently, Nadia was recognized as one of the "Women of Change 2020," by the Secretariat of Education and Culture (SEC) in Sonora and GRAMEEN en la Frontera.
An interdisciplinary education has given Nadia a useful set of tools to inform and support her work. She has both a Bachelor's and a Master's Degrees in Information Systems from Instituto Tecnológico y de Estudios Superiores de Monterrey (ITESM), and a Ph.D. in Teaching & Teacher Education with a minor in Language, Reading & Culture from the University of Arizona. Her engineering background, she believes, helps her "create mental diagrams where connecting people and opportunities."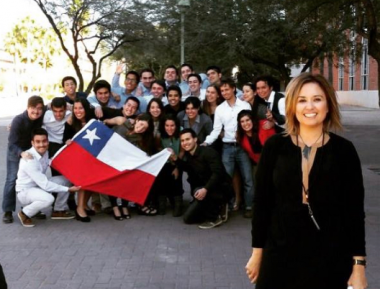 "In the academic and professional world, many times we are afraid to admit that linking ideas is also an avenue to connecting souls and minds. And when this connection is authentic, many wonderful things happen."
Motivated by a belief that "connecting different cultures, worlds, realities, academic fields and backgrounds can give us a better sense of this world and can help us understand and appreciate different contexts," Nadia strives to develop initiatives and opportunities that are grounded in the potential of others.
"Students, in particular," she believes, "are the real agents in any project that I coordinate, visualize and develop."
"When I came to the U.S.," she shares, "I was fortunate to meet four extraordinary UArizona leaders and mentors. I spent ten years working closely with one of them who encouraged me to develop my capacity for recognizing in others their full, unique potential. My mentor," she continues, "was a strong advocate of serving others."
When asked about what life experiences and influences led her to prioritize service to others, Nadia starts with her parents. Growing up in Mazatlán, Mexico, the daughter of two schoolteachers who modeled a way of understanding the world, she learned listening and appreciating others without prejudice. "As a child," she says, "my favorite game was to pretend to be a teacher, a professor, an educator. I was too young," she continues, "to understand the unconditional advocacy that educators should have, but what I learned from my parents helped me to understand the beauty of guiding the dreams of others."
Her parents worked in many different locations and schools, from rural to suburban, from poor to wealthy, from public to private, and they never made distinctions regarding their passion for teaching, helping and mentoring students, and advocating for parents and the community. From different backgrounds, themselves, "my parents showed me how to bridge the different worlds of social class, ideology, and economic background in a very natural way, without prejudice," she recalls.
"At the time," Nadia reflects, "I did not understand the deep, emotional connection of serving others, but I observed their unconditional love and watched them wage many battles to support others' dreams."
"My passion is creating learning and outstanding opportunities for others, to stimulate a willingness to learn from one another and to cultivate an inclusive community. I encourage pride and a sense of value for who they are as human beings, and I assist them in identifying their mission in this world."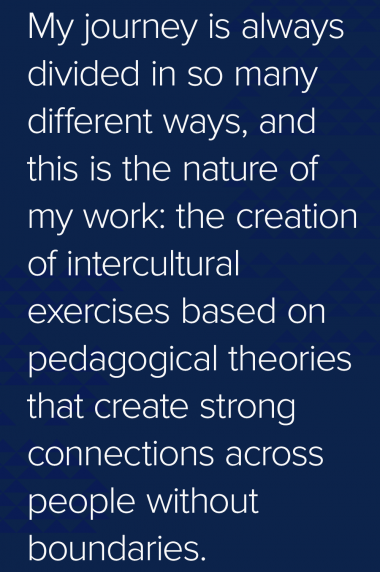 While 2019 saw her more focused on work with women in Mexico, Nadia is the first to point out that she does not serve a specific place, group, or academic field. "The spirit of my service to others," she says, "is broader, and this is reflected in the wide variety of programs and collaborations I have facilitated since I was a graduate student at UArizona."
"My community is binational and international, and my job is to link these constituencies, these identities within institutions, to create opportunities that nourish the extraordinary beauty of a wider and more diverse and inclusive community."
In recent years, Nadia "felt a transformation in my own identity, as it relates to my immigration status, to my role as a minority and as a woman, and even to my accent speaking my second language. I ask myself: Who I am in this context? Who do I represent? What are my rights and my responsibilities?"
This self-reflection, this active wondering in the face of challenging situations, she says, "is what has inspired me to mentor others, so that they are prepared to confront their own challenges."