UArizona Partners with Kozybayev University in Northern Kazakhstan to Launch Our Newest Microcampus and the First in Central Asia
Jan. 23, 2023
UArizona partners with the Kazakhstan Ministry of Education and Science and Kozybayev University in nationally funded dual degree partnership that expands UArizona's global network into Central Asia.
Earlier this academic year, a UArizona delegation joined with Kozybayev University Rector Yerulan Shulanov, to launch new dual degree programs in biotechnology and information technology, the first of many that are planned to prioritize regional development.
The launch was attended by Kazakhstan Minister of Education and Science Askhat Aimagambetov, former North Kazakhstan Governor Kumar Aksakalov, Kozybayev, US Embassy in Kazakhstan representative David Allen, UArizona Associate Vice President, International Affairs Daniel Palm, as well as leadership, faculty, and staff from the ministry and both universities.
The dual degree collaboration provides students at the Kozybayev University campus in Petropavl with the opportunity to obtain both a University of Arizona and Kozybayev University degree.
Students will benefit from the very best of both institutions, being co-taught by Kozybayev and UArizona faculty, with plans for each dual degree student to also travel to the U.S. to study for one semester at UArizona's beautiful Tucson campus.
Dr. Folks addressed the dual degrees' first cohort of students and their families in attendance extending them a warm welcome to the wildcat family, "We wish you well as you embark on this transformative journey of discovery and growth, where your dedication and hard work will build the skills and knowledge needed to bring innovation and growth to northern Kazakhstan. Along the way, you will learn from outstanding professors, collaborate and network with your peers, and make friends that will last a lifetime. And you will join a worldwide network of University of Arizona Alumni that is over 300,000 strong."
Dr. Folks also thanked partners for their support in prioritizing the collaboration, which aligns with the national Kazakhstan vision for increased international cooperation in higher education and focuses on the development of expertise and skills to support regional industries, and the social and economic development of Northern Kazakhstan.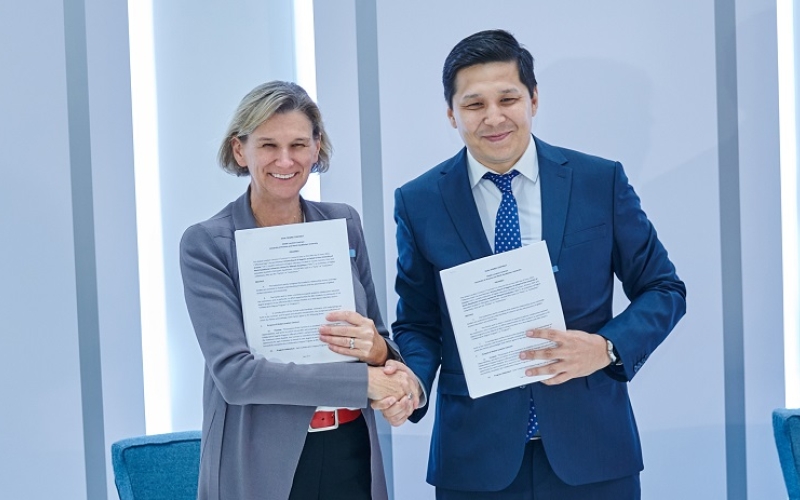 Dr. Liesl Folks, Senior Vice President for Academic Affairs and Provost, the University of Arizona and Kozeybayev University Rector Yerulan Shulanov.
The biotechnology and information science dual degrees are the first to launch from several planned across many academic disciplines including engineering and agriculture, and establishes UArizona's first Microcampus in the Central Asia region.
"We have been able to draw on our considerable experience in international education collaboration to successfully launch this newest Microcampus partnership" said Daniel Palm, Associate Vice President, International Affairs at UArizona. "We currently have 12 collaborative degree partnerships around the globe with institutions in Peru, Indonesia, India and more, but this is our first opportunity to partner in this region. We're grateful to our partners in the Kazakh Ministry of Higher Education and Science and extremely proud of what has been achieved thus far in collaboration with Kozybayev University."
In 2022, the University of Arizona's Microcampus network enrolled 2,212 students across nine countries, 12 partner campuses, and 19 dual degrees at both undergraduate and graduate levels, representing a 25% increase on the prior year.
UArizona dual degrees provide more options for students around the world to access a UArizona degree through a Microcampus partner location. Students can earn two degrees and be a part of a large community of teachers, resources, and alumni networks at both universities.
The Kozybayev University students, like all dual degree students, will have the opportunity to study on the Tucson campus for one semester, where they will attend courses taught in-person by UArizona faculty, live in a residence hall or off-campus apartment, attend exciting PAC-12 sporting events, and participate in some of the 600+ student clubs on campus where they will make friends for life. From orientation and welcome parties to campus festivals, sporting events and graduation ceremonies, these students will have access to the full Wildcat college experience.
In 2023, Arizona International is committed to deepening Microcampus partnerships through a continued focus on the student experience and academic outcomes for existing dual degree programs and increased exploration of new areas for collaboration.