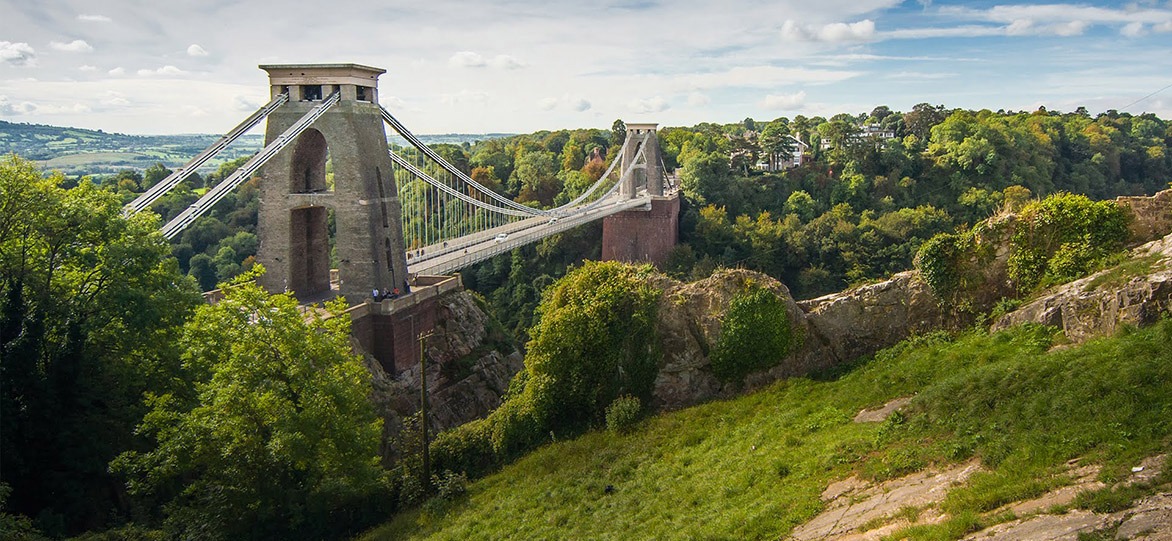 University of Bristol
Bristol, United Kingdom
Program Facts
Credit Type: Transfer Credit
Terms Available: Academic Year , Fall , Spring
Class Eligibility: Junior , Senior , Sophomore
Program Open To: UA Students
Language of Instruction: English
Application Deadline: Academic Year: April 15 , Fall: April 15 , Spring: October 1
Explore University of Bristol
University of Bristol is a member of the Russell Group; an association of British public research universities. Below are the Academic schools by faculty study abroad students can choose from:
Arts 
School of Arts
School of Humanities
School of Modern Languages
Engineering
Merchant Venturers' School of Engineering
Queen's School of Engineering
Medical and Veterinary Sciences
Centre for Comparative and Clinical Anatomy
School of Biochemistry
Cellular and Molecular Medicine
Physiology and Pharmacology
School of Veterinary Sciences
Science
School of Biological Sciences
School of Chemistry
School of Earth Sciences
School of Experimental Psychology
School of Geographical Sciences
School of Mathematics
School of Physics
Centre for Nanoscience and Quantum Information
Social Sciences and Law
School of Policy Studies
School of Applied Community and Health Studies
School of Economics, Finance and Management
School of Sociology, Politics and International Studies
University of Bristol Law School
Please note: the University of Bristol's exam period for Fall semester runs through January - students taking Humanities, Arts, and Social Sciences classes often can submit an online final assignment in lieu of staying for the exam period. Students interested in taking STEM courses should plan to go for the Spring semester or Academic Year to avoid conflict with the University of Arizona academic calendar. Some courses, like some in the Law School, may only be offered for a whole year.
Important notes: 
Teaching Block 1 is Fall semester, and Teaching Block 2 is Spring semester.
10 Bristol credits equal to 2.5 UA credits, and 20 to 5. 
For more information on available courses, you can view Bristol's Unit Catalogue.
Fall Courses
Anthropology
Discovering the Past
Course Description:
This unit reviews the variety of methodologies and approaches that comprise the discipline of archaeology today. It introduces students to the history of archaeological research, from the antiquarians of the eighteenth century to contemporary debates on the interpretation of the past. A range of essential archaeological concepts are introduced alongside key field and laboratory methods, including survey techniques, relative and absolute dating, DNA analysis and environmental archaeology. The ways in which archaeologists have employed the evidence from objects, bodies, buildings and landscapes to reconstruct past human societies are considered, with case studies exploring how particular archaeological cultures (for example the ancient Greeks) or issues (for example the origins of agriculture) can be addressed.
Partner Course Code:
ARCH10015
UArizona Equivalent Course:
ANTH Department Elective, Lower Division, General Education: Exploring Perspectives - Social Scientist
Kin, Friends, Lovers and Others
Course Description:
This unit will introduce students to some key ideas and debates around human kinship and relationality; in other words, how humans relate to one another and how relationships are formed, maintained, severed and conceptualised. In this way, the unit will explore what constitutes kin, friends, lovers and others. The study of relationality forms the foundation of anthropology, but also offers fascinating insights into what it means to be human in a range of historical and global contexts. Drawing on both classic and contemporary material from the study of kinship and beyond, the unit will traverse themes of marriage, reproduction, love, parenting, friendship, sexuality, reproductive technologies, and relations with non-humans. Students will learn the wider significance of the topics to the interpretation and analysis of human societies more broadly. Lectures will be delivered by staff from the department to offer a diverse range of approaches and expertise within the study of kinship and relationality.
Partner Course Code:
ARCH10019
UArizona Equivalent Course:
ELCR Department Elective, Lower Division
Peoples, Culture and Language
Course Description:
Across the world, human societies display remarkable diversity - and remarkable similarities. In this unit students will be introduced to the major theoretical, methodological and empirical ideas in the discipline of social anthropology.
Partner Course Code:
ARCH10017
UArizona Equivalent Course:
ANTH Department Elective, Lower Division, General Education: Exploring Perspectives - Social Scientist
Art History
Art in Britain
Course Description:
In recent decades there has been a renaissance in British art studies, turning an art-historical backwater into a hot-spot of academic debate. The unit draws on this wave of scholarship to examine the development of art in Britain, and its struggle to assert itself in the wider international art world. There is a vast amount of material that we could explore. Indeed, questions of narrative, coherence and canonicity – of what to include/exclude from the story of art, and how it might connect – are a major theme of the unit. We take as our starting point the careers of four artists who are central to the canon of British art, and whose work still sparks debate. These case-studies will vary from year to year. Previously, they have included William Hogarth, William Blake, J.M.W Turner, Walter Sickert, Vanessa Bell, Bridget Riley, Steve McQueen and Lubaina Himid. With each, we go on to examine their reception and how they have shaped developments across the history of British art. Which other artists did they influence? Possible examples are Lucian Freud, Tracey Emin, Grayson Perry, Pauline Boty and Olafur Eliasson. How have later generations adapted or subverted their work, and reinterpreted the themes and genres that they explored? e.g. Hogarth's satirical theatre, Turner's sublime landscapes; Bell's experiments in figuration and abstraction; and Himid's spotlighting of race, racism, and British colonialism. Building through the unit will be a larger discussion about the idea of a tradition of British art, and the value and stability of an artistic canon. Is there such a thing as tradition, and if so, what are its themes and preoccupations, and where might it be tending?
Partner Course Code:
HART20024
UArizona Equivalent Course:
ARH Department Elective, Upper Division
Biology
Key Concepts for Biologists
Course Description:
This unit aims to introduce a range of key concepts that provide important background knowledge for those wishing to study Biology/Zoology, but which are not covered elsewhere in our first-year course. The unit includes aspects such as study skills for an effective student, data collection and handling, plotting figures and tables, finding and interpreting scientific literature, getting the most out of lectures, risk analysis, as well as writing scientific reports and essays. Therefore, providing a common foundation in these areas on which all other Biology units can then build; this is important given the diversity of educational backgrounds amongst those studying Biology, Zoology or Plant Sciences. On completion of the unit, students will be familiar with the terminology used within Biology/Zoology/Plant Sciences disciplines, be able to handle, summarise and present biological data and have an appreciation of the relevant methods and concepts which are applied in biological analyses and which will underpin their studies through the degree programmes. Students will come away with an appreciation of the framework in which science is performed today.
Attendance at the practical sessions for this unit is required.
Partner Course Code:
BIOL10002
UArizona Equivalent Course:
MCB Department Elective, Lower Division
Life Processes Part A
Course Description:
The unit will introduce the common processes which govern cell maintenance and how cells communicate and 'relate' to one another within a multicellular organism. It will include topics on basic molecular biology, cell biology, respiratory systems, physiology (animal and plant), neurobiology and neurophysiology.
Partner Course Code:
BIOL10009
UArizona Equivalent Course:
MCB Department Elective, Lower Division
Molecular Genetics
Course Description:
The principles and techniques of molecular genetics are core to all other aspects of biology; for instance, next generation sequencing is now employed in areas as diverse as neurobiology, conservation biology and developmental biology; the unit will stress practical applications as well as the underpinning theoretical background. This 20 credit point unit will teach both the basic techniques of molecular genetics and their application. Topics covered will include extraction and handling of nucleic acids, DNA sequencing and the associated bioinformatics, as well as the introduction of foreign DNA into a variety of plant and animal species. In addition, the unit will introduce students to the use of molecular markers and their application. The course is specifically designed to foster an interest in molecular genetics in all level 2 students including those who previously might have regarded the subject area as not central to their wider interests in biology. While designed to complement all areas of biology, the unit will also provide a secure grounding for those students interested in studying more advanced subject areas such as biotechnology and genetic engineering.
Partner Course Code:
BIOL20015
UArizona Equivalent Course:
MCB Department Elective, Lower Division
English
Creative Writing, Prose Fiction: Representing the World
Course Description:
In this unit, students learn the practical skills of fiction. They will write their own original fiction and explore various forms of narrative in a supportive group environment. Informed by previous reading of fiction and their understanding of critical issues, students will also use their close reading skills to help each other develop as fiction writers in the workshop. The workshop teaching method provides each student with continual feedback and formative assessment throughout the unit and develop the valuable ability to give and take criticism in a group environment and to rework writing in light of criticism received. This learning experience will enable students to begin a practice of writing prose and to develop valuable insights for the study of fiction in general.
Partner Course Code:
ENGL20113
UArizona Equivalent Course:
ENGL Department Elective, Upper Division
Literature 1740-1900
Course Description:
This unit will introduce students to a range of literature across the 160 years covered: eighteenth-century fiction; romantic period writing; Victorian poetry; the mid- and late-Victorian novel and the writing of the Decadents and Aesthetes of 1880s and 1890s. In doing so the unit will enable students to engage with such ideas as Enlightenment, sensibility, radicalism and political revolution, Europe, urbanisation and industrialisation, class, personhood, gender identity and sexual inequality, outsider status, and emancipation. The unit will expose students to a range of literary forms, elite, popular and middlebrow. All the works included will be discussed in the context of the historical and modern critical discussions which have arisen around them; the philosophical, religious and aesthetic debates they contribute to will be brought forward. The unit raises major questions about: the evolution of new genres, including that of 'the literary'; the role of the author and the social utility of art; poetry and poetics; the power of gender, sexual, national, class and racial identities; and the interplay between literature, widening literacy and national education.
Partner Course Code:
ENGL20063
UArizona Equivalent Course:
ENGL Department Elective, Upper Division
Shakespeare
Course Description:
This unit will ask students to read and analyse a small number of plays written by William Shakespeare; there will be a range of texts in terms of genre (at least one comedy, one history, and one tragedy), and at least one of the plays will be relatively uncanonical. Attention will be paid to the plays as literary texts in their own right, with significant time dedicated to close reading of individual scenes and passages; this will enable students to think of Shakespeare as a poet, as well as a playwright. In addition to close reading, students will develop oral communication skills through open discussion and by giving short formative presentations in seminars, and develop IT skills through contributing to blogs and other on-line course materials as appropriate.
Topics to be explored include:
1) the literary, cultural and historical contexts which shaped – and were shaped by – Shakespeare's drama;
2) the histories and the specific designs of the playhouses in which the plays were performed, and the ways in which different performance spaces (and different media) influence and inform the plays' meanings;
3) the critical reception of Shakespearean drama, and how individual plays have informed specific critical, theoretical, and philosophical developments in scholarship;
4) how Shakespeare is passed down to us in modern critical editions.
Partner Course Code:
ENGL20068
UArizona Equivalent Course:
ENGL Department Elective, Upper Division
Geosciences
Geochemistry 1
Course Description:
The aim of the unit is to develop key skills in Geochemistry. The main emphasis is in application of chemical equilibrium to natural scenarios to understand the distribution of elements and isotopes in the environment. The unit also provides a quantitative grounding in radiometric dating.
Partner Course Code:
EASC20043
UArizona Equivalent Course:
ELCR Department Elective, Upper Division
Mapping, Tectonics and Remote Sensing
Course Description:
This unit is important because it teaches you core skills you will need to complete your degree and work in the field of Earth Sciences. You will gain confidence in handling data, using advances software and visualising and understanding the dynamic Earth in three dimensions. An understanding of tectonics, rock mechanics, geological mapping, GIS and remote sensing is also required for accreditation of your degree, making your degree more valuable to employers.
Partner Course Code:
EASC20045
UArizona Equivalent Course:
GEOS Department Elective, Upper Division
Mineralogy and Petrology
Course Description:
In this unit an understanding of the systematics of mineral structures and compositions will be used as the foundation to investigate the formation of igneous and metamorphic rocks. For each mineral group the fundamental aspects of the structure and composition of a simple end-member will be studied in detail, and the rest of each group will be understood in terms of compositional and structural modifications, particularly focussing on the concept of solid solutions. The physical and optical properties will be discussed within that framework, and a series of practical sessions will be used to exploit the optical properties as a tool for mineral identification using the polarising microscope.
Once mineral identification becomes routine, the unit will explore the origins of igneous and metamorphic rocks. The igneous section of the unit focuses on partial melting and crystallisation processes that produce the wide range of igneous rocks types. Major and trace element variations and phases diagrams will be used to quantitatively understand the evolution of igneous rocks. The practicals will demonstrate how mineralogical and textural evidence can be utilised to evaluate magmatic processes and the role that simple chemical equilibria and kinetics play in determining the textures.
The metamorphic section applies chemical equilibrium, and the phase rule to the evaluation of metamorphic rocks. The practicals will emphasise the use of textures to infer geological events from sequential mineral growth, deformation and reaction textures and how phase diagrams can be used to calculate stable mineral assemblages.
Partner Course Code:
EASC20035
UArizona Equivalent Course:
GEOS Department Elective, Upper Division
Sedimentology
Course Description:
The unit builds and expands upon the Level I Dynamic Surface and Surface Materials sections in EASC10001 Geology 1, taking a process-based approach to sedimentology. The study and interpretation of sedimentary sequences is fundamental to many other branches of Earth Science, and to our understanding of the history of the Earth.
This unit will develop an understanding of the processes by which sedimentary particles are transported and deposited, how these deposits are stacked to form sedimentary sequences, and what transformations occur after deposition to form sedimentary rocks. We will investigate many of the processes occurring at the surface of the planet as a result of the interaction of rocks and loose sediment with water and air, and will examine the way in which relative sea-level, climate and tectonics control the accumulation of sedimentary sequences. The chemical and physical processes by which loose sediment is turned into rock and rock properties are altered during burial, collectively termed diagenesis, are explored. The subject areas covered will take you from eroding mountain belts, down rivers, via estuaries and deltas to the deep oceans, through arid deserts and tropical seas.
By building on your understanding of modern environments, you will be able to unfold the evolution of sedimentary sequences and hence the history of sedimentary basins. The difficulties and uncertainties involved in such interpretations will become apparent as the course proceeds.
Partner Course Code:
EASC20007
UArizona Equivalent Course:
GEOS Department Elective, Upper Division
Mathematics
Linear Algebra 2
Course Description:
Algebra encompasses a wide range of topics and areas of research. This course focuses on Linear Algebra, which mostly concerns itself with vector spaces and the (linear) maps between them.
Partner Course Code:
MATH21100
UArizona Equivalent Course:
MATH Department Elective, Upper Division
Mathematics 1A20
Course Description:
The unit begins with some basic ideas revising and extending school-level calculus, and then goes on to a thorough treatment of the calculus from the point of view of scientific applications. The subject is developed as far as differential equations and Fourier series. The mathematics is treated with enough logical precision to enable correct calculations and correct deductions to be made.
Partner Course Code:
MATH11004
UArizona Equivalent Course:
MATH Department Elective, Lower Division
Statistics 2
Course Description:
This unit aims to develop the theory and practice of basic statistical inference, and statistical calculation.
Partner Course Code:
MATH20800
UArizona Equivalent Course:
MATH Department Elective, Upper Division
Music
Music and Society 1
Course Description:
This unit gives first year students a foundation for reading, listening and critically evaluating a wide range of musical practice based around the notion of Music and Place. Instead of giving a 'chronological' account dominated by the Western classical canon, this unit will address issues in terms of (for example) geography, cultural identity, migration and other social factors influencing the creation and practice of music. It also seeks to provide foundational skills for historiographical research into music, including an ability to evaluate existing published writings), effective use of bibliographical resources, planning and researching a short essay and (in a seminar context) presenting and defending an argument orally.
Partner Course Code:
MUSI10061
UArizona Equivalent Course:
MUS Department Elective, Lower Division, General Education: Exploring Perspectives - Artist
Religious Studies
Living Religions West
Course Description:
Religious traditions represent significant expressions of cultural values: understanding the past and present states of the world is not possible without some knowledge of these traditions. This unit introduces the history, ideas and practices of the three religious traditions whose history is connected and which together have informed the religious understanding of Europe and the West, namely Judaism, Christianity and Islam. With reference to matters of ethics, thought, politics and law, the unit considers how the diverse ways these religions answer questions about the world and the place of human beings within it have shaped and continue to inform the way people, both individually and collectively, live their lives and seek to find meaning and purpose.
Partner Course Code:
THRS10064
UArizona Equivalent Course:
RELI Department Elective, Lower Division, General Education: Exploring Perspectives - Humanist
Sociology
The Sociology of Gender
Course Description:
This unit introduces students to some key theoretical perspectives and conceptualizations of gender, for example the influence of postmodernism on feminist theory. It also examines contemporary sex and gender relations through the investigation of a number of different empirical topics illustrative of processes of gendering in contemporary Britain. Central to the unit are notions of equality, change, identity and power. A key issue is to understand the diverse ways in which gender is socially constructed: students are invited to conceptualize gender less as a characteristic of individuals and more as a structural division in society, a system of meanings, or a social process. It considers gendered relations of power and the articulation of gender with other kinds of social difference such as 'race', class and sexuality. The unit also emphasises the importance of historical change, alongside the need to appreciate the complexities and diversities of gender relations.
Partner Course Code:
SOCI20042
UArizona Equivalent Course:
SOC Department Elective, Upper Division, General Education: F44EP - Social Scientist
Understanding Crime, Harm and Society
Course Description:
Crime and harms are significant issues in society. This unit introduces students to various forms of crime and harm which are prevalent in contemporary society through a range of topics including for example: youth crime, violence, illicit markets and crimes that impact on the environment. We examine the concept of crime and why critical criminologists and zemiologists argue that we should also study harm. In this unit we examine different factors which impact on crime, and why some crimes are more visible than others in the public and political imagination.
Partner Course Code:
SPOL10020
UArizona Equivalent Course:
SOC Department Elective, Lower Division, General Education: Exploring Perspectives - Social Scientist
Spring Courses
Animal & Comparative Biomedical Sciences
Animal and Plant Physiology
Course Description:
Physiology is an exciting sub-discipline of biology that focuses primarily on understanding the mechanisms of living organisms. The integration of molecular, cellular, systems and whole-body function is what clearly distinguishes physiology from other life sciences. Research in physiology is essential for understanding how different organisms function in their habitats, and how their cells and systems adapt in response to challenges, such as disease or changes in the local environment. This unit will inspire you to explore physiological mechanisms across a wide range of living organisms. You will be guided through physiological mechanisms that are common to plants and animals, including nutrition, water balance and hormonal regulation. You will also explore physiological systems common to invertebrates and vertebrates, including circulatory, respiratory, urogenital and endocrine systems. These will be compared and contrasted directly with the equivalent plant systems of turgor pressure and plant hormones such as auxins. A key aim of this unit is for you to begin integrating different physiological systems; for example, how do animals that rely on the atmosphere for O2 meet their metabolic demands when diving for extended periods, how do plants respond to hypoxia during flooding, and how does the bar-headed goose (Anser indicus) regulate cellular homeostasis when facing a reduced partial pressure of O2 in the ambient air at altitude.
Partner Course Code:
BIOL20022
UArizona Equivalent Course:
ELCR Department Elective, Upper Division
Animal Behaviour
Course Description:
Behaviour can be understood in terms of both how animals do things and why. A complete understanding of behaviour involves both, and the primary aim of the unit is to explain how to do this, within the framework first laid out by Nobel laureate Niko Tinbergen. The unit begins by considering genetic influences on behaviour, and also interactions between genetic predisposition and individual experience in the development of behaviour. We then explore the fundamental processes used by animals in acquiring their behaviour, including conditioning, recognition learning, classification and discrimination; subsequent lectures address cognitive processes, and cover social learning, cultural transmission, intelligence, tool use, spatial memory, communication and language. We then consider the evolutionary forces acting on behaviour, and how ecology affects foraging, anti-predator defences, competition, mating systems, parental care, communication, territoriality, social organisation, co-operation and altruism. The practical component of the unit does not merely serve to illustrate material in the lectures, it helps develop an ability to develop hypotheses to explain behaviour and devise ways of testing those hypotheses.
Attendance at the practical sessions for this unit is required.
Partner Course Code:
BIOL20023
UArizona Equivalent Course:
ELCR Department Elective, Lower Division
Anthropology
Archaeological Practice
Course Description:
This unit will introduce the methods and techniques that archaeologists commonly use to identify and record archaeological sites, features, structures and monuments.
The unit will provide a broad understanding of the range and nature of archaeological sites and monuments in the UK, and the ways in which archaeologists find, investigate, excavate and record them.
The main techniques of archaeological investigation and recording will be introduced including the use of maps, documents, digital resources and aerial photographs, earthwork survey, geophysical survey, excavation, leveling, and standing building recording.
Partner Course Code:
ARCH10016
UArizona Equivalent Course:
ANTH Department Elective, Lower Division
Education
Education, Schooling and Diversity
Course Description:
This unit will consider the diverse and often competing purposes of education and the relationship between discourses of education and formal schooling. We will take a critical and post-structural perspective on contemporary education not only in England, but also in other societies and consider the nature of formal schooling that has evolved since the advent of the social welfare state and the impact of politics and ideologies on these. Themes that we will study in depth are the curricula developments in compulsory schooling and the relationships between knowledge, learning and assessment. Underpinning this unit will be a consideration of the diversity of learners and learning contexts and we will address some of the complexities of gender, culture, ethnicity, ability and special educational needs in classrooms and the role that education can play in combating societal inequalities. Through assessment we will encourage critical reflection on students' own learning processes.
Partner Course Code:
SPOL10039
UArizona Equivalent Course:
ELCR Department Elective, Lower Division
English
Dangerous Books
Course Description:
Can works of literature only reflect society, or might they be a catalyst for reform? If a book has an urgent political message, can it also become a lasting work of art? Why might a work of literature be considered dangerous? In what circumstances are books banned? And conversely, what does this tell us about the power of literature, including in consciousness-raising or as a form of protest or resistance? This unit will explore these questions and others, through a reading of imaginative and non-fiction works from c. 1800 to 2000 that might be thought to constitute a 'radical' tradition. Texts to be studied will include fiction of various kinds, including socially realist works and political allegories; essays and polemics; and literary texts in English from other cultures, for example apartheid South Africa.
Students will be given the opportunity to submit a draft or outline of their final, summative essay of up to 1,500 words and to receive feedback on this.
Partner Course Code:
ENGL20023
UArizona Equivalent Course:
ENGL Department Elective, Upper Division
Old English Language and Literature
Course Description:
This unit is an introduction to the language and literature of Anglo-Saxon England. Anglo-Saxon, or Old English, is the form of English that was spoken and written in Britain before about 1100. Unlike later forms of English, which are heavily influenced by French, it is an entirely Germanic language, and it differs from modern English in terms of both its grammatical structure and its vocabulary. Accordingly, the language will be taught from scratch in this unit. Students will be given instruction in the basic elements of Old English grammar, vocabulary and verse form so as to enable them to read a selection of works from the period in the original. These will include some of the major examples of 'heroic' verse, such as Beowulf and The Battle of Maldon, as well as elegies and 'Christian-heroic' verse such as The Dream of the Rood.
The unit therefore aims to:
*introduce students to the syntax and vocabulary of the Old English language;
*introduce students to the literary culture of Anglo Saxon England in its historical and aesthetic contexts;
*enable students to engage in the close reading of passages of Old English poetry in its original language;
*foster debate on the reception of the literary culture of the Anglo Saxons in present day society, and the application to it of literary critical methodologies.
Partner Course Code:
ENGL20065
UArizona Equivalent Course:
ENGL Department Elective, Upper Division
Geosciences
Soils and the Critical Zone
Course Description:
This unit is an introduction to the biology, mineralogy, chemistry and physics of soils, including how soils form and evolve, methods of soil classification, the global distribution of soil types, the diversity and role of macro- and micro-organisms in soils, and how moisture and heat move within soils. The unit takes a modern approach by placing soils in the integrated framework of critical zone science, wherein the entire portion of the terrestrial Earth that supports life (the critical zone) is viewed from a holistic perspective where compartments (such as soils) and their processes and interfaces are part of the whole system.
Key aims of the unit will be to learn the basics of soil science as listed above as well as the feedbacks between soil processes and other parts of the critical zone and the implications of these feedbacks for soil sustainability and functions, regional and global biogeochemical cycles, and climate feedbacks.
In addition to the final summative assessment, formative assessment and feedback is provided by way of quizzes and activities throughout the unit and on a partial draft of the scientific report 2 weeks before the final due date.
Partner Course Code:
EASC20037
UArizona Equivalent Course:
GEOS Department Elective, Upper Division
Structural Geology
Course Description:
This unit will provide a solid grounding in fundamental concepts of structural geology and rock deformation. Building on structural geology skills and knowledge developed in relevant first and second year units (Geology 1, Introduction to Field Skills in Earth Sciences, Introduction to Field Mapping and Mapping, Tectonics and Remote Sensing), the unit will examine deformational structures in a more quantitative manner in three dimensions.
Lectures will cover elements of brittle and ductile deformation, faults and folds, macro- and microscopic aspects of rock deformation and kinematic analysis.
Practicals will focus on plotting, visualising and analysing structural data using stereographic projections, and constructing structural maps and cross-sections. Relevant concepts will be put into a broader tectonic context, and the relationships between brittle and ductile deformation in the Earth's crust will be explored.
Two days of field work in Pembrokeshire in Wales will put the lecture and practical material into a real-world context, giving students a chance to measure, plot, and interpret structural data, create a structural map and cross-section, and develop a structural history for the area.
Partner Course Code:
EASC20006
UArizona Equivalent Course:
GEOS Department Elective, Upper Division
History
Gender in the Modern World
Course Description:
Gender history has been one of the most important facets of historical scholarship over the last 50 years. Not only has gender become something for historians to study, it has also become a key methodology: a lens through which historians approach, ask questions of, and attempt to make sense of the past. Though hugely influenced by feminist historical approaches, it is not, as some assume, merely an attempt to 'reclaim' or 'rediscover' the voices and experiences of historical women –as Joan Scott argued, it should instead be seen as a 'useful category of analysis' that can offer important perspectives and challenges in almost every aspect of historical scholarship.
This unit will offer an introduction to some of the key themes of modern gender history, exploring a range of topics in different geographical and chronological contexts. Engaging with a diverse variety of written and visual sources, it will investigate some of the different ways gender has been made, shaped, regulated, resisted, and experienced in the modern world. Importantly, it will also begin to familiarise students with some of the theoretical questions that have influenced modern gender history, including critical introductions to ideas about masculinity and femininity; of feminism and ideas about gender equality; about the intersection of gender with class, race, and sexuality; as well as trans histories and how we might think of gender beyond the binary.
This unit therefore aims to:
*introduce students to the key themes, concepts, and approaches in modern gender history.
*provide a critical overview of the existing scholarship in the field.
Partner Course Code:
HIST10069
UArizona Equivalent Course:
HIST Department Elective, Lower Division
The Making of Contemporary Britain (1918-2008)
Course Description:
The past 100 years of British history have been characterised by enormous change. The advent of mass democracy, mass communication, mass production, and mass consumption produced novel challenges for politicians and society alike. New experiences, often driven by technological advances, and changing social formations opened up opportunities for many, whilst simultaneously serving to exclude others. Divisions along lines of class, gender, race and sexuality plagued domestic politics, resulting in fractious debates regarding the right to citizenship, to vote, to work, to marry, and even the right to a basic standard of living. Life in Britain was rarely, if ever, a uniform experience. For both historians and those living through the twentieth century explaining the continuities and changes of the period has been a challenge. In their attempts to do so, they created various narratives about the nation, its citizens, its history, and its relationship to the wider world. These are the narratives of contemporary Britain which continue to shape our understandings today.
This unit aims to introduce students to the uneven scope, scale, and pace of change in contemporary Britain. In particular students will interrogate the ways in which different narratives of continuity and change emerged in and about the twentieth century in Britain, and the purposes they have served. By exploring different areas of life – from politics, voting and protesting, to working, shopping, belief and love – students will engage with alternative ways of understanding this period in British history. Has the twentieth century really witnessed the 'Death of Christian Britain'? Did the nation spiral into long-term economic decline after the heyday of the Victorian industrialisation? Was there a sexual revolution in the 1960s? And did the 1980s see the demise social democracy under the tutelage of Margaret Thatcher? This unit will enable students to tackle big historiographical debates in the field and to develop a more complex understanding of the political turmoil, economic uncertainty, and social upheaval of the twentieth century, all of which shape the world we live in today.
Partner Course Code:
HIST20114
UArizona Equivalent Course:
HIST Department Elective, Upper Division
Mathematics
Mathematical Programming
Course Description:
The use of computers is increasingly pervasive in all areas of mathematics. This unit aims to introduce the foundational concepts of programming and some of the many computational tools in common use by mathematicians.
Partner Course Code:
MATH20014
UArizona Equivalent Course:
MATH Department Elective, Upper Division
Philosophy
Critical Reasoning
Course Description:
This unit introduces the student to the analysis of arguments found in a variety of everyday contexts, understanding the structure of arguments, and the diagnosis of flaws in reasoning. It aims to give the student an understanding of the variety of forms of argumentation and reasoning including statistical reasoning) and the tools to analyse arguments found in everyday life. It aims also, thereby, to make the student more conscious of their own reasoning practices and so less liable to errors in reasoning and more competent in constructing sound arguments of their own.
Partner Course Code:
PHIL10030
UArizona Equivalent Course:
PHIL Department Elective, Lower Division GE EP - Humanist
Physics
Core Physics II: Oscillations, Waves and Fields
Course Description:
The unit builds on A level Physics A2 and some aspects of Core Physics I (Mechanics and Matter). It introduces the basic mathematical treatment of waves and oscillations, the concept of the wave function as an introduction to Quantum Physics, the concept of fields and their mathematical treatment in terms of vectors and vector operators in 3 dimensions, and the fundamental particles and fields.
Partner Course Code:
PHYS10005
UArizona Equivalent Course:
PHYS Department Elective, Lower Division, General Education: Exploring Perspectives - Natural Scientist
Publish Administration
Criminological Theory: An Introduction
Course Description:
The unit will provide students with an introduction to key criminological concepts and theories. Specifically, it will introduce students to:
1) Criminological theories explaining the production of crime and social harm;
2) the wider social, political, and economic context in which theories emerge and come to be influential
3) How criminological theory has impacted on criminal justice and wider social policies.
Partner Course Code:
SPOL10029
UArizona Equivalent Course:
PA Department Elective, Upper Division
Location
University of Bristol is located in the Southwest of England, just under 2 hours commute from London. The buzzing city of Bristol is the sixth largest in England and has vibrant arts and culture scene, nightlife and plenty acreage of parkland to enjoy outdoor activities.
Good to Know:
LGBTQ+ Equality Index rating: United Kingdom rates 74/100 (with 100 being the most equal) on Equaldex's LGBTQ+ Equality Index.
Global Peace Index rating: United Kingdom ranks 37/163 in the Global Peace Index. The lower the score, the more peaceful the country.
Languages spoken: English, Welsh, Scots Gaelic
---
Housing
Students have the option to live in on-campus housing or off-campus housing while attending the University of Bristol. On-campus housing is guaranteed for exchange students starting in the Fall semester if they submit their accommodation application by the deadline. The student residence halls vary in size, from four-bedroom, self-catered student houses to a 440-bedroom, catered hall. Students have a variety of room options including shared, standard single, single with basin, and en suite accommodation. There is adapted accommodation for young families and students with disabilities. The halls are within walking distance of the University and students receive a free bus service for students living in University allocated accommodation.
Exchange programs fill up quickly and are based on a first-come, first-served basis. To assure there are placements available, please contact your Study Abroad Coordinator for this program before applying. Only students who have turned in a complete application will receive a spot for this program.
Semester Dates
Please check the University of Bristol Academic Dates for the most accurate program dates.
Semester Cost
$50 Study Abroad Application Fee
Mandatory Geo Blue International Health Insurance at a rate of $3 a day (approximately $360 a semester)
You pay Main Campus UA Tuition & Fees to do an exchange and receive all of the financial aid you use on main campus.

To learn more about how financial aid is applied to studying abroad, please see the official OSFA website.

Other estimated costs include but not limited to housing, transportation (air & local), visa, meals, books and supplies
UA Study Abroad scholarships are available based on eligibility
Request More Information
Please enter your contact information and a member of the Study Abroad team will contact you.